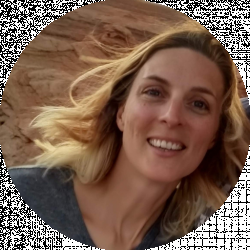 Latest posts by Shaleena Quinlan
(see all)
It's both beautiful and inspiring but it is often a bit overwhelming: it's the yarn aisle. The yarn aisle stands as a true feast for our eyes, and as crafters, we frequently find ourselves staring at the rainbow of colors spread across shelving with no idea of where to begin. We know we need yarn, but we don't want just any yarn. Here, we will tell you how to find the best yarn for your next project.
Fortunately, there is a way. I'm going to take you on a deep dive into the world of yarn to discover that it is more than just color that tailors a yarn to a project.
Together we will explore the many fabrics and functions of yarn. With this knowledge, we can develop a system you can use time and again to find the perfect yarn for your next project because there's always the next project.
A Brief Background on Yarn
Yarn is made up of multiple strands of long fibrous materials. The long fibers are put through a process of intertwining known as spinning. This process makes the yarn sturdy, enabling it to be used in many different capacities such as crocheting, knitting, embroidery, sewing, weaving, and even ropemaking. The production of yarn dates back thousands of years which is why we have so many types of and usages for these little strands of fiber.
Step 1: Know Yourself… and Your Project
It's obvious that yarn can be used for multiple types of projects, so, the first step in finding the best yarn for your next project is to find your next project. If you have already decided on what you will do next, then you can move on to the second step. However, if you need some help deciding what to create next, consider these questions.
Do you want to challenge yourself?
Consider making something you have never tried before. If you have conquered several beginner or intermediate projects, challenge yourself with an advanced project. If you get stuck, search YouTube for some helpful tips.
Do you need a gift for someone?
Homemade gifts are the most heartfelt. Consider using your hobby to make something unique for a special person in your life. This may also help you narrow down your project since you can choose items you know the person needs or likes.
Examples:
Baby Shower Gifts – a baby blanket, amigurumi animals, or a baby rattle are sure to show your affection for the new little one
Wedding Shower Gifts – an afghan and pillows for the new couple to lounge with on their couch
Christmas Gifts – cozy sweaters, warm mittens, or mug warmers will keep the season cheery
Do you want a project that helps you relax?
If crafting is a cathartic pastime, then choose a project that won't be complicated or frustrating. You will know what projects fit this description best for you, but if you're unsure about this, here are a couple of suggestions.
Crocheted granny squares – it is easy to complete several of these while listening to a favorite podcast. Once you get the pattern down, it is simply rote memory from thereon. These can either be used as potholders or stitched together to make a throw blanket.
Knitted scarf – this is a simple one-dimensional project that can be completed in a few hours. It's a great way to practice stitching while creating something you can use later.
Step 2: Discover Some Basic Pairings
There are a few projects that pair best with certain yarn types. If you already have a project picked out and simply need a complimentary yarn, look through these basic pairings. This should help you to narrow down your yarn options.

Step 3: Take a Recommendation, or Not
Now that you have selected a project, you need to select a complementary yarn. There are a few simple steps you can take to make the perfect pairing.
1. Choose the same yarn that your project's pattern recommends.
Most patterns come with a yarn recommendation. You can make the yarn selection process easy on yourself by purchasing the exact same yarn recommended on the pattern.
2. Choose a yarn that is similar to what your project's pattern recommends.
It is not required that you use the exact yarn recommended by your project's pattern. You could opt for a different color selection even if you choose the same brand and type. Also, you could purchase a different brand or type with similar colors to what your pattern recommends.
Just keep in mind that each pattern is designed around a yarn that will suit the finished project. If the yarn recommended by your project's pattern is meant to be stretchy, then look for a yarn that will have a similar elasticity. If, however, your project's pattern recommends a yarn that will be sturdy and hold its form, then look for a yarn that has a similar sturdiness.
3. Choose a yarn that is completely different from the yarn recommended by your project's pattern.
If you have the knowledge or are in an experimenting mood, you can try something outside the box. Try pairing a bulky yarn to crochet a lace tablecloth pattern. Or, use thin lacy yarn to knit together an afghan. Crafting is all about creativity and sometimes you have to try different combinations to get the project you really want.
A few things to remember if you do choose a yarn that is completely different from the yarn recommended by your project's pattern are:
Length – be sure to get the same length of yarn so you can complete your project without any extra hassle.
Weight – if you choose a different weight (thickness) of yarn, your finished project could end up as a different size than your pattern. Either choose a yarn with a similar weight to what is recommended by your project's pattern or measure your stitches and rows. You may need to change your needle/hook size or the number of stitches and rows you make so that you end up with a finished project that is sized similarly to your pattern.
Fiber – even if the substitute yarn you choose has the same length and weight as recommended by your project's pattern, choosing a different fiber will impact your finished project. This is because different fibers hang differently, stretch differently, and look differently.
4. Let the yarn lead you to the project.
Some crafters pick up yarn on sale knowing that they will use it someday. Yarn stored away for a rainy-day project may be the best way to pair yarn to a project. To help you decide what to do with those extra skeins, we first need to learn about the different types of yarn. Let's take some time now to examine yarn in all its beauty and diversity.
Know Your Yarn
It is now time for us to dive deep into the many varieties of yarn. The purpose of looking at yarn in such an in-depth way is not to frustrate or to overwhelm. We want to know yarn and what each type can and cannot do for us.
Be Picky and Cautious
Be sure to examine the label on the yarn you are picking up to make sure you are getting the type or the blend of types that best suit your project. There is no problem with being picky about the yarn you buy. I prefer to touch any yarn before I buy it. This is so I know how it will feel while I work with it, as well as, how the finished project should look and feel.
It is an important responsibility for crafters to do their research on where their tools and supplies are produced. Please be very cautious when purchasing wool since some places support abusive practices such as mulesing. Also, those who are vegan don't want to accidentally purchase something with a wool blend even if it is only a small percentage. Do your research, check the labels, and then purchase the product.
A Close Examination of Yarn Fiber
Now it's time to explore the vast world of yarn. To begin this, we must ask and answer a few questions along the way.
What type of fiber will work best for your project?
Different types of fiber will determine the look and the feel of your project so they must be considered when choosing yarn. Let's look at each type individually in order to discover their usage, as well as, their pros and cons.
Animal Yarn Fibers
These natural fibers have been used to make clothing and textiles for thousands of years. The properties of animal yarn fibers provide warmth without weight. Let's examine some different types of these fibers in more detail.
Sheep Wool
Since raising sheep for their wool has been a part of cultures around the world for millennia, this is a popular staple in the crafting and textile world.
The combination of age, diet, and breed of the sheep is a major part of determining the qualities and characteristics of a particular type of wool. We need to know those qualities and characteristics to help us decide what is the best yarn for our next project. So, let's take an in-depth look at several different types of wool.
Icelandic Wool
After 1,100 years of adaptation to the cold and wet of Iceland, the wool produced by Icelandic sheep has a unique composition. It is made up of two layers of fiber, an inner layer and an outer layer. The inner layer is soft and perfect for insulation. The outer layer contains long, glossy fibers that are water-resistant. Icelandic wool is ideal to pair with an Icelandic-style project such as a Lopapeysa sweater.
Lambswool
This wool comes from the first shearing of a sheep no older than seven months. Lambswool is 50mm or shorter and is soft, elastic, and slick. Because of its unique texture, felting a pair of slippers is a great way to use lambswool.
Pros:
Soft, silky texture
Drapes better than other types of wool
Cons:
Merino Wool
This is soft and fine wool produced by a specific breed of sheep which originated in Spain. The yarn made from it is perfect for arm knitting large blankets.
Pros:
Adapts to temperature variations
Odor-resistant
Cons:
Slower to dry than other wools
Shetland Wool
This is the woolen yarn associated with all things nostalgic. This wool is fine and soft. It is ideal for knitting Tweed, Fair Isle Knitwear, and even lace shawls. If you're new to the Fair Isle style, start with an easy knit cowl.
Pros:
Cons:
Virgin or Pure Wool
This is wool that has not been combined with recycled wool. Since there is a limited amount of virgin wool available, recycling or reusing wool is a common way to keep wool on the market. Try this easy knit scarf for a fun way to experiment with this type of wool.
Cons:
A limited supply can make it expensive to purchase
Washable Wool
This type of wool has been treated so that it can stand up to being machine washed. It is a good idea to use this type of yarn when making something that will get a lot of use. Consider crocheting a warm snuggly blanket the next time you purchase washable yarn.
Pros:
The removal of the scales makes this yarn easy to crochet or knit
Cons:
Highly toxic chemicals are used to make the wool washable
Alpaca Fiber
This fiber is sourced from those adorable fluff-balls who are natives to the Andes. It is soft and luxurious to the touch and truly wonderful to wear. It can be used in many creative projects such as a crocheted infinity scarf or a knitted shawl.
Pros:
Soft to the touch; feels silky
A great alternative for those who are allergic to sheep's wool
Warmer and lighter than sheep's wool
Can be worn in the summer since it is temperature regulating
Cons:
Does not keep its shape well
Is often combined with sheep's wool which negates any benefit to those who are allergic to sheep's wool
Can be expensive to purchase

Angora Goat Fiber (Mohair)
This fiber comes from the Angora goat and is different from the fiber obtained from the Angora rabbit. The frizzy look of this fiber comes from its undercoat hairs being combined with its topcoat hairs. The fibers obtained from the Angora goat are stronger and smoother than most wool but is still not as soft as cashmere. To use mohair in a fun and useful project, try out a pair of knitted socks.
Pros:
It is both soft and durable
It is both lightweight and warm
Cons:
It is more expensive than other yarns
It requires careful washing
It can irritate the skin
Angora Rabbit Fiber
these are fibers that are either hand-plucked or shorn from an Angora rabbit. The fibers are soft and silky with a similar feel to cashmere. Angora rabbit fiber yarn is perfect for a knitted cowl project.
Pros:
It has a soft and thin feel
It is both lightweight and warm
Cons:
Camel Fiber
Yes, camel fiber yarn is a real thing. It is gathered during the natural shedding process or is simply combed out by hand. The fiber is soft and silky and perfect for knitting a cute and trendy cable hat.
Pros:
It is incredibly warm
It is easy to use in a knitting project
Stitches are tight and show well in a finished project
It is durable
Cons:
It is more expensive than other yarns
It can split while working with it
The color palette is limited to natural brown shades
Cashmere Fiber
This fiber is sourced from the lovely cashmere or pashmina goats who are native to China and Mongolia. If you want to experiment with this luxurious yarn, try a crocheted double brim hat or a warm and snuggly knitted sweater for your next project.
Pros:
Warm and dry when cool
Cool when hot
Feels soft and fluffy
Naturally elastic but does hold its shape well
Cons:
Due to its fragility, it needs extra care when cleaning and wearing it
Stitches don't show well
Demand for it has caused an environmental catastrophe
Can be expensive to purchase
Llama Fiber
because of the coarseness of its fur, for many years, llamas were mostly raised as pack animals. It has only been in recent years that llama fiber has made an inroad into garment and textile production. Llama fiber yarn is soft, lightweight, and warm. It is very similar to its cousin, the alpaca. A beautiful way to use this unique yarn is to crochet a cowl scarf.
Pros:
Cons:
It can lose its shape easily
It shrinks when wet

Silk
This fiber is produced naturally by many different insects including silkworms, bees, silverfish, and others. Because silk production requires the cocoon of insect larva, many consider it unethical since the insect is killed. While this process does still goes on today, there are producers of silk that are implementing ethical techniques. This new ethical process is called peace silk. Not only does silk fiber make a beautiful knitted top but it can also be used in papermaking.
Pros:
It is hypoallergenic
It is temperature regulating
It is easy to dye
It is easy to recycle
Cons:
Only peace silk is a vegetarian fabric
Plant Yarn Fibers
This is a selection of natural fibers that are perfectly designed for many creative projects. Plant fibers are affordable, easy to obtain, and pleasant to use. Due to the structure of these natural fibers, they will look, feel, and behave differently from one another. Since this is the case, some fibers are better suited to specific projects than others. Let's now take a look at several of these plant yarn fibers to discover the best way to use each type.
Agave Fiber (Sisal)
This is a natural fiber that defines durability. Since it is typically used for rope making, it is not a yarn that is put into garments. Instead, consider this the yarn you want to make rugs for high-traffic areas.
Pros:
Durable
Comes in a wide range of earth-tone colors
Cons:
Stains easily
Becomes slippery when used a lot
Bamboo Fiber
Here is a natural fiber that is smooth and lightweight. It is easy to use in many different creative projects. Because it holds its shape and stitching well, consider using it to crochet a pillow cover.
Pros:
In its pure form, it is biodegradable and environmentally-friendly
It is hypoallergenic
It has antibacterial properties that help to keep odors away
It is strong, flexible, and soft
Cons:
It must be hand-washed
It swells when wet
Yarn fibers can easily split
Cotton Fiber
This natural fiber is the king of all plant fibers. We see it used in everyday items and definitely understand that it is versatile. Try your hand at using a cotton yarn by creating a tote bag, a cactus potholder, or an amigurumi sea turtle. With a skein of cotton yarn by your side, your project options are endless.
Pros:
Many options of blends, styles, colors, and weights
Provides good definition to stitches in a finished project
Durable and does not usually pill
Cons:
If it is spun too tightly it can be challenging to use on knitted projects
Can droop after washing

Flax Fiber (Linen)
This is another natural fiber that is popular in garments. It is the perfect fiber to wear on warm summer days, so consider using it to create a knit pullover top.
Pros:
Durable and does not usually pill
Cons:
Does not work well for projects that require stretch
Hemp Fiber
This natural fiber is a great addition to any crafter's yarn collection. It's coarse and stiff structure makes it perfect for creating outdoor rugs, baskets, or a scrubby.
Pros:
It is a sustainable material
It is mildew resistant
It is strong and durable
Cons:
It requires regular spot cleaning
Jute Fiber
This natural fiber is the same as what is used to make burlap. It is naturally brown but can be dyed in various colors. Jute fiber is ideal for making rugs and tote bags.
Pros:
Its texture is soft resembling wool
Cons:
Synthetic Yarn Fibers
This type of yarn fiber refers to something that does not grow naturally. Synthetic fibers are created by humans using chemicals and processes that form artificial fibers.
The qualities that make synthetic fibers appealing are that they are waterproof, stain-resistant, and are elastic. They also tend to be more durable than natural fibers. Let's take a better look at several types of synthetic fiber yarns so you can more easily pair a yarn to your next project.
Acrylic Fiber
This is a soft and lightweight fiber that feels a lot like wool. It is a great alternative to natural fibers and works very well in most crocheting or knitting projects. Consider using it to knit a sweater or to crochet a baby blanket.
Pros:
It is inexpensive
It is easy to obtain
It is washable
It is generally hypoallergenic
It can be used in nearly all hand-crafting projects
It holds color
Cons:
It lacks elasticity
It is flammable
It is not as soft as natural fibers
Nylon Fiber
This synthetic fiber is most popularly known for its usage in nylon stockings. It is a very versatile fiber that is great to use to knit a pair of socks.
Pros:
It is stretchy
It is durable
It is soft and strong
It is static resistant
Cons:
Rayon Fiber
This is a combination of natural and synthetic materials. It is partially made up of wood and cellulose materials. Since it is meant to be an alternative to silk, it is perfect to use in projects that are typically made with silk. A knitted wrap is a great way to practice using rayon yarn.
Pros:
It hangs well
It is easy to dye
It is inexpensive and versatile
Cons:

Polyester Fiber
This fiber is made up of both synthetic and natural materials. It is usually blended with other fibers for the purpose of adding to that fiber's strength or removing some strength from it. Since it is such a versatile fiber it can be used in almost any project, but consider using it to crochet a quirky pillowcase.
Pros:
It is strong
It does not crease
It retains its shape
Cons:
It does not breathe well
It is not biodegradable
Step 4: Select a Texture and Weight
Not only does yarn come in a variety of fiber types, but it also comes in a variety of textures, weights, and colors. These are all very important factors to consider when selecting the best yarn for your next project. Let's take a look at the different types of textures, weights, and colors available to learn what they do best and how to pair each to a project.
Yarn Weight
This refers to the thickness of the yarn. Certain weights work better with certain projects than others. Here are the common weights available to crafters as well as what type of projects they pair best with.
Yarn Texture
This refers to how the yarn feels to the touch. It is my recommendation that you touch a skein of yarn before you purchase it. By doing this, you will know how the yarn will feel and look as a finished product.
To explain how important yarn texture is to a finished product, consider a baby blanket. Blankets crafted for a baby are intended to be soft, warm, and cuddly. At the same time, you will want to find something that is durable and washable since the blanket will get plenty of use. Not all durable and washable yarns are soft enough for a baby blanket. And not all soft yarn is durable and washable. This is why texture is so important to the yarn selection process.
Yarn Color
This is an obvious reference to the color of the yarn. Yarn comes in many different color shades. Yarn colors can be solid, striped, heather, or blended in a variety of ways. Always consider the many colorful options available before settling for a skein of yarn. If one brand doesn't have a color you prefer, look to another brand with comparable weight, texture, and type.
FAQs
Question: What type of yarn is best for beginners?
Answer: The best type of yarn for a beginner is a medium-weight yarn in a light color. The thickness of medium-weight yarn is just right to learn fingering techniques and light colors make viewing stitch work much easier.
Question: Can you reuse or recycle yarn scraps?
Answer: Since yarn scraps can be used for various different projects, there is no need to waste anything. Use yarn scraps as stuffing for amigurumi, for pompoms on hats, or to sew together pieces of a project.
Concluding Thoughts
If you enjoy crafting with yarn, it is important to pair yarn to a project that will best showcase its positive qualities. This article has been created as a resource to help you during that pairing process. I hope this provides you with the information you need as you make your yarn selections.