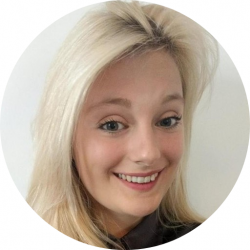 Latest posts by Rosie Greaves
(see all)
Sewing machines have come a long way since the first Brother stitching machine hit the market in 1928. So, today, we're looking at a modern-day Brother machine. More specifically, the Brother PE770 Embroidery Machine.
Bottomline Upfront
The Brother PE770 is a good investment for people that want to work with embroidery. It's good for beginners wanting to use their machines to learn and improve their skills. It's safe and reliable so many people that aren't beginners will find value in it as well.
Below we'll provide the low down on:
The machine's key features

How to use the Brother PE770 Embroidery machine

Examples of how to use Your Brother PE700

The pros and cons of the Brother PE770 machine

How Brother PE770 compares to its competitors

Answers to frequently asked questions

Our verdict
That's a lot of info – hopefully, we'll cover everything you need to know to help you decide whether the Brother PE770 machine is the right sewing machine for you. 
But first: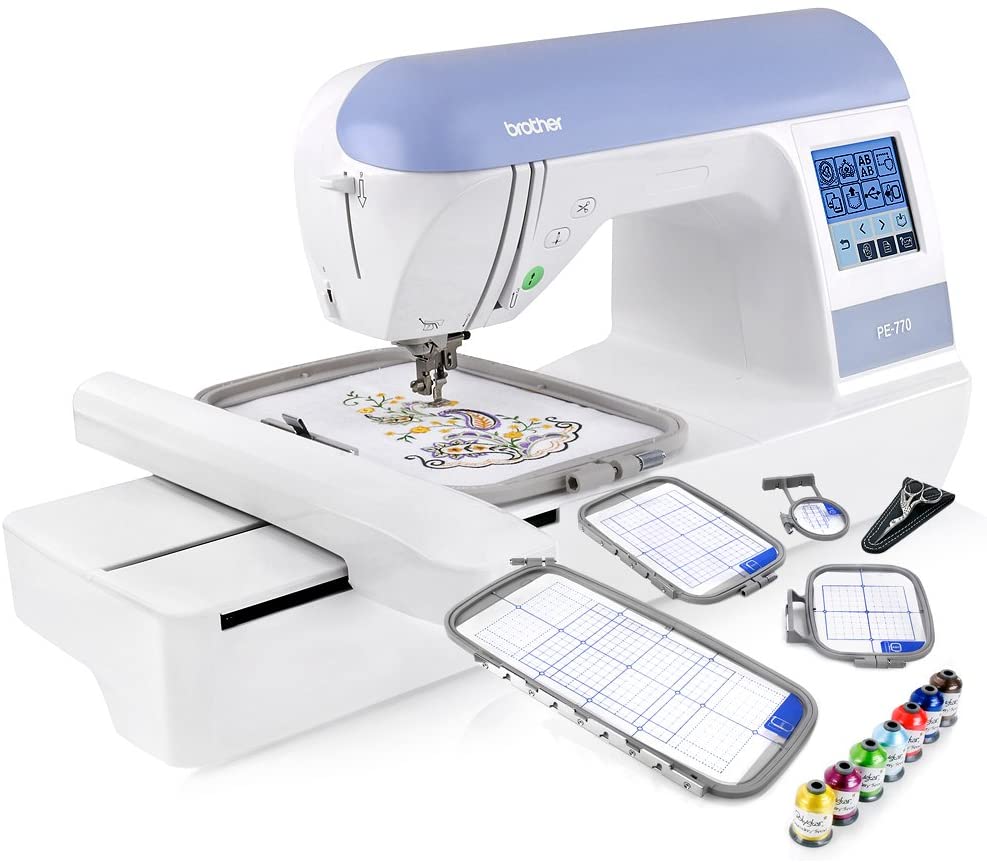 In short, the Brother PE770 Embroidery Machine is an electric, plugin embroidery-only machine that comes with built-in designs you can use for tons of creative projects. We'll go into more detail about the machine's precise specifications further down in this review. 
The Brother brand of machines is a leader in embroidering technology. This particular machine offers beginners and experienced crafters a robust device for various projects, including embroidering fabrics, soft furnishings, and adding personalized touches to otherwise mainstream domestic items. 
Key Features
Several important features make this machine an attractive option for keen crafters. But, to summarize, here's Brother PE770's key functionality:
A large 5" x 7" embroidery area

136 embroidery designs included and six lettering fonts

A backlit LCD screen

Design editing, including mirror-image, rotate and design size adjustments

A simple threading system

Fast embroidery speeds of up to 650 stitches per minute
Let's take a look at each of these in turn:
A Large Embroidery Area
One of the more favorable aspects of this machine is that it offers a large embroidery area (5" x 7.") This means you can tackle projects with bigger surface areas, for instance, soft furnishings, clothing, patches for clothing, etc.
A Generous Number of Designs
Each machine comes with a quick-to-read reference guide containing a few embroidery designs you could use. 
The reference guide includes the following sections:
Bobbin winding and setting

Upper threading

Preparing to embroider

Selecting embroidery patterns

Character patterns

Frame patterns

Embroidery pattern color change table

Color thread conversion chart
In addition, there are 136 built-in embroidery designs for you to choose from, as well as six lettering fonts and 120 frame pattern combinations. All of these are accessible via the machine's touch screen control panel. In your reference guide, you can see that each design has a number, and you can see details of the pattern size and whether you can use one or more stitching colors. 
Designs vary in style, from floral patterns to characters to shapes. You'll also see a recommended stitching speed. However, rest assured, you can slow your machine down to stitch patterns more slowly.
You can also choose bold, italics, or standard print fonts. Fonts come in different sizes, so you can use embroidery in small, medium, or large, depending on the needs of your project. Fonts also vary in style, including cursive, outlined, block, upper case, lower case, etc. 
If you change your mind about the design you've selected, you can delete your choice via the control panel. 
A Backlit LCD Screen
As we've already hinted at, you execute all of the commands via a touchscreen. This backlit LCD screen has a touch display that measures 1.4"x2.7", and its intuitive design should help you work all the features of your machine with ease. 
Design Editing
We've already touched upon the design editing functionality above. However, you can edit your embroidery design or font via the touchscreen control panel, including adjusting its positioning, rotating it 1, 10, or 90 degrees, changing the size, and sewing a mirror image of the design. 
Upload Feature
If you would prefer to use a design that doesn't come with the machine, you can upload them via a USB portal located on the right-hand side of your machine. There's also an embroidery media disk slot in the same part of the machine. You can also purchase designs online or ones that you've downloaded for free onto your computer. 
These are available from websites such as embroiderydesigns.com and sewpowerfulcom. There are also designs available on the ibrodery.com, the Brother embroidery design website.
Here, designs can be purchased individually. There are thousands to choose from, including Disney, lifestyle, and alphabet designs. You just download the designs onto your USB stick, then transfer the stick into your Brother PE770 once the designs are downloaded.
A Simple Threading System
This machine comes with a step-by-step needle threader complete with 11 sewing feet, including blind, stitch, zipper, overcasting, and more. 
This is a simple threading system that you follow from one through to seven. There are tons of YouTube videos that can walk you through how to do this, starting with adding your embroidery thread and spool cover.  
Fast Embroidery Speed
If you're looking for quick embroidery speed, you won't be disappointed. This machine boasts an impressive 650 stitches per minute. However, it's essential to know that this is the maximum speed the machine can operate at. If you prefer a slower rate, don't worry, you can adjust this via the speed slider.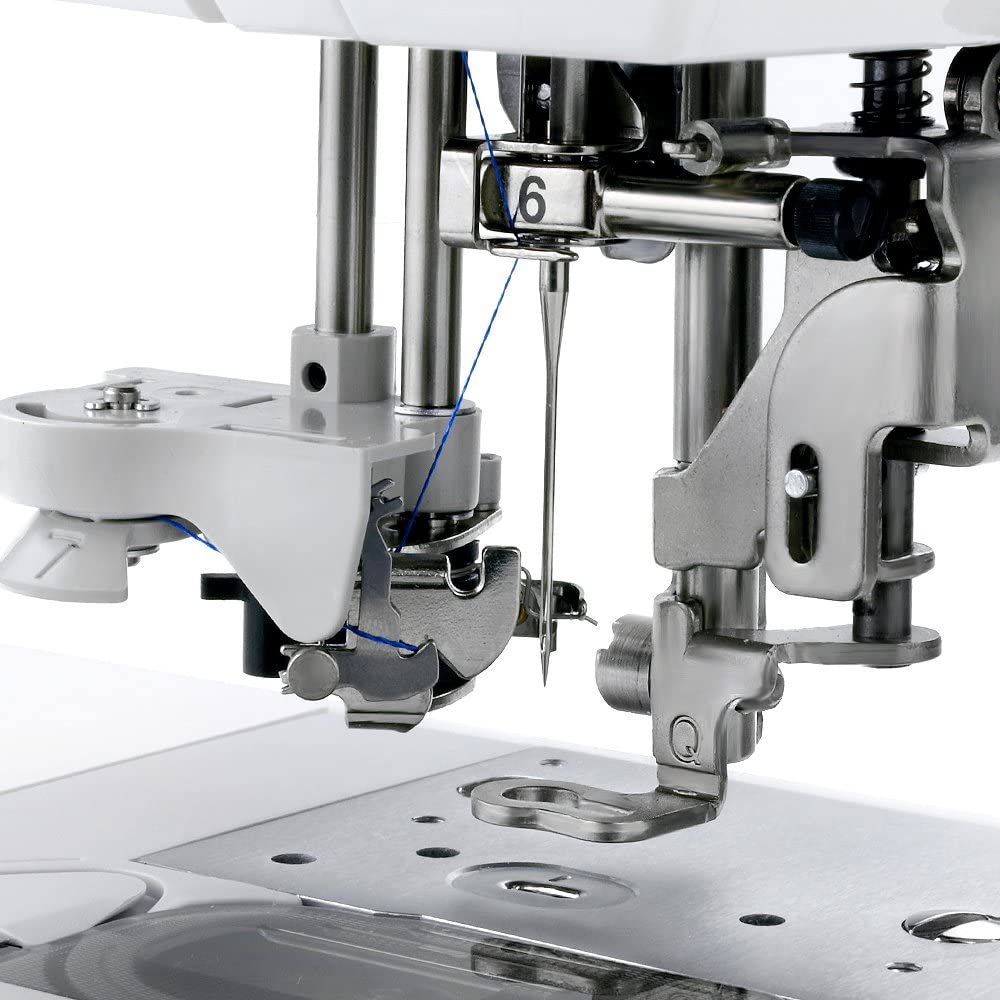 How to Use the Machine
It's pretty simple to start using your machine once you've familiarized yourself with all its components. 
That said, here's our ten-step guide to help get you started:
Remove the machine from its packaging 

Remove all the bits of tape and paper that are attached to the machine to protect it

Open the bobbin plate 

Look inside to check there's a little white triangle and dot in the bobbin case and that these line up. If they don't, just move the handle until they are. 

Insert your power cord and switch on your machine. You'll know it's on because you'll see the Brother logo displayed on your LCD screen.

Touch the LCD screen to see all the different options. 

Take the fabric you want to embroider and insert it into the hoop included. You must ensure the area you're going to embroider sits tightly inside the hoop.

To ensure your fabric is tight in the hoop, use the hoop screws to get the tension right.

Find a design you like from one of the built-in patterns. You can do this from the LCD screen. Alternatively, you can use the USB port or the media card slot to upload your own designs.

Press your green (for go!) button and sit back and watch the magic happen!
If you're still looking for guidance, there are tons of helpful YouTube videos that will walk you through whatever you're looking to know. Don't forget that the owner's manual is a big help. Here you'll find super clear instructions and images. Brother does have a YouTube channel with 16.2K subscribers. However, we couldn't find any specific videos relating to the PE770. There are, however, plenty of interesting videos on there worth exploring. 
What's also helpful are the tutorials built into the machine – you can watch them on the LCD screen. These cover a range of topics, including:
How to thread your machine 

How to set up the bobbin thread

How to insert your embroidery attachment
…to name a few.
What Can I Use My Brother PE770 For? 
This is an embroidery-only machine, so you can't use it for general sewing. That said, there are several super-creative ways you can put this machine to good use. Let's take a look at a few examples:
Monogramming
You can spell out words, initials, or even phrases by monogramming different items using the lettering fonts. While you can create different sized and shaped monograms, the largest is 1.95" wide x 2.31" high. 
If you're wondering what you can monogram, how about initials on towels or clothing? Alternatively, letters or numbers on purses and kitchen cloths. Or, you might monogram company t-shirts or polo tops with a business logo. Of course, these are just a few of many ideas to help get your creative juices flowing.
Embroidery
As we've already said, the Brother PE770 is an embroidery machine and therefore capable of a wide range of designs, whether you opt for the built-in ones or upload designs you've found yourself. The size of the embroidery area is 5" x 7", excluding the hoop's size. 
There are tons of items you could embroider, from cushion covers and pillowcases to items of clothing you want to embellish to look more individual. Really, the choice is yours. 
The Pros and Cons of the Brother PE770
No machine is perfect, and the Brother PE770 is no exception. So here's our take on this machine's pros and cons:
The Pros
There's a good range of design editing features

There's a generous number of built-in designs

There are USB and embroidery media disk options

Threading the machine is made easy with its simple-to-follow number sequence

You can adjust the speed of your machine

25-year guarantee
The Cons:
The LCD screen is black and white, so it's sometimes difficult to read 

You can't add extra fonts

It's an embroidery machine, so you can't use it for general sewing

Some users complain they've had issues with the bobbin
Brother PE770 vs. Its Competitors
Before investing in any embroidery machine, it's worth doing some research to see what your options are. The Brother PE770 is an ideal machine for embroidery beginners. However, there are alternatives, including models from the same company. That said, here are some of our favorites for you to compare the Brother PE770 against.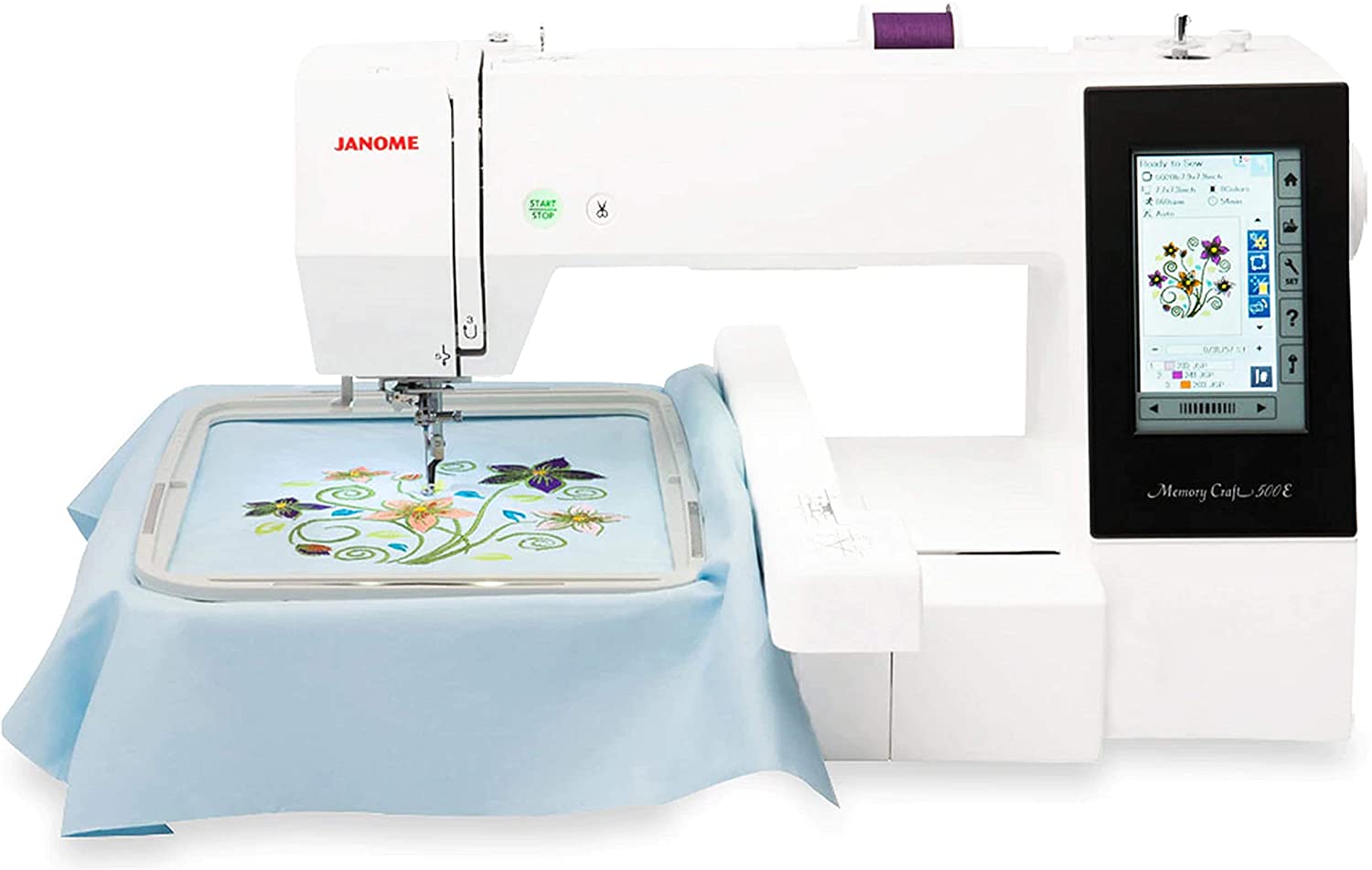 Here's a good-looking machine that's a bit of an embroidery workhorse. Like the PE770, there are many built-in designs (160) and six different fonts for monogramming. The Janome has a larger embroidery area of 7.9" x 11" – a generous amount of workspace suitable for all sorts of embellishment work. 
There's also a USB port to upload designs, and like the Brother PE770, a backlit LCD touch screen. In addition, unlike the PE770, the machine has four embroidery hoops, a high tension bobbin holder, and an extra-wide extension table. 
The machine also comes with an instructional DVD, or you can read the instructions online. Overall, this is also a faster machine than the PE770, stitching up to 860 stitches per minute.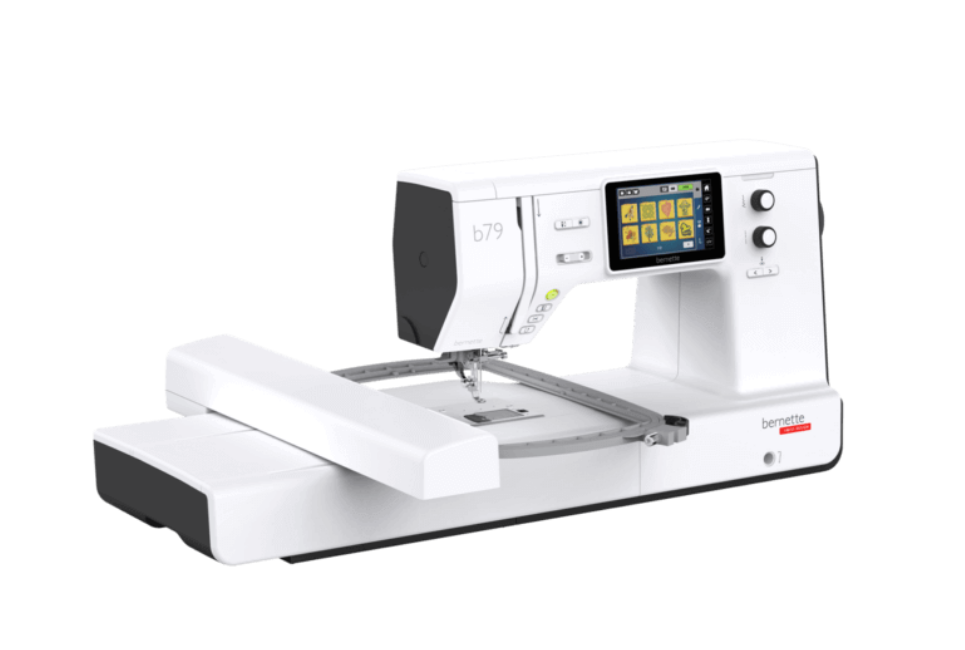 Unlike the machines mentioned above, here's a model that doubles as a traditional sewing machine. It has a semi-automatic needle threader and a dual feed for fast, even fabric feed. In addition, the foot control has a back-kick function. You can easily access all the programmable stitch patterns via the LCD screen.
Again, there's a USB port to upload other designs. Not to mention, the Bernette is a fast worker. It can sew at 1,000 stitches per minute, with a large display screen of 5" and an embroidery field of 6" x 10". Lastly, you also get access to an impressive 208 designs.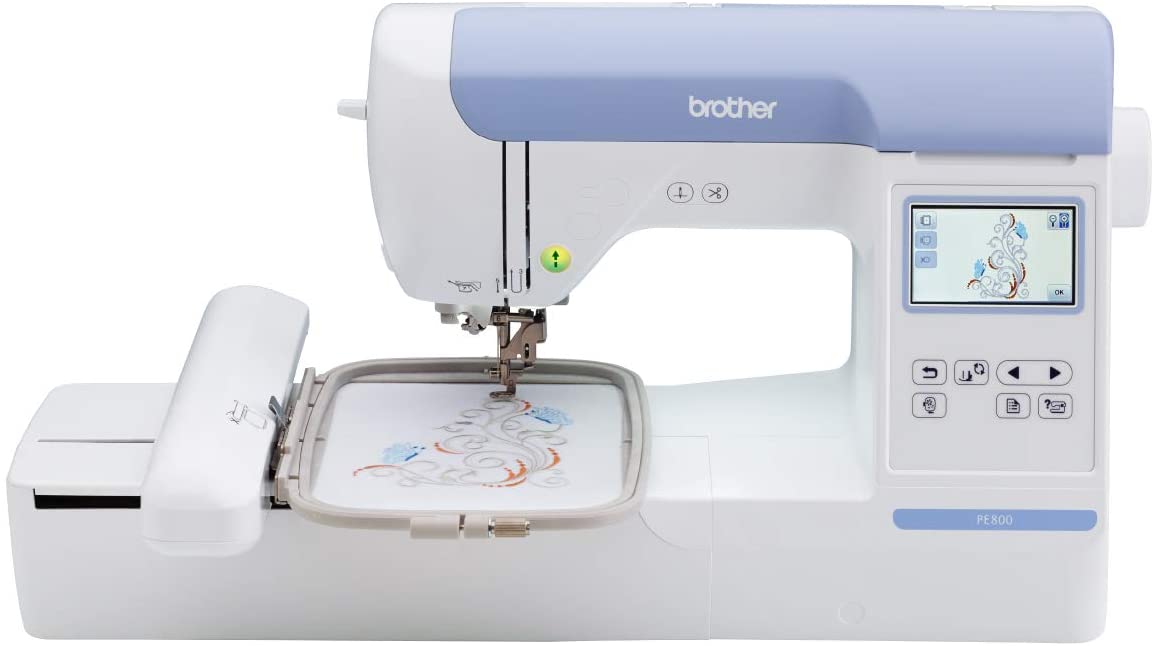 This machine is an upgrade from the earlier PE770 model. It comes with a full-color large 3" x 2" control screen. This means you can actually preview your design before you start embroidering. 
You upload your own designs via the USB port like its older sibling, although the PE800 comes with 138 designs and stitches at 650 stitches per minute. In addition, it has the same 5" x 7" embroidery field as the PE770.
Regarding any other differences between this machine and the Brother PE770, the latter is heavier at 27lb. In contrast, the former weighs in at 17.64lb.
Frequently Asked Questions
Last but not least, let's round off this review by answering some of the most frequently asked questions concerning the Brother PE770:
Question: What Accessories Does the Brother PE770 Embroidery Machine Come With?
Answer: The machine comes with the following accessories to help get you started on your embroidery journey:
A 5"x7" embroidery hoop

One bobbin cover

Three pre-wound embroidery bobbins

A 3-piece needle set

One spool net and four spool caps (mini, small, medium, and large)

One cleaning brush

One seam ripper

Three screwdrivers (small, large, and disk-shaped)

A dust cover
These accessories also come with a handy accessory bag for dust-free storage.
Question: What Kind of Thread can I use With the Brother PE770?
Answer: The most critical first step here is to buy embroidery thread, not sewing thread. This is because some sewing threads are thinner and, therefore, not as strong. 
Opting for a high-quality polyester thread may mean spending a little more, but it's less likely to snap and should last longer. Ideally, ask for 40-50 weight thread, suitable for most embroidery or monogramming designs. Of course, you can use other weights, but this is a good choice that's easy to work with. 
Question: Can I Buy Replacement Parts?
Answer: According to the Brother's USA website, the answer is a firm yes. The brand recommends you buy replacement parts from an authorized Brother Service Center. The Brother website has a Service Center locator page; you just type in your zip code and select your machine type from the drop-down menu. From there, you'll hopefully find what you're looking for. You can also contact the company directly and speak to its parts department at 1-877-552-6255.
Question: Can I Buy Brother PE770 Embroidery Software?
Answer: Several software packages work well with this particular machine. However, that isn't to say that you need additional software at all. There's nothing wrong with sticking to the built-in designs. 
However, if you're happy with the designs or want to add a few designs from your computer, you won't need additional software. 
But, if you want to edit the designs you've uploaded, you'll need software. 
Compatible software includes:
Buzz Edit

Buzz Word

Embird Basic Program

Embrilliance

Font Engine
However, there's no point in investing in software before you're confident you really need it.
Question: What Kind of Files Does my Brother PE770 Use?
Answer: A quick peek at the Brother information page tells us that this machine can read .pes, .phc, and .pen design file formats. 

Brother PE770: My Verdict
The Brother PE770 is a good investment for anyone solely interested in embroidery rather than general sewing. In addition, it's suitable for beginners wanting to use their machines to learn and improve their skills. That said, even if you're experienced, it's a safe and reliable machine that's not intimidating to use. 
The backlit LCD screen makes it easy to select designs and fonts, and the numbered threading process is simple to follow. In addition, the instruction booklet is clear. There are also tons of online tutorials you can watch at your leisure, pausing or rewinding if you need to go over something more than once. 
We also like the generous number of designs and the included embroidery hoop, which is a good size. Of course, all machines have pros and cons, but in this case, we think the positives of the Brother PE770 outweigh any negatives. However, it's always important to consider your budget and research before investing in any crafting equipment. After all, this is the only way to ensure that you purchase the best possible machine for your needs. 
Are you ready to start embroidering? Let us know how you get along with the Brother PE770 or any other machine of your choice.
Further readings:
Brother XR3240 Review and Guide: Is It Practical Enough for a Beginner?