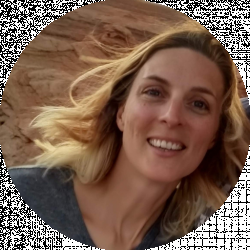 Latest posts by Shaleena Quinlan
(see all)
The ability to sew has for many years become a lost art. It was something left to the older generation and a few creatives who relished designing and constructing their own wardrobe. beginner 
The rest of society has simply forgotten how to work a machine and construct clothing, but that has simply been the result of a market saturated with cheap and disposable clothing.  
But a new perspective has arrived with the advent of COVID. Many people have taken up a new hobby while in quarantine and have found that sewing is not only a cathartic pastime. It is also a fantastic way to design a unique, economical, comfortable, and sustainable wardrobe.
These are all meaningful terms that have provoked this upcoming generation to think and act with concern for how they spend their time and their money and how these decisions will impact the world around them.
If you have become enamored with the idea of sustainability, then you should consider delving into your creative side. Even if you have never even sewn on a button, you can learn this wonderful skill. It will provide you with an amazing way to share your style while expressing your views on how to care for the resources you have.
Sure, this will take a little time and effort to get started, but don't fret; Craft & Stitch is here to walk you through the process of finding the tools you need.
Today, we are going to walk through the process of finding the best sewing machine for you, the beginner sewist. Namely, we are going to review the Brother XR3240 to find out if this is the machine you should get.
We will take time to walk through its features and also compare and contrast it to a few other sewing machines, so the decision-making process is informative but simple.
Sewing Machine Features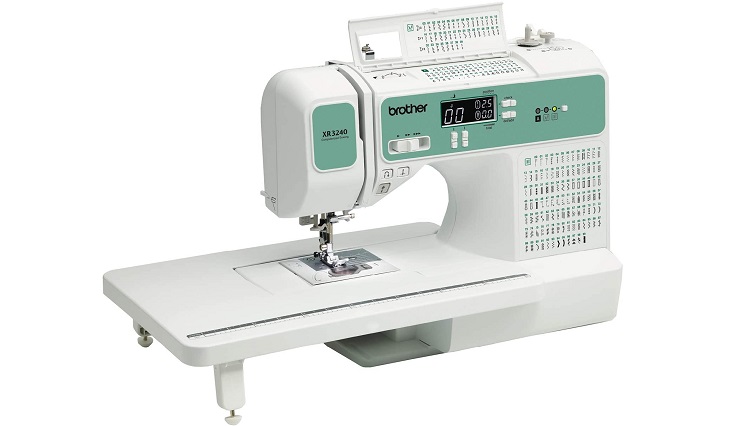 Before we look specifically at the Brother XR3240, it is a good idea to learn about the features that make up all sewing machines.  With some knowledge of the basics, we can then decide whether or not the Brother XR3240 is worth the purchase.  
Material
Years ago, sewing machines were primarily constructed from metal pieces, and this made them more durable and easier to fix.  Sewing machines were a true investment for families and businesses, so it made sense that the machine should be easy to fix or a broken part should be easy to replace.  
Today, most machines have a few metal pieces, while the majority of their structure is constructed from plastic pieces. This makes for a less expensive machine, but it also means that it is not as durable, and broken pieces are more difficult to replace.
You'll have to decide for yourself if you prefer a modern, less-expensive option or a sturdy but difficult to use, vintage sewing machine model.
Parts
Older machines were very basic and only included a few special parts. Today, sewing machines come with numerous add-ons and special features that can be helpful but overwhelming when you are just beginning. To make things less frustrating, let's simplify by listing out the features that are essential for modern sewing projects.
Free Arm – This part is mainly to provide extra workspace for larger projects.  
Metal Rotary Hook – This part is better in metal because it is less likely to break under all the stress of working through tough sewing projects.
Needle and Bobbin – What you are looking for when you examine a needle and bobbin is the ease of threading each one. If users comment that either is difficult to thread, you may want to opt for a different model.
Presser's Feet – This is the part of the machine where the needle and thread are working. These feet help to hold down the fabric while providing a focused area for stitching.
Stitches
Modern sewing machines come with a large selection of stitches. The problem is, beginner sewists may find that so many stitch options are overwhelming, and it can cause them to walk away before trying this craft.
Let's just make this feature very simple by saying you don't need all the stitches a sewing machine offers, nor should you feel overwhelmed by seeing them listed on your machine.  
As long as the machine you purchase has the ability to do a straight stitch, a zig-zag stitch, a blind hem stitch, and a button-hole stitch, you are set. All the other stitches the machine offers are there if you want to experiment with them after getting familiarized with your craft and your machine.
Technology
This is an area that can go either way. Some beginner sewists will take to modern, computerized sewing machines very easily since most of our world is computerized, but there are others that need a very basic mechanical machine as they are learning a new craft.
Consider your technological skills and how easy it is for you to learn to run a computerized machine versus a mechanical machine so that you can make a good decision about what type of sewing machine you should get.  
But don't limit yourself either.  If you want to use a computerized machine even though you are not very tech-savvy, do so. There are so many ways to learn how to use these machines that there is no reason why you shouldn't give it a go.
The Features of the Brother XR3240
We've taken time to cover the basic features to look for in every sewing machine, and now we can apply what we've learned to the Brother XR3240.
Material
This is a basic machine with some modern features.  It is primarily constructed from plastic but has a few metal pieces. Even still, you will find that it is durable enough to use regularly.
Parts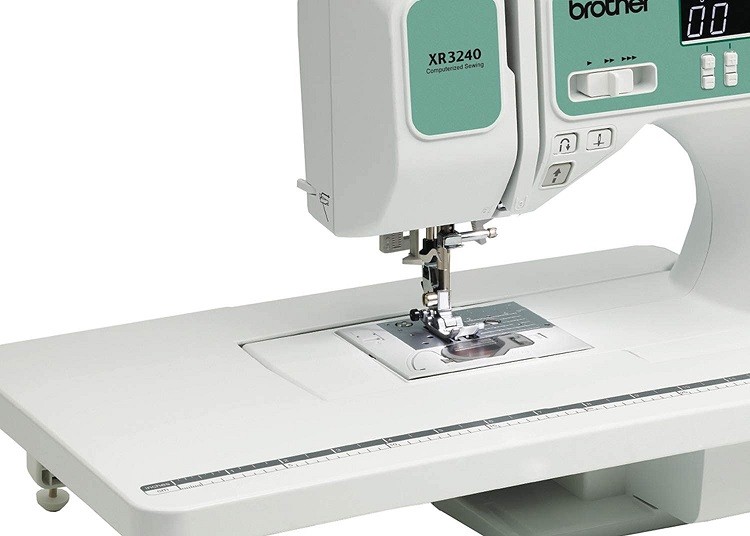 While it is a basic machine, it includes a lot of great parts. You will be glad to know that it comes with the essentials and a few extras.  These include:
A free arm or a wide table for your larger projects

A needle threading system that is easy to use

A drop-in top bobbin design that is easy to use

9 presser feet

Sewing start and stop button

The sewing speed is variable

LED-lit work area

LCD display screen

Dust cover
Stitches
The Brother XR3240 has all the stitches you will ever need. With 140 built-in stitches, including a button-hole stitch, you should be set to design and construct anything on your to-do list.
Technology
Many reviews for this machine have highlighted the fact that it is built with beginners in mind. This means that the technology it implements is just right. There's nothing too complicated about learning how to use the machine, but it also has enough technology to feel compatible with a tech-savvy culture.
Pros
Lightweight and portable

Warranty is available with the purchase

Includes a feature that shows when the thread is running low

Environmentally friendly automatic threading mechanism

Reasonably priced

Computerized stitch selection

Comes with 140 built-in stitches
Cons
Backward stitching is slow

Cheap thread can get caught in the shuttle
Comparing & Contrasting the Alternatives
We've taken a thorough look at the XR3240 with all its parts and features, and now we will take the opportunity to look at some alternative machines. By comparing and contrasting these sewing machines against the XR3240, you should be able to decide if it truly is the best sewing machine for you.
Brother XR3140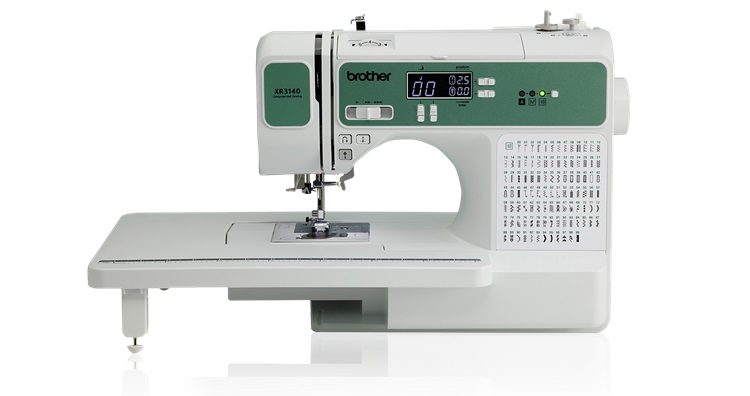 This is a sewing machine that is suitable for beginner or intermediate sewists. It is easy to learn and has plenty of features that will allow you to experiment and try new techniques; plus, it comes with a reasonable price tag.
Pros
Automatic threading system

Detachable wide table for larger projects

Drop-in top bobbin feature

Included nine pressure feet

One-click stitch selector

Sewing speed control feature
Cons
Cannot handle thick fabrics or multiple layers of fabric

Does not provide features for advanced sewing or quilting techniques

Skilled sewists may find that it is too basic for their needs
Brother 1034DX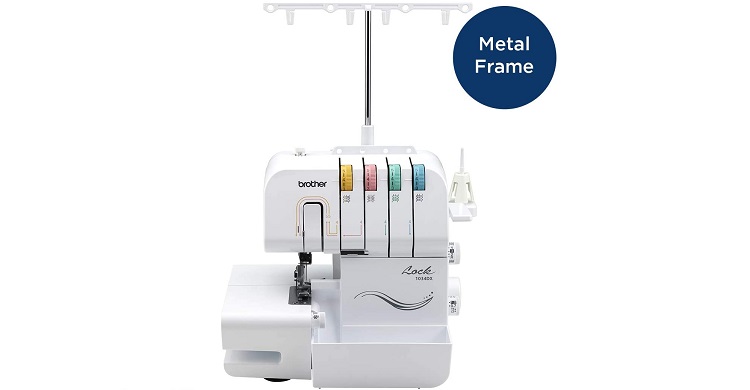 This is an updated version of the popular Brother 1034D. Both are excellent machines that provide great stitching for your projects. Either machine would make a great alternative for the XR3240, but you will have to look at the pros and cons to decide for yourself.
Pros
Can sew multiple layers of fabric, including denim

Can sew up to 1,300 stitches a minute

Comes with a 1-year limited warranty offer

Comes with a cover to protect the machine

Constructed from a metal frame

Designed to be durable

Designed to be easy to thread

Includes a foot pedal that controls the stitch speed

Includes three snap-on presser feet (standard, gathering, and blind)

Users have found that it is an easy to learn machine
Cons
The need is difficult to thread

The warranty is difficult to claim
Brother XR3340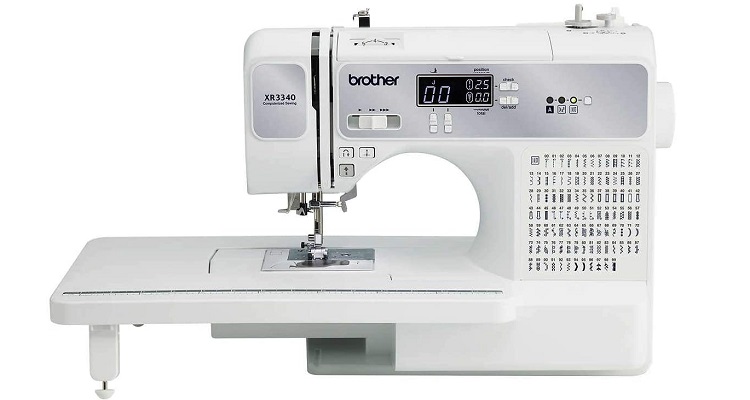 Although this is a modern and computerized machine, it is actually built with beginner sewists in mind. If you have even the slightest experience using a computer, you will excel with this machine.
Consider how nice it is to have a high-tech machine that can perform so many different techniques, even if it takes a little extra time to learn how to find and properly utilize them.
Pros
Built to be both lightweight and sturdy

Comes with 140 built-in stitches

Comes with 55 alphanumeric stitches for monogramming

Comes with an extension table for larger projects




Comes with eight 1-step button-hole stitches

Designed with an LCD screen

The needle is easy to thread
Cons
Does not include a foot pedal

Line markings on the needle plate are difficult to view while sewing

Users agree that while it is sturdy for basic sewing projects, it is not sturdy enough for upholstery or leatherworking projects.

Users have commented that the thread tension is not ideal
FAQs
Question: Where Can I Learn to Sew?
Answer: If you're planning to get a new sewing machine so you can make a new wardrobe or just dabble in fabric arts, then you need to learn the basics of this craft. Fortunately, modern times have provided modern methods for learning new things. Here are some great ways to get started:
Blogs
This is a simple way to pick up some tips and tricks about certain types of projects and sewing techniques. Every blogger is going to teach a little differently and offer different types of advice, so you should be able to find something to suit your learning style.  Here are two highly-rated sewing bloggers that you may want to look into following:
So Sew Easy – This blog is a great resource for all your sewing needs.  It offers tutorials and projects for beginners and gives plenty of sewing tips for anyone looking to expand their knowledge base.  Plus, there is a page for purchasing sewing supplies that you might need once you get more skilled in this craft.
Melly Sews – If you know absolutely zero about sewing, then this is a great blog, to begin with.  It offers an online sewing class that will show you what the tools of the trade are and how to use them.  Once you've mastered the basics, you can take on some of the great sewing projects on the site.
YouTube
If you're a visual learner, then you will enjoy taking some sewing classes via YouTube.  One of the most popular sewing teachers on YouTube is Made to Sew.
The class videos are neat and organized and offer the most basic procedures to help beginners familiarize themselves with terms and technology. This is a very structured method that keeps the learning process moving at a steady but uncomplicated and non-frustrating pace.
Online Classes
Yes, you can take specialized classes in the art of sewing from online colleges. If you would like to pursue a degree in this art form, then consider signing up for classes at Stratford Career Institute.
Books
If you prefer to learn in an old-fashioned way, you can get a book to teach you. There are plenty to choose from, but the following are all great options to get you started.
Sew Me!
My First Sewing Machine Book
Sewing for Beginners
On-site Classes
For those who are more comfortable with an in-person instructor, then you should opt for an on-site class. Check your local hobby and crafts stores, junior colleges, and community centers to find out if they offer any sewing classes.
Question: Where Can I Get My Sewing Machine Repaired?
Answer: Before you take apart your machine or send it to a local repair shop, make sure you don't have a warranty on the machine. If you still have a warranty for your machine, then you should utilize it to its fullest. If, however, the warranty has elapsed, there are a few places you can check about getting your sewing machine repaired.
The Manufacturer
Contact the manufacturer to find out what they recommend and if they will still repair the machine even though the warranty has elapsed. This may be the safest method since they should have all the parts needed and the knowledge to put the machine together.
YouTube
There is probably a video out there describing how to fix any issue that may arise with your particular sewing machine. Do a search into YouTube and be amazed at all the free and helpful resources available there.
Local Repair Shops
Google search your area for repair shops that deal with sewing machines. This may save you time and money since you don't have to ship the sewing machine to the manufacturer. Also, you may be able to talk to the person doing the repairs in person so you can better understand what needs to be fixed.
Question: Are Used Sewing Machines Worth Purchasing?
Answer: Yes, they definitely are.  Some of the best sewing machine models are well-used, but that doesn't mean you should be scared away from them. They, in fact, are probably more durable than some modern models.
Do your homework first and decide what features you prefer, and look for models that offer those features and come with really good customer reviews and ratings.  
When you go to purchase the machine, ask the seller plenty of questions about the history of that particular machine, so you know what is good and bad about it. Don't get anything that you feel uneasy about; there are plenty of machines on the market.
Tying it All Together
Ultimately, buying a new sewing machine will be up to you, but you may have noticed that the Brother XR3240 is definitely worth considering. This sewing machine offers everything you need to get started in the world of fabric art.
It will also help you expand your knowledge of techniques so you can work on almost any type of project. All this together has swayed me into thinking this is a great machine that I would love to own.  
Now it's up to you. What machine will you choose, and what project will you work on first?  
Research Citations:
Check more interesting crafting tool guides below: