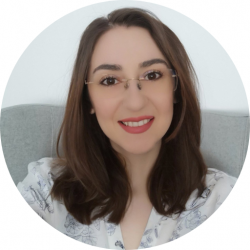 Latest posts by Alexandra Gavrilescu
(see all)
Whether you need to sew new face masks that are so useful in these pandemic times or you like to fix some of your old dresses, here's our guide on how to purchase the best sewing machine you can afford. The best sewing machine isn't the same for everybody.
You should pick one based on your level of experience, skill and abilities, and budget. In today's buying guide, you will find out the most important things to remember when you're searching for a sewing machine as well as the best models available on the market.
How to Find the Best Sewing Machines on the Market
The following details, tips, and insights will help you find the right kind of sewing tool that works for your needs. Luckily, in this industry, technology has advanced significantly. In other words, nowadays, sewing machines are able to establish the proper thread tension, determine the right stitch length, and even cut the thread automatically.
Things to Keep in Mind
Let's discuss each aspect you must take into consideration and detail it.
Shops and Brands
The most popular brands have the longest history and a well-established reputation: Singer, Kenmore, and Brother. However, other brands such as Bernina, Janome, and Husqvarna Viking have also gained a lot of popularity.
My advice would be to select your retailer wisely and gather as many insights as possible about each seller. Different retail channels provide different advantages. For instance, if you choose to purchase this tool from an independent shop, you will probably get personalized services, but the price will definitely be higher.
Another thing to remember is the fact that certain sewing machine models are only marketed by authorized sellers. They offer their clients some of the best services on the market, like repairs and instructional classes.
Warranty Policy
Always ask the retailer about its warranty policy, especially about the things it covers and the ones it excludes. You should know that many stores offer discounts and sales for their sewing machines around specific holidays like Christmas and Mother's Day.
You can purchase this product online, but it is always best to try it and see how it works before buying it. For that reason, I would recommend visiting a local brick-and-mortar shop. Most retailers will allow clients to bring their own fabric samples to test their machines and see how user-friendly the settings are. Some of the most important features to test are the machine's ability to create even stitches and its ease of use.
Using the Right Needle
If the sewing machine doesn't have the right kind of needle, both the fabric and the tool can become damaged goods. Dull needles are something to avoid, too. You should change the needle you're sewing with once you complete a more complex project or every time you're about to use a different type of fabric.
Moreover, you should take the machine to an expert who can tune it up, at least once every couple of years.
Checking Repair Policies
Numerous sellers provide in-store repair services. Those who don't offer these particular services will surely give you enough contact information to the manufacturer or a repair center. The ones who will do the repairs are not that important. What's essential is the turnaround time that you should ask about. It varies from just a couple of days to several weeks.
You should avoid taking your sewing machine to an unauthorized technician because that can transform the product's warranty into an invalid document. Make sure to save all the packaging and the box in which the sewing tool arrived. You will need them if you want to ship the machine for repairs.
How to Save Money when Buying a Sewing Machine
A good-quality sewing machine costs a couple of hundred dollars. But, there are ways to save if you search the Internet for discounts or coupons. Ask retailers for upcoming sales. Inquire about trade-in allowances. Don't be shy to ask for sewing lessons that are free of charge and always dare to negotiate.
Main Types of Sewing Machines
There are mechanical and electronic sewing machines that you can choose from. Here are all the options you have.
Mechanical Sewing Machines
Mechanical sewing machines are good for those who don't want to spend too much money on fancier tools. This type of machine works well for occasional sewers, too. You must manipulate almost all the controls of the machine by hand.
This type of sewing machine does basic repairs as well as simple clothing, hems, and less complex craft projects.
Electric Sewing Machines
The most popular types of sewing tools are electric machines. You can control these mechanisms by using a foot pedal that will help you sew several different types of stitches. A standard electric sewing system holds a motor inside the machine's body.
The motor is what drives the tool's needle. It also controls other working elements like the feed dogs and the bobbin. Electric machines can function at different speeds that you can adjust via the foot pedal. The harder you push your foot against it, the faster the machine will work.
Compared to manual sewing machines, these ones are more accurate and they help you complete a project quicker.
Embroidery/Sewing Machines
This hybrid sewing and the embroidering machine come with all the amazing features of an electronic tool but it also has some additional functions. With it, you can complete embroidery and monogramming works for projects that create bedspreads, pillowcases, and garments.
There's a hoop under the needles of this machine that moves in 4 different directions (front, back, right, left) as the needle sews. First, you must place the material over the hoop and make sure it is stretched well. Then, you must check if the hoop is securely fixed under the needle.
You can purchase CDs or sticks that contain pre-recorded designs, although many machines come with a few designs built in their memory. Some machine models will even allow you to resize and reposition those patterns.
Computerized/Electronic Sewing Machines
Electronic sewing machines are more expensive than electric or manual ones but, if you can afford them, these tools represent a worthwhile investment. These tools are controlled by computers that do most of the simple yet tedious sewing jobs for you.
The computer is pre-programmed, so it knows what measurements and tension to use to create each type of available stitch. You can adjust those metrics on a screen that comes with a touchpad. More advanced models allow you to download new programs from your computer.
Computerized sewing machines can store hundreds of types of stitches and will memorize your past work projects.
Overlocker Sewing Machines
Overlocker sewing machines will offer a professional finish to your garment's seams. They're created to stop fraying. These tools are normally used next to a standard sewing machine. They cannot be used on their own because their functions are quite limited.
These products trim while sewing. Therefore, their main purpose is to neaten seams. If you use this type of tool to neaten an edge, you must first cut the material yourself. Overlockers sew quicker than other types of sewing machines.
Main Features of a Sewing Machine that You Should Think of
Regardless of the model or the complexity of the machine, all sewing tools should have certain important features like the ability to handle numerous different materials, from satin and lace to corduroy and denim. They should also create straight stitches that aren't loopy without puckering or stretching the material.
Here are the essential features to consider when purchasing the best sewing machine you can afford.
Automatic Buttonholer
With this function, you will be able to sew a hole for a button in one single step without even stopping to turn the fabric. Some sewing machine models allow users to insert their desired button into a dedicated slot. The machine will then sew a hole that fits that button in a very accurate manner.
Good Controls and Ergonomics
A good sewing machine is always responsive when you apply pressure on its foot pedal. You should avoid tools that growl or stall when you're trying to sew multiple layers of fabric or thicker materials. All controls should be located close to your hands so you can reach them easily. They should also be easy to use.
If the system has a LED display, the symbols on it should be easy to read. Pick a machine that features a wider space on the right part of the needle because they allow more room for your hands and for larger pieces of fabric.
Feed-Dog Adjustment
Certain models enable users to create free-style darning or embroidery by placing the mechanism that resembles a tooth shape right under the sewing surface.
Needle Position
This particular feature is important because it lets you move the needle as well as the stitching line. You can move those elements from left to right. Also, the needle can go up or down whenever you stop stitching. When the needle is down, it's easier for you to turn a corner by lifting the pressure foot without jumping a stitch.
Lightweight Structure
If you don't plan to keep the machine on the sewing table at all times, and you want to store it in a closet when you're not using it, then you should choose a lightweight tool, one that's easy to lift. Search for a model that features a handle on the top part.
Presser Feet
You should find out or ask the seller the number of feet that come with the sewing machine. Basic models have one single yet multi-purpose foot that allows you to create both zigzag and straight stitches. However, you will also need a buttonhole foot and a zipper foot.
Adjustable presser feet can regulate the tightness of the machine when it holds the material you're working on. This prevents stretching in knits and puckering when you sew fine fabrics. Fortunately, you can choose from hundreds of types of presser feet.
Speed Control
This feature is important because it lets you control the pace at which you want the fabric to be stitched or fed through the sewing machine. It will enable you to create stitches while maintaining a nice and steady working tempo instead of stopping and starting over and over again.
Needle Threader
This element pulls the thread right through the needle's eye, saving you a lot of time and squinting. It can also prevent potential accidents and frustrations.
Power Switch
You can use the power switch to turn the sewing machine on or off. It is a safety-related issue, especially if you have children wandering around your working space. If the machine doesn't come with this switch, you should use a master switch to plug it into something that's called a safety strip.
Tension Adjustment
This allows you to adjust the thread's tightness. If the thread is too tight, the material can be puckered. When the thread is looser than it should be, the stitches will be loopy. And, believe me, you don't want any of those situations to occur.
Stitches
Based on the machine model, the number and types of stitches vary wildly. The simplest types are zigzags and straight stitches. More complex stitching is the decorative one. Before purchasing a sewing machine, you should check its maximum width and length.
Top-Load Bobbin
With older machine models, users were required to thread the bobbin of the tool in a compartment that was recessed. Nowadays, most models allow users to drop the bobbin in the system by sliding open a panel. These tools come with transparent covers that allow you to see if the thread is running low.
The Most Popular Sewing Machine Brands on the Market
There are several popular brands of sewing machines on the market. Some of them have a long history, and they were used by your grandmas' generations, whereas others are more recent products that are more familiar to younger project-oriented fashionistas.
There are three major brands that sell approximately 70% of all sewing machines: Singer, Kenmore, and Brother. Other brands such as Husqvarna Viking and Bernina are becoming more popular since more and more users want and can afford a more expensive tool that comes with more complex and top-notch features.
Here are the best sewing machine brands on the market.
Brother International
This company is a leading sewing machine manufacturer. It has a market share of nearly 30%. Clients can purchase a wide range of Brother sewing tools, from basic machines to complex hybrid units that serve both embroidery and sewing purposes.
All models feature multiple functions and they are all high-tech products. At the same time, Brother machines are user-friendly and intuitive.
Singer Corporation
This is another popular and well-established sewing machine manufacturer that was founded in 1851. They sell great mechanical machines. On their website, you will find many sewing tools that cover all levels of experience. Therefore, you will certainly find the right unit for you, whether you're a beginner or an advanced sewer.
Husqvarna Viking
There are no less than 20 different models when it comes to Husqvarna Viking sewing machines. Based on your creative idea and the complexity of your project, you must pick the right unit for the job. All these products are very innovative and they are all creating beautiful sewing and embroidery work of arts.
Janome
This is a Japanese manufacturer that produces and markets sewing machines. They have factories in three locations: Japan, Thailand, and Taiwan. Janome Company was founded in 1950 by Yosaku Ose, and it has more than 3,500 employees.
All their models use the latest computerized technology, and they have many amazing features. The brand's Continental M7 model is an award-winning product.
Kenmore
Kenmore units are quite old and they don't seem to make new ones lately. Still, experienced sewing professionals are very fond of them and try to use them for their projects. There are five Kenmore sewing units that many professionals love:
Kenmore 158.1340 – it is a great mechanical sewing machine;
Kenmore 385-15202400 – it is very easy to use;
The Elite model – it does both sewing and embroidery projects;
Kenmore 606-stitch – it's the best choice for quilters;
The 19106 unit – that's the budget-friendly alternative.
Note! All Kenmore sewing machines aren't manufactured any longer. They've been discontinued. However, you can still find a handful of these machines available for sale.
The Best Sewing Machines to Consider
I have grouped the following products into three main categories to cover all the main types of sewing machines.
The Best Mechanical Sewing Machines
Some say that mechanical units are best for beginners. That may or may not be true. What I know for sure is that mechanical sewing machines, although basic, are very reliable. Here are my personal choices of the best mechanical sewing machines.
Singer 4423 Heavy Duty Unit
The metal frame of this machine is created for heavy-duty projects. Its construction is what keeps the Singer 4423 machine in place while you're sewing. The bedplate is made of stainless steel and it ensures a boosted control of the sewing process by feeding the fabric smoothly.
Brother 53St XR53
This Brother sewing machine model comes with 53 built-in stitch types, which is pretty impressive when you think about a mechanical unit that's suitable for beginners. The threader works automatically. There are also an accessory storage area and built-in light.
Janome 41012 Portable Sewing Machine
This Janome sewing machine is very versatile and has a portable frame. The buttonholer is a 4-step one and there are 12 types of stitches that you can choose from. The product features a carry handle that's foldable. With it, you can easily grab the unit and take it with you when you're on the road.
The Best Electronic Sewing Machines
More experienced professionals might prefer computerized sewing machines due to their more complex features. These are the best electronic sewing units on the market.
Singer 9960 Sewing Machine
It stitches very quickly, creating no less than 850 stitches per minute. The table is large, which makes it perfect for bigger projects. The box will come with the unit plus more than 350 different accessories. For beginners, this complex Singer machine with so many features could get a tad overwhelming.
Brother CS6000i Sewing Machine
The oversized sewing table of the Brother CS6000i machine comes in handy if you're working on bigger projects. This product is incredibly affordable for a computerized sewing machine. It's easy to use and it comes with multiple accessories. Compared to other similar units, this one isn't very sturdy, though.
Janome 7330 Magnolia Sewing Machine
Janome 7330 is a very sturdy sewing machine that can handle thicker materials well. The sewing process will be very quiet with this tool. It's user-friendly and has good lighting over the work area. On the other hand, the stitches this machine can do are less fancy than the ones made by other units.
The Best Embroidery/Sewing Machines
If you love to sew and do embroidery and tailoring projects, then the following products are meant for you.
Brother SE600 Hybrid Machine
Brother SE600 is a great and popular sewing and embroidering machine. It is very easy to use and its design is more than convenient. This unit has a compact size which means it won't occupy a lot of space on the table. The needle threader is automatic. This high-end computerized machine lets you see your designs on its touchscreen display.
Singer Futura XL-400
The Singer Futura hybrid machine is great for beginners. It has an amazing embroidery capability and it has a multi-hooping feature that's very useful for your big tailoring projects. You can even hook your computer to this machine and download new stitch types and designs. It comes with two automatic buttonholes.
Brother SE270D Sewing & Embroidering Machine
This Brother hybrid machine is very powerful, and it has incredible embroidery capability. It may have fewer features than other similar products, but it's still worthy of your consideration. It comes with an expansion slot and a built-in memory. This unit is excellent if you want to create mesmerizing Disney embroidery designs.
FAQs
Question: What Kind of Materials Can I Sew on a Sewing Machine?
Answer: You should think about the types of fabric that you work with the most before purchasing a sewing machine:
• Thicker fabrics – if you will be working a lot with thick fabrics such as denim or fleece, then you will require a sewing machine that creates longer stitches;
• Delicate materials – more delicate fabrics must be handled lightly. If you are going to work with this kind of material, you should opt for a sewing unit that allows you to lower the pressure by activating the presser foot. This way you will avoid snagging the material;
• Curtains – curtains need a sewing machine that features an extension table or a large sewing bed;
Stretch fabrics – sewing this type of material is truly challenging. The best way to deal with it is to choose a tool that creates stretch stitches.
Question: How Does a Computerized Sewing Machine Work?
Answer: Computerized sewing machines are also known as electronic machines. They work with a built-in computer. Most of them feature a small monitor or display where the user can operate and select his or her preferred stitches, patterns, and designs.
The computer controls all the functions of the unit such as running the motor, moving the needle, moving the machine's tensioning discs, and many other things.
Question: What Should You Consider When Purchasing an Electronic Sewing Machine?
Answer: There are several important aspects to take into consideration before buying a computerized sewing machine:
• Stitch options – straight, zig-zag, blind hem, backstitch, tri-motion, buttonhole, etc.;
• The size of the sewing unit – more compact units; heavy-duty units; portable units;
Customer service and warranty – check the seller's warranty policy and see what their customer service includes;
• Your budget – mechanical and more basic machines are more affordable, whereas computerized units are more expensive;
• The basics – think about the machine's rotary hooks, strength, threading ease, arm type, and how easy you can clean it.
How to Find the Best Sewing Machines – Bottom Line
Any sewing machine, mechanical or electronic, can do a great job at creating several different stitch types and helping you in completing your projects. However, I would personally opt for a computerized unit due to its more complex technology.
Once you've established your needs and available budget, you're ready to make your choice. Electronic machines should be your go-to option because they act like magic wands for their users. If you also want to do other projects besides sewing, you should buy a hybrid unit or a sewing/embroidering machine, as you probably know it.