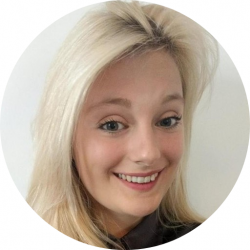 Latest posts by Rosie Greaves
(see all)
If you've stumbled across this blog post, it might be because you fancy turning your hand at creating homemade, bespoke jewelry?
If so, you've come to the right place because, here, we're discussing a foolproof method of finding the best resin for your jewelry masterpieces.
Top Pick: UV Resin Clear by Limino 
There's lots to cover, so let's dive straight in…
What is Resin Jewelry?
As its name so aptly suggests, 'resin jewelry' is the art of creating jewelry with resin. For the uninitiated, resin is a chemical compound that begins as a liquid and then hardens to provide a hard, glossy, waterproof object. 
You'll need to combine your resin with a hardener to create jewelry using this material, which typically takes between 24-72 hours to cure. 
Resin has become increasingly popular for jewelry making because it's simple to use and produces quick and creative results, making it the perfect craft for beginners. 
When combined with wood, flowers, glitter (or anything else you can think of!), the resin can produce a beautiful effect while preserving the items within its protective coating forevermore.
In addition, resin can give the illusion of glass thanks to its transparent and reflective qualities. However, unlike glass, it's virtually unbreakable and glossy; another reason why it's so popular with jewelry makers.
There are four main types of resin used in jewelry making:
Casting resin

Laminating resin

Polyester resin

UV resin
These resins vary in composition, and as such, so do the product's process methods, curing times, and appearances.
That said, let's take a closer look at the first type of resin on our list: casting resin.
Casting Resin
Casting resin is a two-part resin that's ideal for creating jewelry. However, it can be pretty expensive in comparison to other resins. But, you get what you pay for because it's odorless, completely transparent, and non-toxic after curing. 
Casting resin tends to be very fluid due to the low viscosity of the compound. This means the resin has a longer curing time than others on the market. Despite this, layers can be thick, which is great for creating larger objects like figurines and furniture. 
Laminating Resin
Laminating resin is an epoxy resin and is the most commonly used amongst crafters and professionals. Like casting resin, laminating resin also comes in two parts. However, its medium-to-high viscosity means it's only suitable for creating thin layers and sealing surfaces. 
Due to its composition, laminating resin dries exceptionally quickly and becomes hot during the curing process. If the layers become too thick, you'll end up with a cloudy and brittle resin. Therefore, this resin should be layered very thinly, with multiple layers added if needed to ensure a clear outcome and a nicer aesthetic. 
Due to its quick-drying nature (with some drying as quick as six to 30 minutes!), laminating resin is ideal for artists looking to seal their paintings. 
In addition, it can be used to embed heavier objects as its viscous nature ensures the thing you're looking to preserve won't sink to the bottom of the mold. Despite this, laminating resin used in casting should be restricted to smaller objects to obtain the crystal clear result jewelry makers aspire to. 
Polyester Resin
Polyester resin is cheap, robust, and quick drying. This epoxy resin has a powerful odor and cures slightly cloudy. As such, it's only suitable for molding and color casting if the end product doesn't need to meet a high-quality crystal aesthetic. Instead, it's ideal for furniture, thanks to its robust and durable features. 
UV Resin
UV resin is the ideal alternative to epoxy resins. It's odorless, crystal clear, and can be cured under a UV lamp (not unlike the method beauticians use to cure gel polish). 
Due to its quick curing time (a matter of minutes), multi-layered casting is possible. As such, it's possible to embed objects and create depth. However, each layer is limited to about 4mm. Therefore UV resin is only suitable for preserving small things. But, if you're just looking to create jewelry, this shouldn't be a problem! 
7 Factors To Consider When Choosing A Resin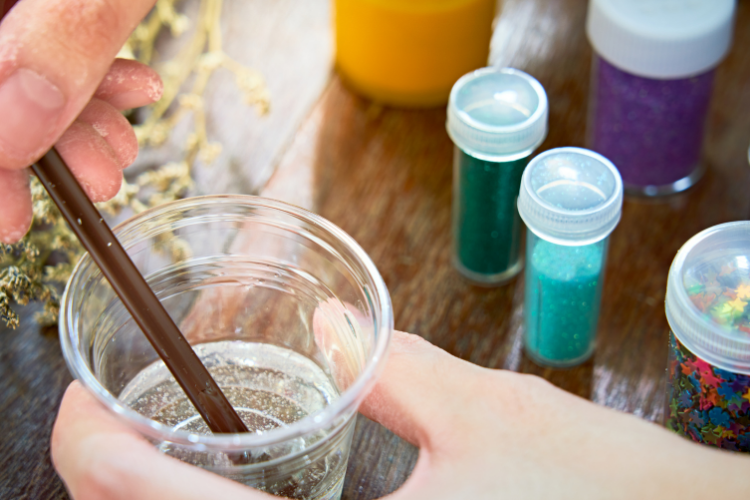 So now you know a bit about the main types of resins, let's dig deeper into what to look for when purchasing a resin:
Pouring Depth
The pouring depth you'll need from your resin will depend on your project. For example, some resins require a minimum or maximum layer depth for curing. Exceeding these measurements may result in a cloudy aesthetic or an extended curing time. 
Viscosity
The viscosity of the resin influences the curing time, clarity, and overall performance of the resin. The higher the viscosity, the easier it is to embed objects, but the quicker it will dry. So make sure you choose the right viscosity level for your project. 
Curing Time
Cure times vary depending on the resin type, making it challenging to determine at face value. However, most resins come with information leaflets explaining the timings. In general, the curing times for most resins range between 24 and 72 hours. Still, we recommend researching the product to ensure maximum results. 
Clarity
If you want a resin that produces a high-quality, transparent finish, choose a clear resin. However, the term 'clear' doesn't always indicate the actual color of the resin. So it's essential to determine whether the resin will cure clear or with a slight tint. Typically, the clearer the resin, the more expensive your purchase. 
Mixing Ratios
As we've already hinted, most resins must be mixed before use. However, they don't all mix the same, namely, as both components need to formulate for the proper chemical reaction to occur. Therefore you aren't able to mix and match resins with hardeners. 
UV Resistance
The glossy, durable, and clear finish we all aspire to with our resins can, unfortunately, turn yellow over time due to exposure to UV rays. We recommend using a high-quality resin with UV protection and adding a stabilizer to the mixture to prevent this from happening. 
Toxicity
In liquid form, resins can release harmful vapors and odors. Luckily resin becomes non-toxic once cured. However, for peace of mind, we recommend using FDA-approved resins and resins that don't use Bisphenol-A to ensure no harm comes to the user.
Regardless of which resin you use, always ensure you wear a respirator mask and gloves and work in a well-ventilated workspace. 
Our Top 6 Resins for Jewelry 
Now let's turn our attention to our favorite four resins for jewelry making. 
Pourable Plastic: Clear Cast Resin by Incredible Solutions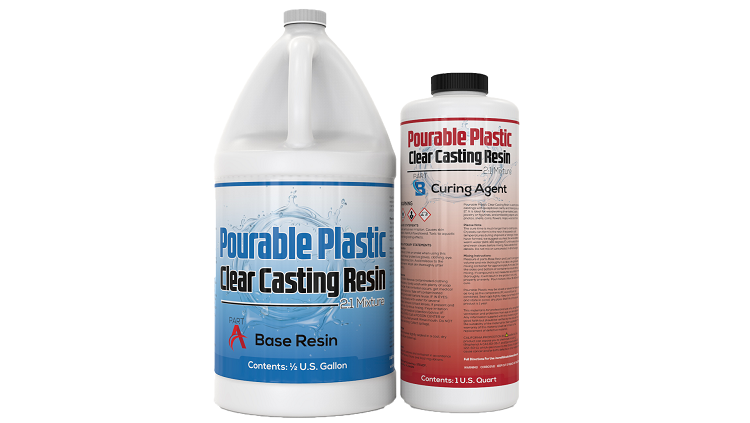 This deep pour casting resin by Incredible Solutions is ideal for all project types, including river tables, live edges, and embedding. This resin is smooth to apply, can withstand layers two inches thick, and cures to a durable, transparent solid with minimal bubbles, fish eyes, or craters produced. 
Its slow curing time (18-24 hours), while cumbersome for some, allows plenty of time for the crafter to mix, pour and work the material to your satisfaction before curing. 
Its UV inhibitors ensure your resin doesn't yellow when subjected to UV rays. This means you can rest easy knowing that this resin will retain its clear and colorless finish for years to come. 
This resin is also ideal for mixing metallic and matt colors. Plus, this product is water and UV-resistant, durable, non-toxic, and at $83.99 for a 3-quart kit, an ideal resin for newbies and professionals alike!
Product Warnings
The product mentioned above is subject to (but is by no means limited to) the following safety concerns:
Serious eye damage

Skin irritation

Fatal if swallowed or enters airways

It can trigger skin allergies 

Respiratory irritation

It's toxic to aquatic life 
Art Resin by ProMarine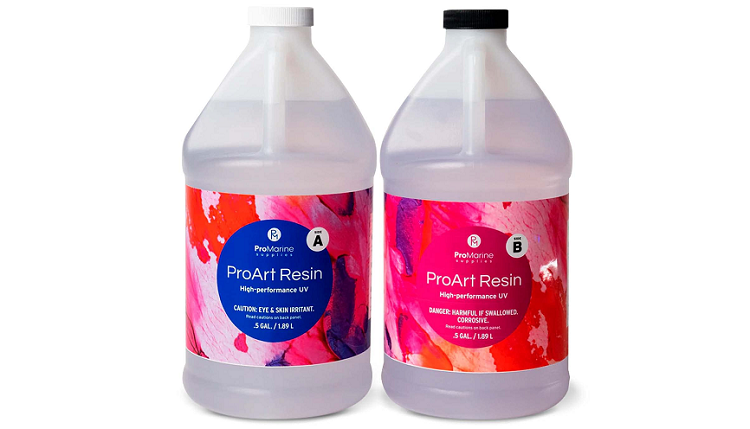 ProMarine's Art Resin is a favorite amongst crafters and professional artists alike. It provides a protective coat for all your work and boasts a glossy and high-quality finish. It's also made from non-toxic ingredients, so you don't have to worry about toxic fumes or chemicals, making it suitable for indoor and outdoor use. 
Mixing this product is super simple with its 1:1 resin to hardener ratio. This kit includes one gallon of each compound to ensure you have enough for all your project's needs. The thick viscosity of the resin ensures it's easy to embed objects into, but it also dries quickly. 
Pro Tip: To eradicate bubbles, let the mixture rest before applying the resin. This product has de-gassing qualities and will level out any impurities. 
This product is ideal for artists of all levels. Despite this, it does come with a hefty price tag. At $258.61, we advise only using ProMarine's Art Resin if you're doing frequent artwork to a high level – or things will get pricey very quickly!
Product Warnings
If it comes into contact with your eyes, severe eye damage can occur.

If it comes into contact with your skin, irritation can occur.

It's harmful if swallowed.

It may cause an allergic skin reaction.

It may cause organ damage through prolonged or repeated exposure.

Pregnant women should avoid this product.
Water Clear Polyester Casting Resin by Paints 4 Trade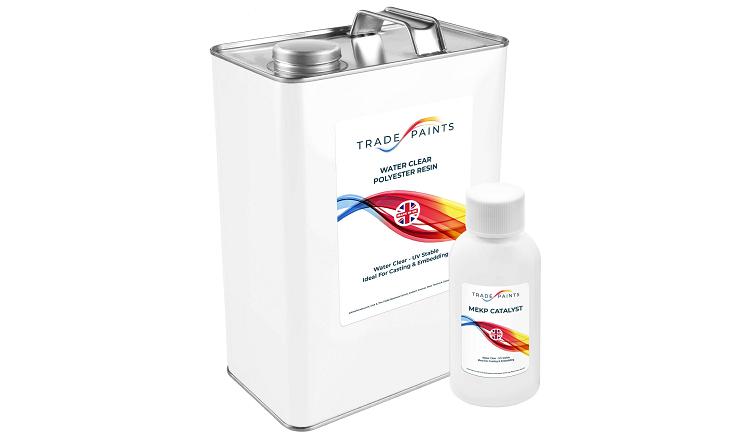 Water Clear is perfect for anyone wanting to cast, embed, or even preserve biomatter in resin. It's increasingly popular with jewelry makers due to its clarity once cured. In addition, it's so realistic that artists have used it to re-create natural water effects such as ripples, streams, and waterfalls.
Its UV properties also make it the perfect resin for outdoor projects such as water features or furniture, as the resin won't react with the light and turn yellow. 
Building multiple layers is easy and results in a crystal clear merge. However, due to the heat produced during the curing process, we advise allowing each layer to cool before commencing with the next.
With a price tag of $67 for 6.25 quarts, plus the catalyst, this is one of the cheaper options on our list. But, despite this, it produces pretty impressive results! 
UV Resin Clear by Limino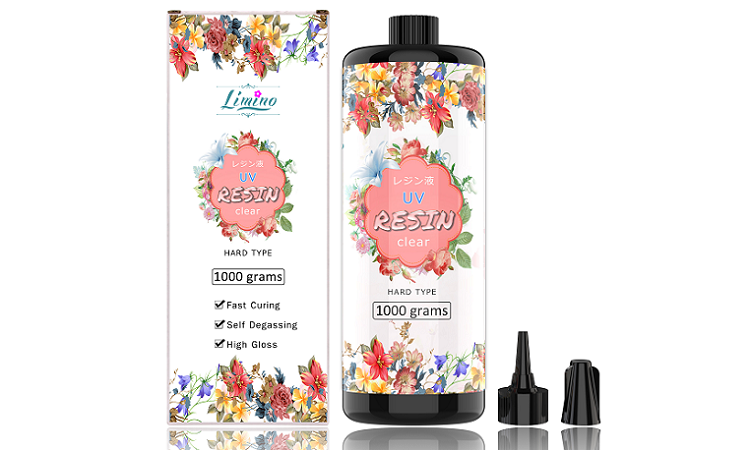 If you need a resin that cures exceptionally quickly, this is the product for you. The UV clear resin by Limino is fast-curing, high-gloss, and self-degassing, making it super easy to use!
This resin is incredibly convenient as it cures to a rigid glass finish under either a 36W UV lamp or in direct sunlight. So you can work wherever you want!
There's also no mixing involved, meaning the resin is ready to go as soon as you get it into the small nozzle to inject into the mold. 
UV Resin Clear is transparent and has anti-scratch and anti-stain properties to ensure the best quality results for your project. It also resists the yellowing reaction of other resins. UV Resin Clear can also be combined with mica powder, glitter, and color to make it uniquely your own.
At $41.99 for 500g, this product isn't suitable for large, multi-layered projects. However, it is ideal for delicate resin jewelry needs.
Super Clear Epoxy Resin Kit by Resin Obsession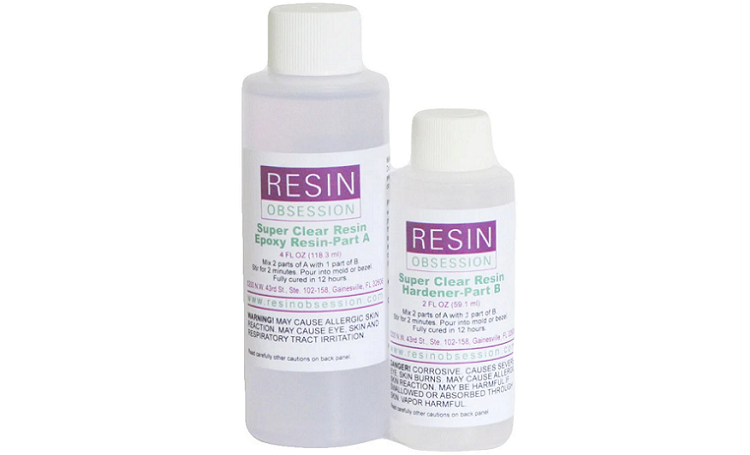 This resin boasts a specific bubble releasing formula for an ultra-clear end-product. This brand might appeal to beginners who need an easy and quick way to produce high-quality, clear, and hard-cured resin. This resin can be released from its mold in as little as eight hours. 
You need to combine this resin with a hardener, which is then mixed and poured into the mold. But, you can also add resin color to this solution. 
As well as jewelry, this product works particularly well for creating resin coasters, custom dice, paperweights. Prices start at $17 for individual color bottles to $60 + for a range of colors. Their 6 oz resin kit goes for around $30 on Etsy. However, for the gallon kit, the price is $196. 
While the brand doesn't elaborate on this product's potential dangers, they state that it's been reviewed by a toxicologist who ascertained it safe for when used as directed. 
Epoxy Resin Crystal Clear Kit by Puduo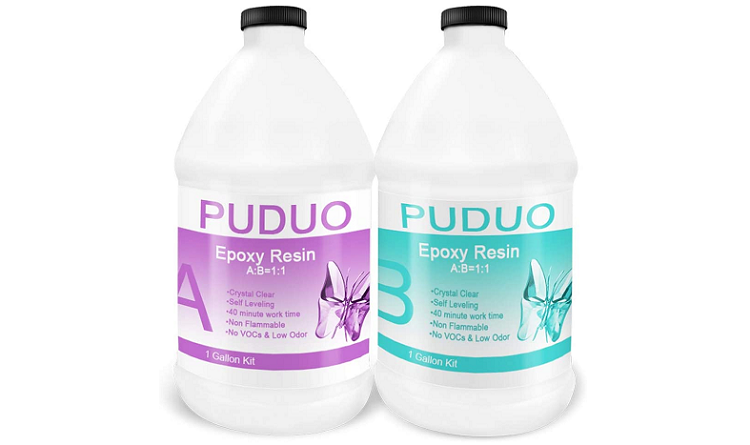 This resin kit is a prevalent choice among jewelry makers, with over 15,000 reviews on Amazon scoring a 4.6 out of 5-stars rating. This easy-to-use set comes with resin, hardener, and mixing utensils (gloves, containers). 
A 1-gallon kit costs $123, and typically the resin cures fast. In fact, you can remove it from the mold within eight hours, and it will be completely cured within 24 hours. Even so, once you have mixed the solution, you will have up to 45 minutes of work time before the hardening sets in. 
The odorless solution is self-leveling and self degassing, so you shouldn't get any bubbles that ruin your finish. While the resin dries clear and has resistance to yellowing from UV exposure, it's still good to keep it out of the light, as most epoxy solutions tend to yellow over time. The product works best with wood, glass, and rubber jewelry projects for longer-lasting finishes. 
This product complements a range of color pigments, including glow in the dark, transparent and pearlescent colors.
Product Warnings
Only use in well-ventilated areas

Use gloves for handling resin

End-products should not be left permanently outdoors because of discoloration
Other Essential Equipment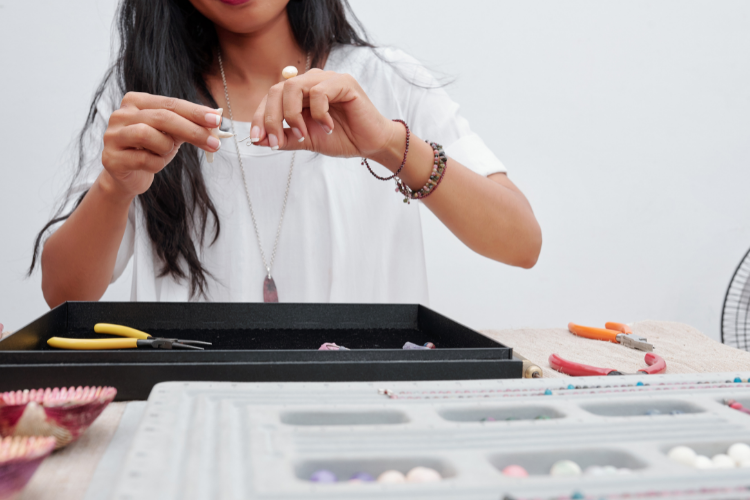 Now you've found your resin, it's time to collect the equipment you'll need so that you're ready to hit the ground running:
You need a mold to shape your resin to make your project come alive. Plastic and silicone molds are appropriate for jewelry making. However, silicone molds are generally easier to handle. 
The mold options are extensive, with a wide range of different shapes for pendants, earrings, rings, brooches, and much more. 
Mold Release and Conditioner
Before you can pour your resin into the molds, they need to be prepped for easy removal. Buying mold release and conditioner enable the quick release of the cured resin. It also makes it much easier to clean the mold and extends its life, too – win-win! 
Wax Paper
So your resin is cured and looks beautiful, but you can't get it off the countertop? This is where wax paper becomes your best friend, as resin won't stick to it. Be sure you get some of this before you end up in a gooey mess! 
A Mixing Cup
Having a mixing cup to hand is always a good idea when crafting and is especially useful for mixing resins. A mixing cup with measuring units on the side is ideal for ensuring the correct ratios for the perfect mixture.
Popsicle Sticks
Why? for mixing, of course! There's no need to ruin multiple paintbrushes; use popsicle sticks to apply and manipulate the resin instead.
Objects to Embed
Are you looking to add some finesse to your craft? Add glitter, shells, dried flowers, and color to your design to create a totally unique work of art! 
Tweezers
Grab yourselves a pair of good tweezers to help place objects within your design. Trust us, they're much easier to use than cocktail sticks and a lot less messy! 
Pendant Trays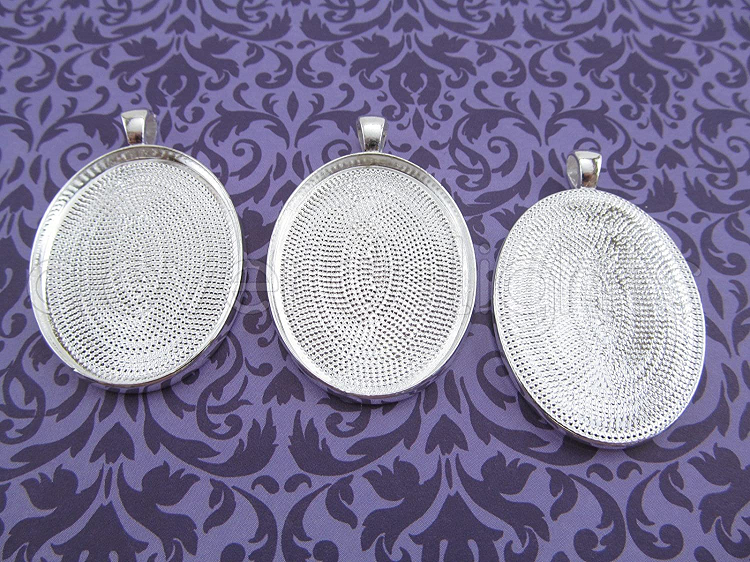 If you want to create a flat pendant, buy some pendant trays for your mold. These are shallow, secure from leakage, and, best of all, super cheap! Most pendant trays come in various multipacks, meaning you can experiment a lot for a little.
Jewelry Findings
These are the parts that bring your jewelry together. For example, if you've made resin earrings, the findings would be the ear posts, hoops, or fish hook fasteners needed to secure them. Findings also include fasteners for necklaces and bracelets, spacer beads between beading, and wires.
Ensure you have all your findings first before casting if you need to place them within the cast. This will prevent you from drilling excessive holes into your work to join a finding. 
Needle Nose Pliers
A pair of needle-nose pliers are an excellent investment for any jeweler. They enable you to manipulate the wire, fastenings, or findings to your exact specification and create intricate detailing.
Quick Hold Adhesive Glue
When embedding findings aren't suitable, make sure you have some Quick Hold Adhesive Glue. This dries exceptionally fast and is very strong, perfect for flimsy findings that need holding together. Just don't accidentally stick your fingers together! 
Safety Equipment
The most important thing to remember when using resin is to wear your safety equipment. Always wear gloves, an apron to protect your clothes, a respirator, and safety goggles to ensure you don't inhale fumes or accidentally get anything in your eyes.
Depending on the resin you're using, it can be highly toxic before it's cured, so walk on the safe side and protect yourself. 
FAQs
Last but not least, let's answer some frequently asked questions we hear about resin:
Question: What Can I Make Out of Resin?
Answer: When it comes to resin crafts, the world is your oyster. Popular projects include earrings, pendants, rings, figurines, river tables, and much more. 
Question: Why Should I Use Resin Developed Explicitly for Crafting?
Answer: While standard resin can work, it won't be the same quality as those developed explicitly for craftwork. 
For example, industrial resins are likely to be more toxic and difficult to handle than craft resins. In addition, industrial resin is more likely to react with UV and take on a yellow appearance, as mentioned in this article. 
Therefore, to ensure you get the most out of your craft, purchase a resin suited to your needs rather than industrial resins that are bulk buy and cost-effective. 
Question: Is Resin Dangerous?
Answer: Crafting resin can be dangerous if it's not utilized correctly. However, it's considered non-toxic and non-hazardous, providing you follow the instructions. 
You'll need to be proactive when it comes to ensuring resin never comes into contact with your skin, eyes, or mouth. Working in a well-ventilated room while wearing protective clothing will help prevent any nasty accidents. If, for whatever reason, you're directly exposed to the product, rinse with water and seek medical advice. 
Question: How Does Resin Harden?
Answer: Resin can harden in two specific ways. The first is through a chemical reaction, and the second is exposure to UV light. 
With resins that require two components combined, a chemical reaction occurs, and heat energy is released. Then, once cooled, this resin will start to cure and take up to 72hrs to harden completely. 
Resins that are explicitly cured when exposed to UV light can cure much faster however they become more difficult to adjust during this process. 
Question: Can I Save Extra Resin for Another Project?
Answer: Due to the curing process, once mixed, the product has a shelf life of around 24-72 hours before it hardens.
Once this happens, it's of no use and can't be revived to use in another project. The alternative to bulk mixing is to buy a ready-mixed resin which reduces waste and gets you crafting much quicker than combined products.
Question: How do I Remove Bubbles?
Resin bubbles can be a nightmare, and it can be challenging to figure out what to do to eliminate them. Some resins have de-gassing properties to assist with this. However, what do those of us who have standard resin do? 
Here are a few solutions worth trying:
Cast resin in a warm room as resin works best at around 70 to 75°F. The extra warmth helps the reaction take place quicker, which should reduce the number of bubbles in the process!
Additionally, you can warm the resin before casting. Microwave the resin until it's warm (but don't boil it!), or place the bottles in a sealed plastic bag and set it in a bowl of hot water. NB. Don't let water get into your resin, as this will affect the curing process. 
Always mix your components together gently to reduce the number of bubbles. 
If you're layering resin, ensure each layer is warm before basing the next one. Placing a warm layer on a cold one will produce more bubbles in the top layer. 
Finally, if you still have bubbles at the end, use a hairdryer gently across the surface of your resin to pop excess bubbles.
Our Final Thoughts
If we had to pick a favorite resin, it would be, without a doubt, UV resin. The UV Resin Clear by Limino brings everything you need for resin jewelry:
Speed: 

This resin dries in minutes. So, if you're making jewelry for a business and need fast results, it doesn't get much faster than this.

Quality: 

Its de-gassing and leveling qualities make it an easy choice for beginners and professionals alike. What's more, the anti-scratch, anti-stain, and yellowing resistance all work to produce a high-gloss and hard finish, which is ideal for all jewelry makers.

Useability:

Not needing to mix the uncured toxic resin and having it ready to go in a simple bottle makes this product a go-to for crafters wanting a hassle and mess-free experience. It's convenient even if you don't have a UV light source as it also cures naturally in sunlight. Finally, since the resin comes in smaller bottle sizes, the price makes it a good choice for intricate, smaller projects that jewelers often undertake.
And so there you have it, all you need to know about how to start creating your resin jewelry masterpieces. Don't forget to tell us how you get on in the comments box below!
Check more guides below, to find more inspiration and perfect your technique:
How to Find the Best Chrome Spray Paint
How to Find the Best Glue for Felt