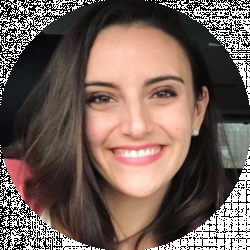 Latest posts by Courtney Myers
(see all)
Are you growing tired of the dull and dingy light fixtures in your kitchen or bathroom? What about the fading finish on your car or motorcycle? What if there were one product that could instantly transform the look of these materials, giving you an entirely new piece without breaking the bank?
Enter, chrome spray paint.
With a few shakes and sprays, you can give almost any surface the shiny, glossy texture of your dreams. However, it's safe to say that not all products are designed alike. You want one that will look great, last forever, and out-perform the competition in terms of price and appearance.
Today, we're sharing how to find the best chrome spray paint on the market, and where to start shopping today.
What Is Chrome Spray Paint?
It might look like pure magic, but chrome spray paint is pretty simple. In technical terms, it's referred to as a front surface silver. Put simply, this means that the silver tone is not mixed evenly throughout the paint. Instead, it's only visible at the top of the finish.
While you get to appreciate the shiny, slick color of chrome, the paint itself is nothing more than pigmented spray paint. During the manufacturing process, the paint is put through a specialized process that results in a glossy silver color when applied.
While it might allow you to mimic the look of authentic chrome plating, keep in mind that this product is still sprayed paint at the end of the day. That means that it can chip, scratch, or degrade with normal wear and tear, so it's important to treat it with care and caution.
Why Do You Need Chrome Spray Paint?
You can use chrome spray paint to give a new, shiny finish to almost any surface inside or outside of your home. In your interior, you can use it to spruce up old or antique hardware, including cabinet knobs, light fixtures, and even bathroom faucets. Outside, it's a must-have for any car enthusiast, as it can easily make over dull handles, mirror covers, fender trims, and more.
Let's take a look at a few of the top advantages of investing in a few cans of great-quality chrome spray paint.
Instant Shiny Finish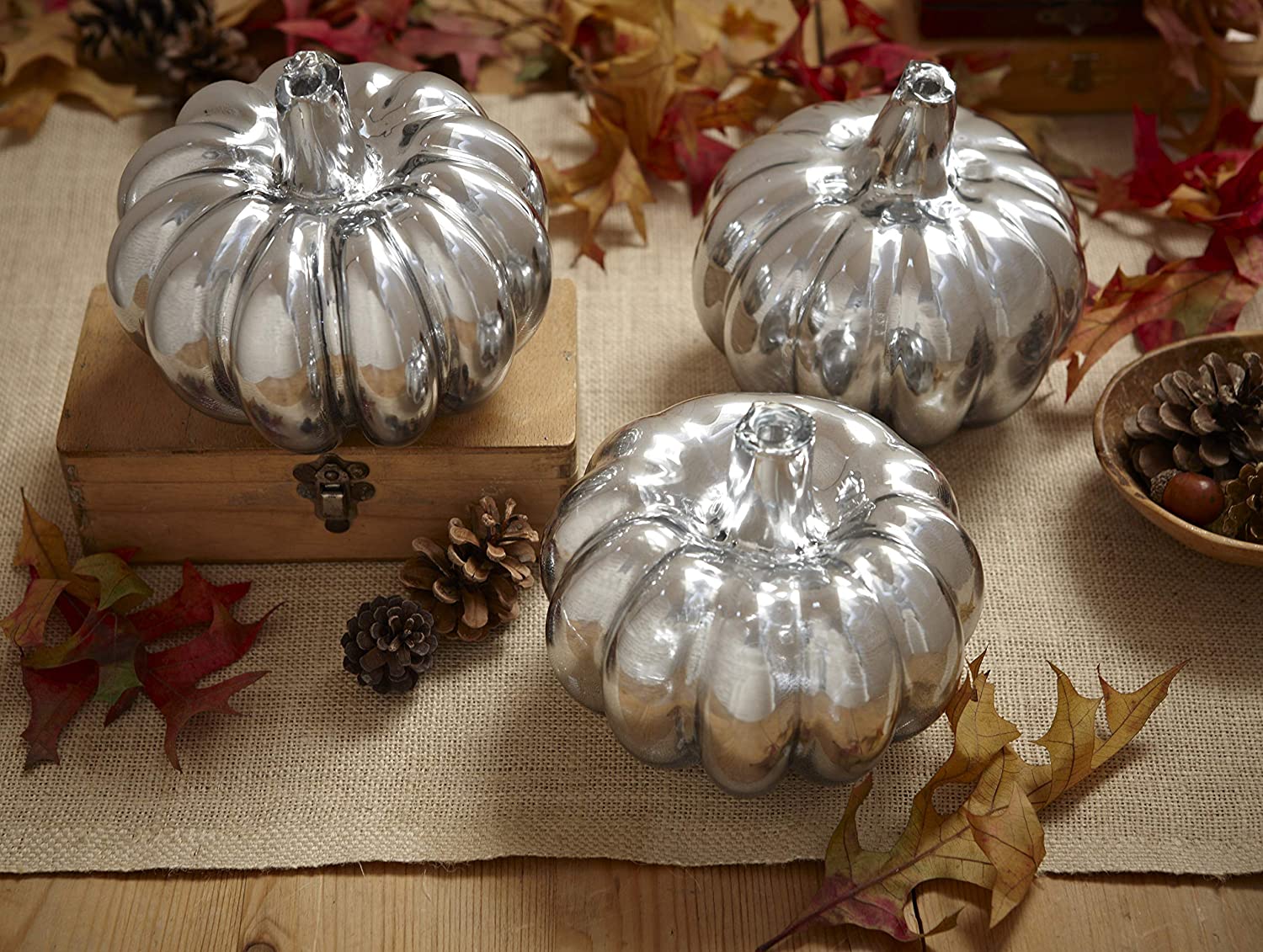 Sometimes, a part is in great condition, but it's aesthetically marred. Maybe there's a scratch on your heirloom silver mirror, or the door handle to your Corvette is looking more than a little tarnished.
The best chrome spray paint goes on evenly and dries smoothly. It delivers a smooth, shiny chrome finish that looks just as good as the real thing.
Inexpensive Fix
Replacing metal parts through electroplating can get expensive. It can also be time-consuming and complicated, with plenty of room for user error.
Chrome spray paint will only cost a few dollars but can help you achieve the look of a new piece for much less. Plus, it's practically fail-proof and easy for even beginners to use. You don't need any special tools or accessories to get started.
Superior Vehicle Protection
Chrome spray paint does more than improving the appearance of your vehicle. It can also safeguard its metal surfaces against minor issues such as chips and scratches. If you live in a climate where your car sees plenty of inclement weather or salty roads, then the paint can also act as an extra layer of protection.
Many of the top-performing ones will include anti-rust properties that improve their longevity. If you apply the spray paint over the original chrome, then you'll help extend the overall lifespan of that product.
Eco-Friendly Transformation
If you decided to skip chrome spray paint and chose to authentically chrome plate your object instead, then the process could pose a risk to both your health and the environment. Chrome plating, or electroplating, requires adding a thin layer of chromium onto an object.
When inhaled, chromium is a known carcinogen. According to the U.S. Environmental Protection Agency (EPA), exposure could increase your risk of lung cancer. This substance is also an environmental toxin.
On the other hand, most chrome spray paints are water-based and are generally considered much safer alternatives. As long as you apply the paint in a well-ventilated area, then there should not be major risks associated with your project.
Versatile Uses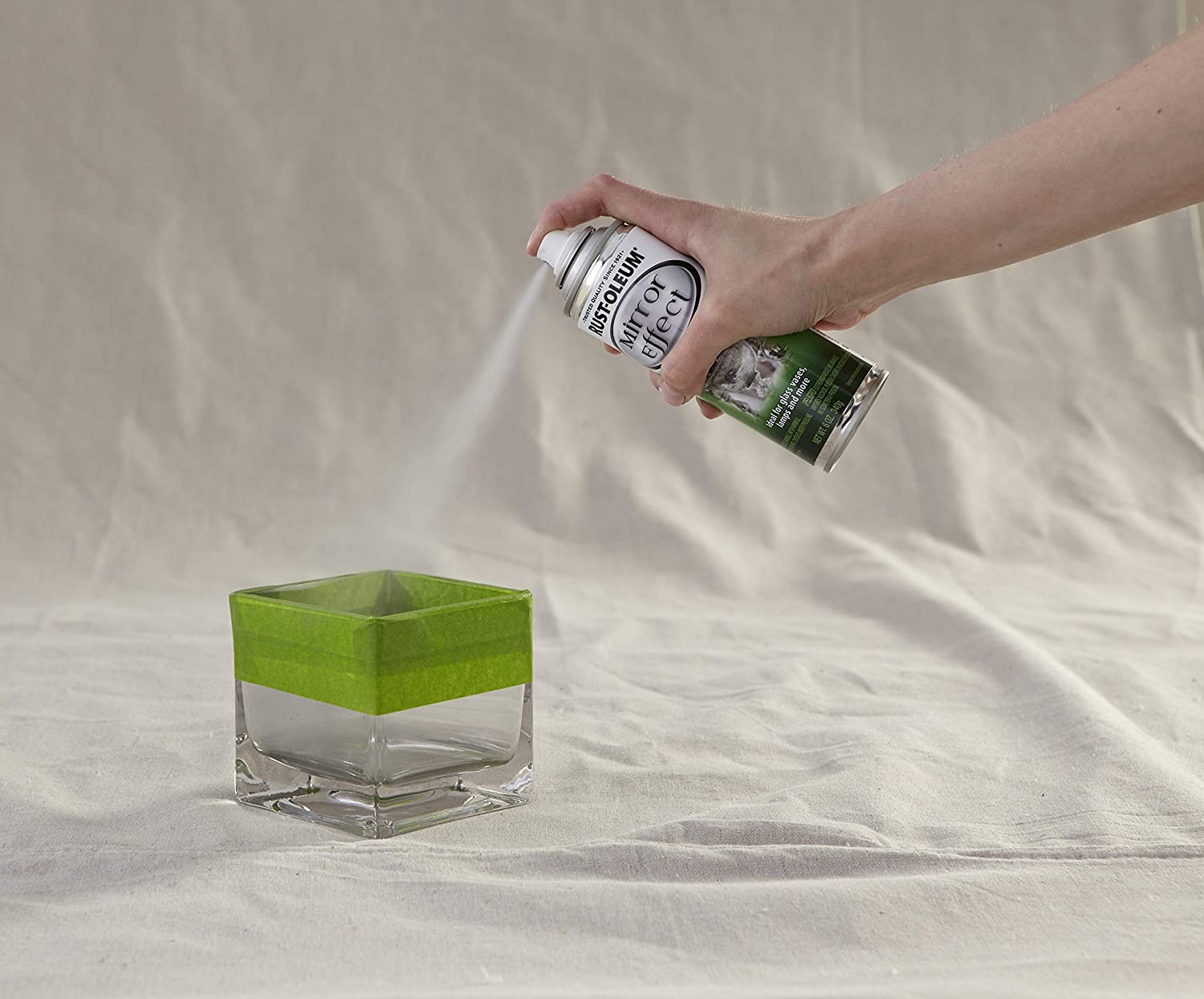 Sure, chrome spray paint can help your ride look its absolute best. However, that's far from the only way to use it. When you buy a new can, you open up your home to infinite possibilities.
This product applies beautifully to a range of different materials, including:
If you only need a thin layer of protection, then one or two layers might be adequate. Or, you can apply multiple layers to make the coat extra thick. Once you find the right one, you can use it to enhance:
Small household knickknacks and accessories (spruce up a thrift store and secondhand finds!)
Interior and exterior doorknobs
Lamps and light fixtures
Bathroom fixtures
Cabinet and door pulls
Curtain rods
Decorative boxes or storage containers
Picture frames
Furniture legs
Holiday decor (ornaments, foam reindeer, trees, and wreaths)
How to Find the Best Chrome Spray Paint: Features to Look For
Once you've decided that chrome spray paint is the best product for your project, it's time to find the best one available. If you've never shopped for this type of paint before, you may not know where to begin. What makes one brand of spray paint better than the other?
To help you get started, let's take a look at the features to consider, along with what set great-quality paint apart from the rest of the pack.
Mirrored vs. Metallic Finish
As you shop around, you'll soon discover that there are two different types of chrome spray paint available on the market: mirrored-finish paint and metallic-finish paint.
In terms of appearance and durability, mirrored chrome spray paint is usually your best bet. With its impressively glossy finish, it looks more like real chrome than metallic alternatives.
Like a real mirror, the finish on this paint is normally shiny and reflective. If you're looking to mimic the look of chrome as closely as possible, then opt for this one. If possible, find a can that advertises a chip-resistant or fade-resistant finish.
While it might seem counterintuitive, metallic-finish chrome spray paints are less shiny. Although they're usually marketed as "high-gloss", most users find that they're too dull to replicate the look of authentic chrome. However, that doesn't mean you have to eschew them.
Because it's more balanced, metallic-finish paint is often easier to match than mirrored-finish varieties. For this reason, some users prefer to keep it on hand for minor touch-ups and quick fixes. If you plan to replace your chrome parts down the road, then you may be able to get by with metallic-finish spray paint for now.
Wear Resistance
The overall lifespan of your product will depend on the material that you're painting. While high-gloss paints will adhere well to metal, they might not last as long on wood or plastic surfaces. Still, it's important to read the label of each can carefully. Look for descriptions that mention durability, chip resistance, fade resistance, and scratch resistance.
This feature is especially important if you plan to apply your spray paint to the outside of your vehicle. From sleet and snow to harsh UV rays, these components take a beating over the years and it's important to protect them as much as possible.
Drying Time
Does your DIY project have a time limit? For instance, you may need to update your car before a big show this weekend. If time is of the essence to you, then be sure to note the drying time on each can of chrome spray paint that you find.
While most are dry within 24 hours, you may be able to find some that dry in as little as 15 minutes. If you plan to apply more than one coat, then be sure to factor that into your overall timeframe as well.
Primer vs. No Primer
Some chrome spray paints will come with primer already included in the can. If this is the case, then all you have to do is shake and go! This is especially helpful if you're painting a surface that paint doesn't traditionally adhere well to.
When using a pre-primed product, you can usually avoid other types of prep work, including sanding. These products usually last longer and are capable of withstanding even the heaviest use.
Chrome paint with primer included is a great choice when you're trying to cover:
Metal (especially doorknobs)
Wood
Plastic
Outdoor furniture
Vehicle rims
Total Coverage
There's nothing as frustrating as getting all of your supplies ready for a home project, only to find that you don't have enough paint to complete it. To avoid this issue, look at the total amount of coverage that you can achieve with each can of paint. Most labels will advertise the number of square feet that the paint will cover.
Best Chrome Spray Paints: Our 5 Top Picks
Want to skip all the legwork required to research the best chrome spray paint around? We've taken care of this process for you! Below, we're sharing our five top picks in this category. The best part? All are available on Amazon, so you can take advantage of lightning-fast delivery, verified buyer reviews, and easy returns if required.
Selection Criteria
To narrow the wide sea of options down to these five choices, we used three main criteria. These are:
Economical price point
Excellent user reviews (at least 75% four or five stars)
Premium, realistic chrome finish
There are no sub-par performers on our list! Each one knocked it out of the park in all three categories. Let's take a look at our picks!
Krylon Premium Metallic Spray Paint
Don't let the label fool you. Although the 8-ounce Krylon Premium Metallic Spray Paint advertises a metallic finish, many buyers agreed that the result is a super glossy, mirror-like finish! Adhering beautifully to almost any surface, it's designed to resemble real metallic plating.
Krylon has been a trusted name in quality paint since 1947 and is considered the largest and most prolific supplier of aerosol paints in the world. This product stands up to its quality standards and is sure to become a staple in any craft room.

Pros:
Smooth, lustrous finish
Dries in just 10 minutes
Acid-free paint
8-ounce can cover 20 square feet
Trusted brand
Cons:
Dry to the touch doesn't mean dry to handle. Some users mentioned it can take a few hours to completely dry.
Can be difficult to achieve an even coat
Some users mentioned that the paint had more of a matte finish than desired
For only $8.34 a can, this is a great buy! It comes in a pack of one and is also available in a range of other finishes including gold foil and sterling silver.
Rust-Oleum Specialty Mirror Spray
With the word "mirror" in the title, you know this chrome spray paint will deliver the extra-shiny sheen that you want. Indeed, the Rust-Oleum Specialty Mirror Spray is a sure bet if you're chasing the bright shine of real chrome. At six ounces, this can is a little smaller than the one from Krylon, but it packs a powerful punch.
The paint adheres very well to a variety of household items, including vases, frames, and even tabletops. It can even transform glass and acrylic glass into a mirror-like surface.

Pros:
Realistic, mirror-like finish
User-friendly and easy to use
Dries in 10 minutes
Sprays from any angle
Trusted brand
Cons:
Is mostly meant for small, indoor accessories and isn't recommended for exteriors or vehicles
Some users complain that the spray nozzle drips
Only covers around four square feet
One can of this paint is just $11.27. You can also purchase a two-pack for $30.
Dupli-Color Chrome Instant Enamel Spray
Short on time? Not a problem with the Dupli-Color Chrome Instant Enamel Spray. While the brand might not be as instantly recognizable as Kryton or Rust-Oleum, this paint earns high marks for its substantial, 11-ounce size and realistic chrome appearance.
Designed to be used indoors and outdoors, it's ideal for metal, wood, and fiberglass surfaces. If you're looking for an auto-specific paint that will help your vehicle shine like never before, then this is the one.

Pros:
Larger size than others on the list
Dries quickly
Smooth, shiny color that's great for resurfacing
Great for vehicles
Cons:
Some users claimed the finish could rub off if pressure was applied
Can look more silver than chrome in certain applications
At just $10.60 for an 11-ounce can, this is an economical buy that you can feel good about.
Krylon Short Cuts Aerosol Spray Paint
Sometimes, the best things come in the smallest packages. This is true of the Krylon Short Cuts Aerosol Spray Paint. At just three ounces, it's the smallest can on our list, but you don't need to use much to see a major difference.
This paint delivers a long-lasting, high-quality finish that truly replicates the look of actual chrome. Its small size makes it perfect for around-the-home touch-ups, and you'll want to keep a few cans on hand. It's especially popular on outdoor furniture, including metal and wicker!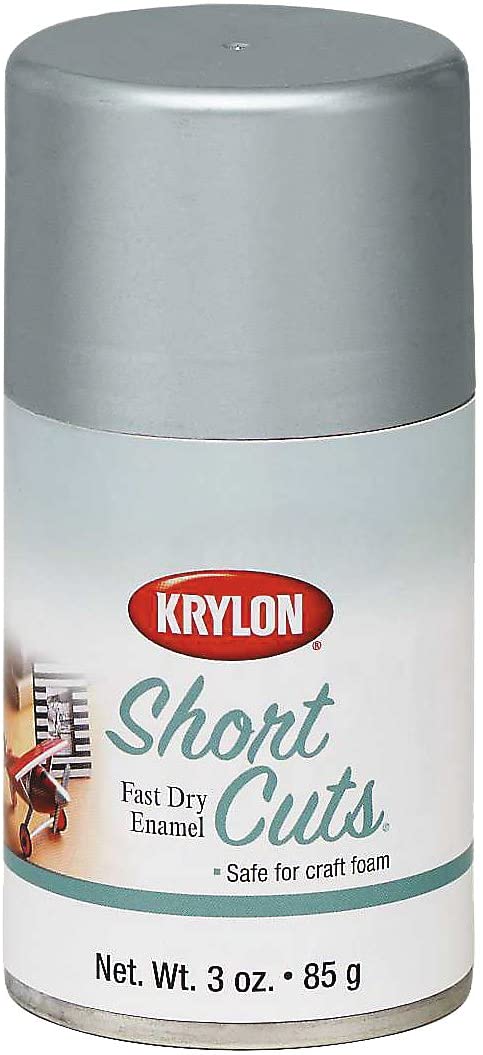 Pros:
Elegant, sleek finish
Long-lasting
Realistic appearance
Cons:
Might not be big enough for large projects
Some users said the finish was a little dull
This particular paint is available in a ton of different colors, from flat black to hot pink. At only $5.26, it's a great budget buy, especially if you only need a small amount.
Montana Cans Ultra Wide Chrome Spray Paint
When you've got a big paint job ahead of you, it's smart to invest in a product that's robust enough to get the job done. At a whopping 25 ounces, the Montana Cans Ultra Wide Chrome Spray Paint is your best bet for heavy-duty coverage.
Depending on the distance, you can spray this paint up to 6.5 feet away and up to 24 inches across. This is an incredible vertical stroke that allows you to tackle the biggest projects with ease. This makes it easy to coat a wall or add wide line details.
Pros:
Even coating
Ability to cover a large area
Shiny metallic finish
Cons:
Some buyers said the packaging was damaged during shipping
Paint can clump during spraying
One large can currently cost just $24 on Amazon, so snag one while you can!
FAQs
Question: How Do You Apply Chrome Spray Paint?
Answer: When it comes to spray paint, your method of application matters just as much as the product you buy. If you're just looking to achieve a simple chrome plating effect, then stand about 10 inches away from your surface and spray the paint in even strokes. Keep in mind that it might take a few coats to achieve the look that you want.
If the paint that you're using doesn't come with a primer, then you'll need to apply a coat of primer before you use the chrome paint. You may also need to add a clear base coat. Always follow the manufacturer's instructions on the can that you're using. Make sure to start with a clean surface that's been cleared of any type of dirt and debris.
Question: Can I Paint My Car Rims With Chrome Spray Paint?
Answer: Yes! The right kind of chrome spray paint can restore your rims and help them look as good as new. Just double-check the can that you're using and make sure it's approved for automobile use. This approach will work well with a variety of rim surfaces and can give them an eye-catching, shiny appearance.
If you're purchasing chrome spray paint to makeover your vehicle, the only caveat to keep in mind is that some surfaces will require special paint designed to withstand high temperatures. This is especially important if you're painting a component like your exhaust, which can get super hot.
Question: How Can I Protect My Chrome Spray Paint?
Answer: When you take the time to coat a surface with chrome spray paint, you naturally want it to last as long as possible. To expand its longevity, you can apply a clear topcoat once the final paint layer is dry. This will help seal the paint and protect it against the elements.
If durability is a major concern, then look for premium chrome spray paint that's designed to last as long as possible. The top brands might cost a little more, but they will usually hold up better against a variety of potential problems, including:
Chipping
Cracking
Scratching
UV rays
Mold and mildew
If you use the paint on your vehicle, then you can add a double layer of protection by parking your car inside of a garage whenever possible. Direct exposure to rain, wind, and sun can fade it much more quickly.
Question: How Can I Achieve a Shiny and Reflective Finish With Chrome Spray Paint?
Answer: You received your chrome spray paint, and you've tried it out on a few items. However, despite the label and your best efforts, the final result just isn't as shiny or reflective as you'd like it to be. Here's where it helps to know an insider secret!
Most people skip this step but try painting your item with a dark base coat before you go back over it with the chrome paint. When you apply the chrome finish on top, it will reflect against the dark color and give you the sheen that you're looking for. If you spray the dark paint, then one coat should suffice. If you hand-paint it, then you may need one or two coats.
Question: How Do I Clean My Chrome Spray Paint Valve?
Answer: A clogged valve can turn a great can of chrome spray paint bad in an instant. Hopefully, this isn't an issue that you will ever have to contend with, but it's a quick fix that you should know. Cleaning your spray valve regularly will ensure that your aerosol can of paint will continue to work well for years down the road.
To keep yours from clogging, start by turning the can of paint upside down. Then, hold the nozzle down for five seconds. By that time, the nozzle should release clear gas. This is a preventative measure that will help keep that part clear and clean. Always perform this step before storing your paint for an extended period of time.
Yet, what should you do if yours has already clogged? In this case, begin by gently wiping the outside of the nozzle with warm water, using a clean towel. If that doesn't dislodge the debris, then you can add a small amount of laquer thinner to the towel. Before using the paint again, test it on a scrap piece, as the initial spray might be a little uneven.
Transform Your Home With Chrome Spray Paint
Craving a little change? You don't have to rush out and purchase a bunch of shiny new things to make your home feel special again! With a few cans of chrome spray paint, you can breathe new life into your furniture, decor, accessories, and even your ride!
For best results, look for a can that contains enough paint to get the job done. Then, read reviews to determine which ones will spray evenly and deliver a realistic chrome plating look. For a fraction of the price that you'd pay for professional electroplating, you can add a touch of brilliance to almost any space.
For less than $10, our top pick is the Krylon Premium Metallic Spray Paint. Backed by Krylon's excellent reputation, this wallet-friendly paint covers an impressive 20 feet and dries to the touch in just 10 minutes! It's destined to become a staple in your craft room for years to come.
Now that you know how to find the best chrome spray paint, it's time to get started! What will you refresh next? From wooden picture frames to the rims of your car, there's no limit to the luster.
Looking for more crafty tips as you embrace your DIY side? We've got it all on the site, so be sure to check back here often for more informative guides!