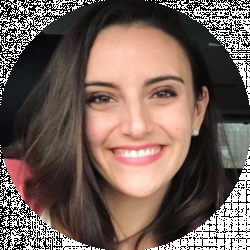 Latest posts by Courtney Myers
(see all)
Woodworking is one of the most rewarding, hands-on crafts around. The finished product is more than a work of art. It's a one-of-a-kind masterpiece that's bound to earn plenty of rave reviews wherever it's displayed. Increasingly, it could also earn you some serious bucks.
Wooden crafts, including the ever-popular homemade novelty signs, have surged in popularity over the past few years. The reason for this uptick is primarily because of a renewed interest in everything rustic, primitive, and Joanna Gaines-approved.
Whether you've dabbled in woodwork for years or you're making your first foray into this hobby, it helps to have the right tools by your side. This includes knowing which paint will pop against the grain and help your product shine. Today, we're sharing how to find the best paint for wood crafts, so you don't have to second-guess your selection.
What Kind of Paint Should I Use for Wood Crafts?
As you walk along the paint aisle of your local craft store, you're bound to be inundated with a million different choices. Should you go with light watercolors for your project? What about thicker and bolder fabric paint?
Turns out, neither of those is the right pick. Acrylic paint is the go-to choice for anyone working with wood. Also called craft paint, it's made with special pigmented particles that are spread throughout a polymer emulsion. Most acrylic paints include three basic components:
The pigment is the solid element that gives acrylic paint (or any paint) its unique color. Unlike other components, pigments don't actually dissolve in the paint. Rather, they are milled down to very small particle size and remain intact, suspended within the solution.
As its name implies, the binder is the component that holds the pigment securely in place after it dries. Without it, the color would slip and slide all over the place. In acrylic paint, the binder is an acrylic polymer. Finally, the vehicle is the component that holds both the pigment and binder.
In some paints, the vehicle is oil. In acrylic paints, it's water. When it merges with the acrylic polymer binder, it forms the aforementioned polymer emulsion. As the paint dries, the water is either absorbed into the paper or evaporates into the air. What's left is a clear polymer film (the binder) with the suspended particles trapped underneath.
Why Do You Need Paint For Wood Crafts?
Natural wood can look gorgeous on its own. From chairs and tables to home accents, sometimes all you need is a clear coat of polyurethane to bring out the organic grain and allow your piece to truly shine.
Yet, there are many times when you may want to add a pop of color to your piece. This is especially the case with wooden signs, which can carry a variety of sayings, from cute and quirky to serious and sweet. In that case, why should you reach for acrylic paint over any other type?
Let's take a look at a few of the reasons why we recommend it.
Easy to Use
Acrylic paint is nearly odorless and dries in a very short amount of time. Conversely, oil-based paints can have a stronger scent and usually take much longer to dry. If you're making a large number of wooden crafts, then you need paint that can get the job done. It's also a very forgiving medium, allowing you to explore the full realm of your creativity without fear of staying precisely in the lines.
Once you apply a layer of acrylic paint and let it dry, you can go back over it and add other layers without worrying about disturbing the first coat. If you want to slow down the drying time so you can mix the layers together, then a quick spritz of water will do the trick.
Great on Wood
Acrylic paint looks great on wood and shows up well on the surface. This is because wood is naturally porous, so the paint sinks in a little as you apply it. In just a few seconds, it fuses with the wood to create a shallow bond. If you applied the same paint to a different material, such as plastic, you may not get the same effect. Plastic isn't porous, so you'd have to apply a special primer first to encourage the paint to adhere to the surface.
Easy to Blend
Rarely do artists use paints directly out of the tube. We've all watched enough Bob Ross videos to know that blending is the key to achieving that coveted professional look. While this step can be intimidating for beginners, acrylic paints make it easy. When mixed together, they create gorgeous blends and special shades that can help your wood craft stand out from the pack.
Plenty of Choices
When you stick with acrylic paints, you won't have to worry about a scarce selection. These are some of the most popular and widely available paints on the market. Whether you want to stick with basic, primary colors, or you're looking for a more obscure blend, you can find what you need in the store or online.
Plus, they're very cost-effective and wallet-friendly. Depending on the size you need, you can find small, one-ounce bottles for just a few bucks. These are ideal for smaller projects, and with such a great price point, you can purchase a wide assortment without emptying your pockets.
Easy to Clean
When you invest in a great set of paintbrushes, you want to get as much use out of them as possible. It can be discouraging to use them for one project, only to find that the paint can't wash off completely, and they're essentially stained. Thankfully, acrylic paints wash off with ease, as long as you take them to the sink before the paint has had time to dry.
How to Find the Best Paint for Wood Crafts: The Features to Look For
As you set out to purchase a set of paints for your wood crafts, it can be easy to get lost in a sea of options. How can you decide which ones are best for your needs? To save you time on your shopping trip, we've put together a shortlist of features and qualities to prioritize.
The Right Size
Acrylic paint might be economical, but that doesn't mean you need to run out and buy a huge jar for your small wood craft. Before you buy, think about the amount of paint that you will need to cover the surface of your project. You can find these paints in a variety of different sizes, from small ink-sized bottles to oversized tubes.
Viscosity
By nature, water-based paints will be thinner than their oil-based counterparts. Still, you can find acrylic paints that are thicker than others. Usually, the ones sold in tubes are among the thickest. These are ideal for covering a large surface area, such as a giant wooden sign to hang in the kitchen or living room.
Color Selection
Of course, you want to make sure that the set of acrylic paints you choose includes the colors that you need for your project! In addition to viewing the color selection on the label, look online to see reviews from real users. This is a great way to "see" the paint in a more realistic setting.
Professional Grade vs. Artist or Student Grade
As you shop, you may find that some paints are labeled as "professional grade" while others are graded for artists or students. Professional-grade acrylic paints are superior, but in most cases, they are also more expensive. These paints contain less binder than the others, which allows the premium pigments to show up more boldly and beautifully. If you're used to handling this medium, they can be a great buy, but they're less forgiving, too.
Artist-grade or student-grade paints use the same pigments as you'll find in professional-grade varieties. However, they don't use quite as much of them. Instead, the paint contains a greater amount of binders and fillers. This results in paint that's more even and easier to handle than professional-grade paints.
Best Paint for Wood Crafts: Our Top Five Picks
Ready to cut straight to the best paint for wood crafts? Below, we're sharing our top five standouts that get the job done gorgeously every time. Before we launch into our choices, let's review how we pared down the long list of options into a select few.
Selection Criteria
As we perused the array of acrylic paints available, we kept four main criteria in mind. These include:
Great user reviews (at least 75% four stars or above)
Wide variety of colors
Water-based, non-toxic acrylic paint medium
Affordable price point
All of our choices check all of these boxes and more. Let's take a look at the ones that made the cut!
Crafts 4 All Acrylic Paint Set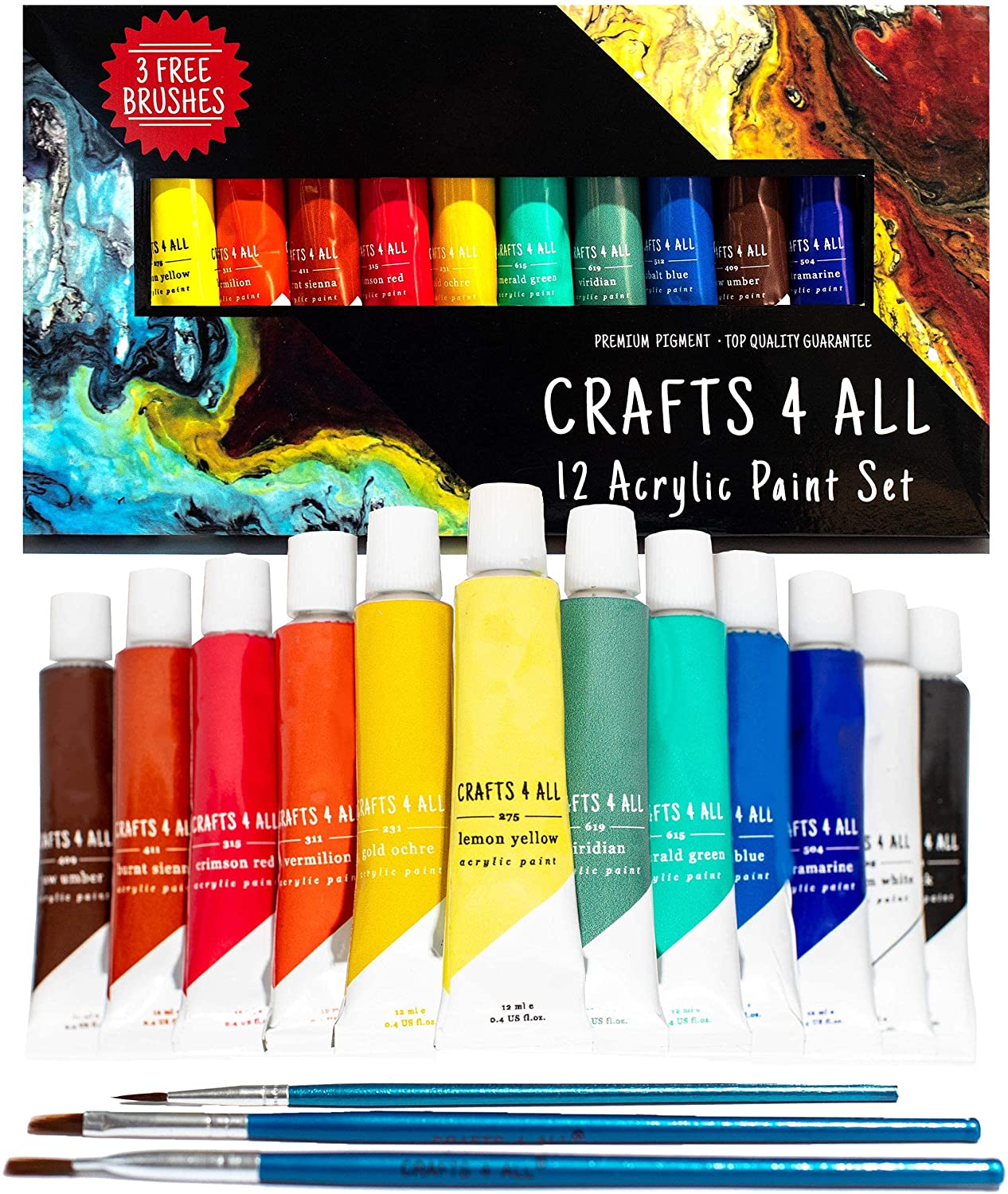 With the Crafts 4 All Acrylic Paint Set, you can select from a pack of 12 tubes or 24 tubes. Each tube contains 12 milliliters of professional-grade paint or 0.4 fluid ounces.
Designed to deliver top-notch brilliance and color clarity, these paints come in stunning colors, including titanium white, yellow ochre, and cobalt blue, among others. Easy to use on wood, they're also great to keep on hand for ceramic and fabric crafts too! You'll get three free paintbrushes with each purchase, so start planning your next project now!
Pros
Professional-grade quality
Smooth, uniform consistency
Easy to mix, blend, and layer
Quick drying time
Free paintbrushes included
Easy for all skill levels to use
Clean off easily with soap and water
Cons
The set may be too small for larger wood crafts
Limited selection of different color tones
ARTEZA Craft Acrylic Paint Set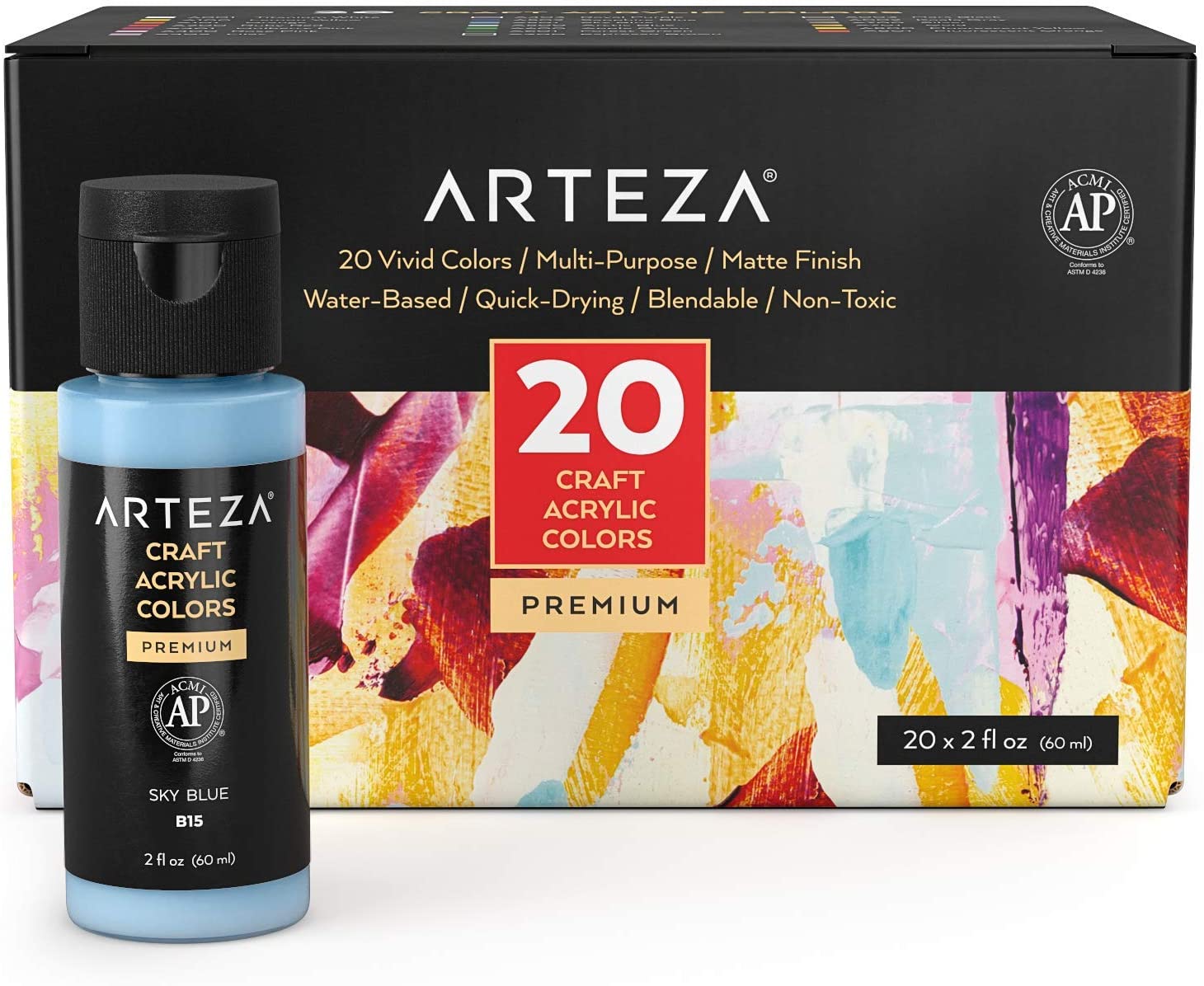 Need a paint set that's substantial enough to handle a variety of different wood crafts? If so, then the ARTEZA Craft Acrylic Paint Set is a great pick. Each tube in this 20-count set includes 60 milliliters or two fluid ounces.
Buyers can choose from a "Classic Colors" set, which features the brand's original hues, such as electric yellow and spring green. Or, you can purchase the "Regular Colors" set, which includes a more basic range, with standouts such as lemon yellow and forest green. Both sets look just as good on wood as they do on canvas, leather, fabrics, and a range of other surfaces.
Pros
Unique fast-dry formula
Large, squeezable tubes
Secure, snap-on caps
Dries quickly and leaves a matte finish
Primary and complementary colors, as well as silver, gold, and fluorescent hues
Cons
Does not include paintbrushes
Some users mentioned sizing discrepancies
Apple Barrel Matte Finish Acrylic Paint Set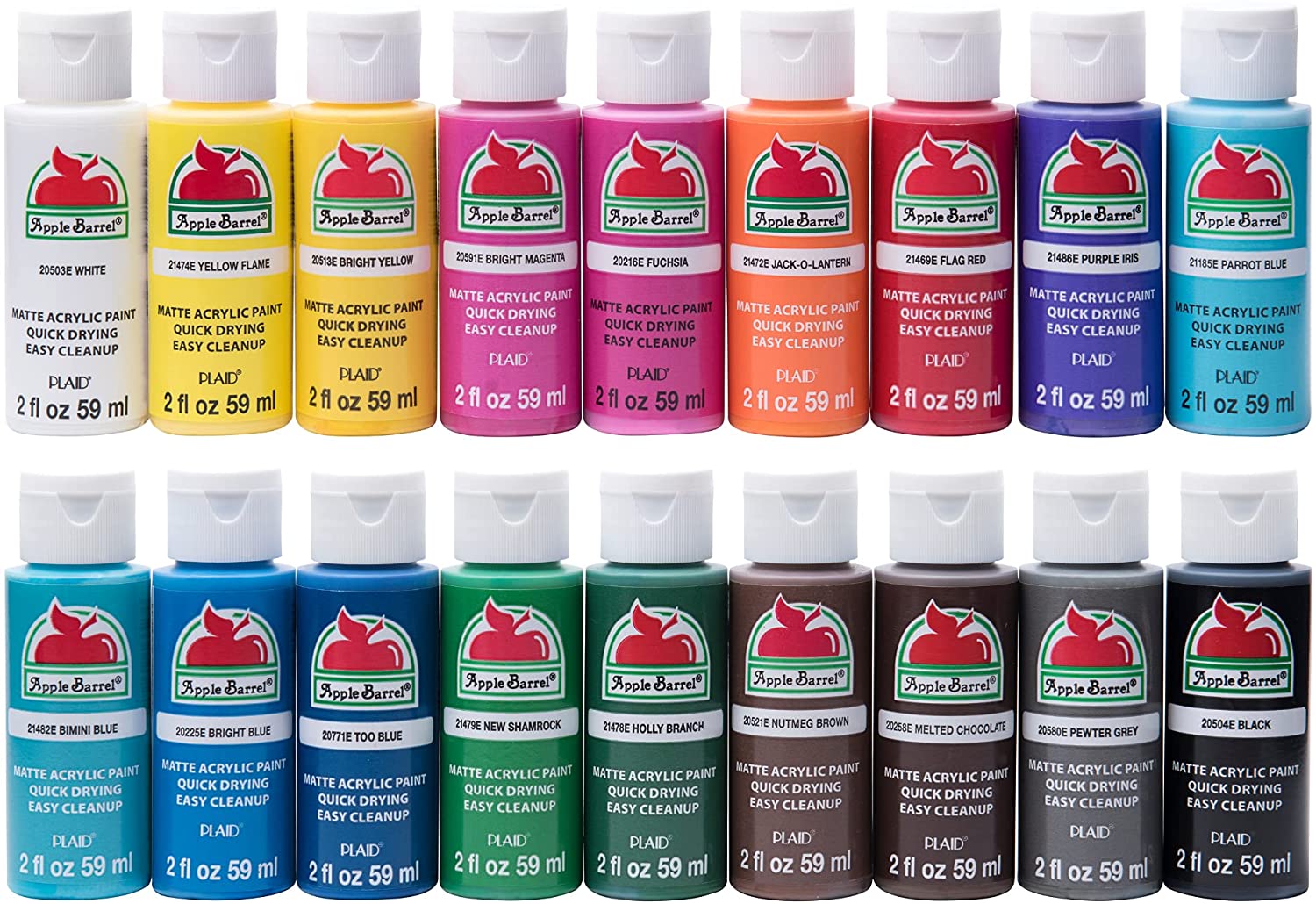 Chances are, you're no stranger to the familiar Apple Barrel packaging. A trusted name in the industry since 1976, this brand has become synonymous with great-quality art supplies that meet every project need.
With nearly 30,000 ratings, it's easy to see why the Apple Barrel Matte Finish Acrylic Paint Set is such a fan favorite. Each bottle contains 59 milliliters of paint or around two fluid ounces. With 18 vivid choices to browse, you're sure to find the right tone for your next wood craft.
Made in the USA, these paints deliver a consistently smooth, matte finish every time. From bright magenta to jack-o-lantern orange, you can't go wrong with this set.
Pros
Conveniently-sized bottles
Quick-drying formula
Cleans up easily with soap and water
Smooth-gliding and bold colors
Cons
Seals can come loose in shipping
Some users mention their sets arrived incomplete
UPGREY Acrylic Paint Set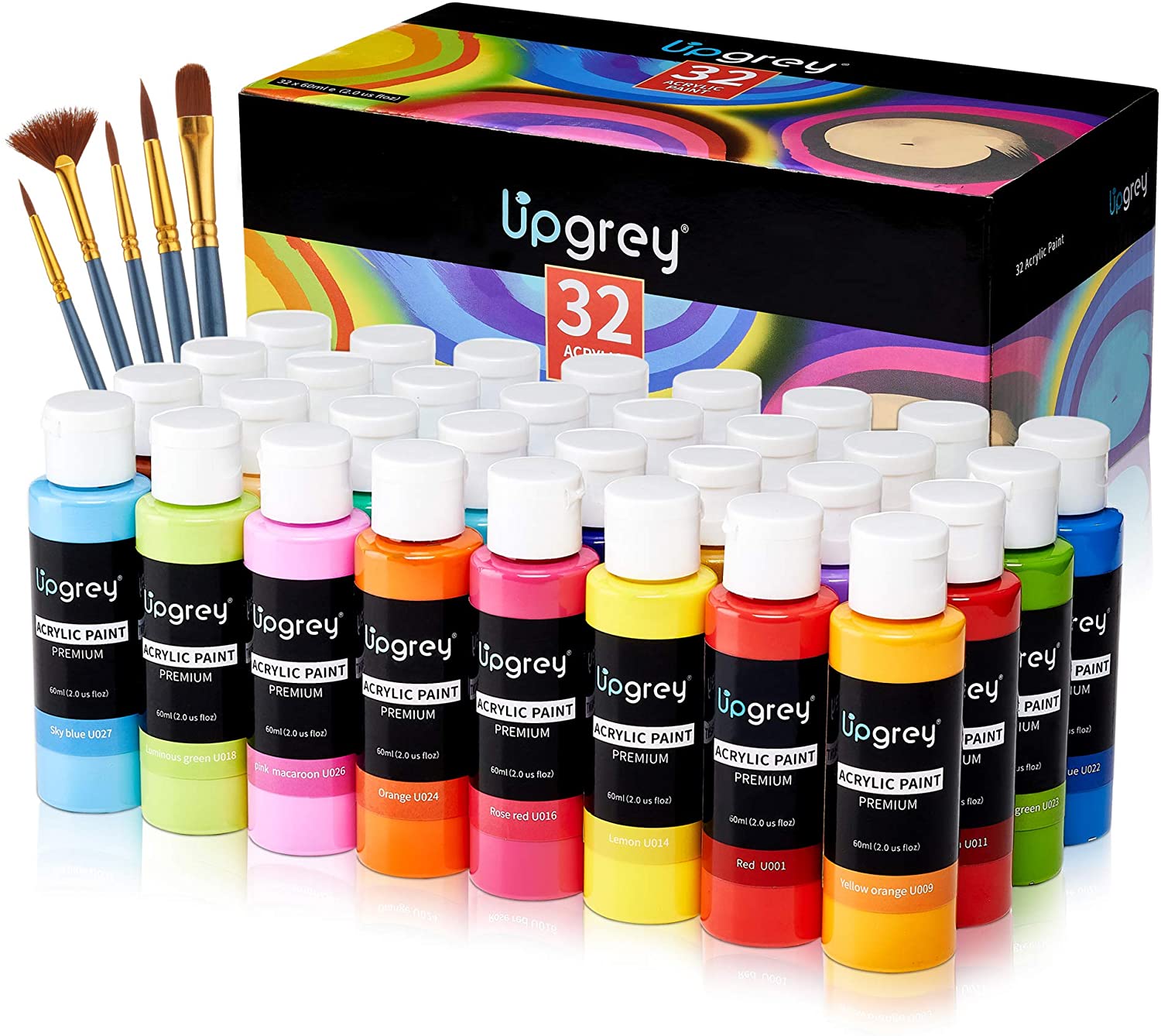 When 18 colors just won't cut it, you need a larger set of acrylic paints for your wood craft collection! Enter, the UPGREY Acrylic Paint Set. This set includes 32 bottles of water-based paint, each containing 60 milliliters or two fluid ounces. You can also upgrade your selection to a 50-count set with even more colors, for just a few dollars more.
Ideal for wood, stone, ceramics, and more, these paints are vivid and bold and easy for even beginners to use.  Each set of matte paints also includes two metallic colors, so you can add a little shimmer to your next creation!
Pros
Tubes are easy to squeeze
Secure, snap-on caps prevent drying
High-viscosity paint for easy blending and texturizing
Rich pigments and vibrant colors
Cons
Some colors can be too thin, while others are super thick
Some users mentioned the paint dries out quickly in the tubes
Niutop Acrylic Paint Pens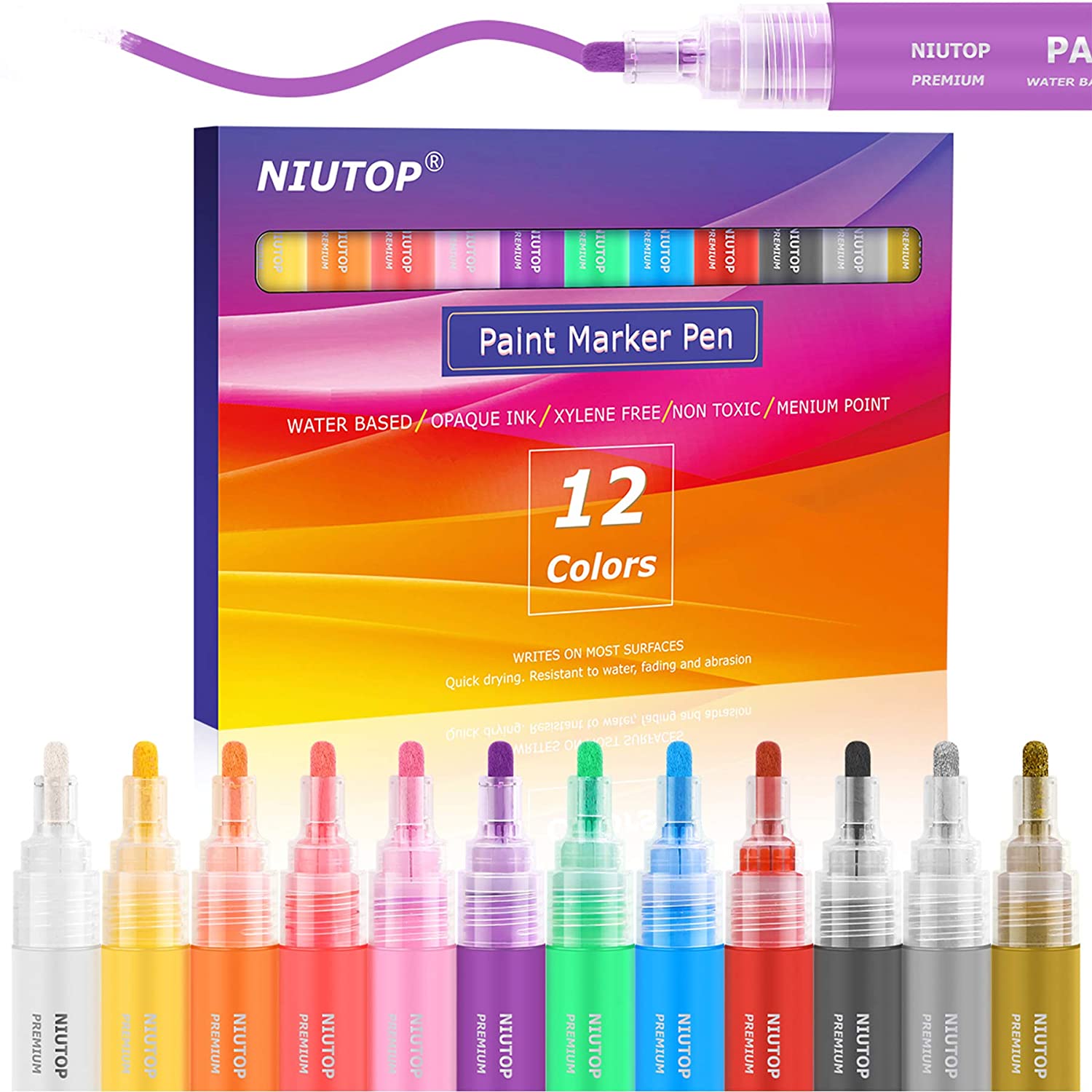 Paint pens are ideal when you need to write on a wood craft, allowing maximum precision and user control. If you need a set for your projects, then take a look at the Niutop Acrylic Paint Pens. Each pen in the set of 12 contains two milliliters of paint or 0.06 fluid ounces.
While this might not seem like much, it's all you need to create intricate designs on your craft, from small sayings to tiny details. The great part about this set is that you can easily purchase replacement pen tips or nibs if yours become too worn or dried out. The manufacturer provides easy instructions on how to complete the replacement process.
Pros
Reversible, two-millimeter tip
Medium-point tips for easy application
Comfortable, round pen body
Transparent design to easily see how much paint is left
Non-toxic and acid-free
Bright, vibrant color choices
Quick-dry formula
Cons
Pens can dry up quickly if the caps aren't secure
Pen nibs can fall out or break easily
FAQS
Question: Which Type of Wood is Best to Use With These Paints?
Answer: All of the above paints will adhere beautifully to your wood craft. However, it can help to know which types of wood will provide the best surface for your project. If you can choose your own slab, then we suggest either poplar wood or maple wood.
These particular hardwoods have a smoother surface than softwood varieties, such as pine or cedar. This means that they're a little less absorbent, so your paints will show up brighter and bolder on them. Hardwoods are also more durable and are designed to hold up against everyday wear and tear. Once you finish your wood craft and display it in your home, you'll notice that they're also less prone to shrinking or warping over time.
While pine is a common choice for wood crafts, keep in mind that it may shrink or contort over time. Still, many craft stores will sell natural pine wood in pre-cut shapes for DIY projects. These will work well as long as you keep them out of direct sunlight and exposure to the elements. Of all the types of wood to choose from, we recommend steering clear of oak. This grain is among the most porous of them all, and will essentially soak up any paint that you apply to it. You'll wind up using all of your jar or tube on just one layer, as each one will require touch-ups and re-dos. Even with primer, it can fail to yield the end result you expected.
Question: How Should I Prep My Wood for Painting?
Answer: Regardless of the specific type of acrylic paint you choose, most shades will not adhere well to the wood if it's dirty, moist, or otherwise compromised. Before you begin your project, take the time to thoroughly clean your slab. This includes removing any old or chipping paint that may already be on the surface.
Once you clean it, make sure to allow plenty of time for it to dry thoroughly. Then, check the smoothness of its surface. Paint looks best when it's applied to an evenly smooth, uniform material. Otherwise, it could seep into the texture and virtually disappear. If yours isn't as smooth as it needs to be, then you may need to sand it before applying any type of paint or primer. Look for sandpaper that's between 140-grit and 180-grit, and be sure to sand along the grain rather than against it.
To further protect your wood, you can also consider sealing it before you paint. About two coats of clear sealer should work and can help make your project as durable and long-lasting as possible.
Question: How Do I Apply Paint to My Wood Craft?
Answer: Ready to start painting? Most artists prefer to squeeze their paints onto a palette before they begin. This way, all you have to do is dip your brush or sponge into the color you need, rather than finagling with a bottle or jar cap each time you want to switch shades.
Start by selecting the color you want to use for the base or background of your craft. Pour a small amount of the paint onto your palette. If it's ultra-thick, professional-grade paint, then you may need to add a small amount of water to get the viscosity you need. Once it's just right, dip your brush into it. The paint should only come up about halfway onto the bristles.
Apply the paint to your wood craft using neat, even strokes. Allow that layer to dry, and repeat these same steps for any accent colors. Only squeeze one color of paint onto your palette at a time rather than adding them all at once. Doing so could cause the paints to dry out or clump before you have time to use them.
Paint the front and sides of your project (and allow them to dry) before starting on the backside. Keep a cup of water nearby if you are using multiple colors at the same time, and rinse your brush thoroughly before changing over to a new color.
Question: How Can I Protect My Painted Wood Craft?
Answer: Once you've completed your wood craft, you want to keep it as protected as possible! You can find various different types of paint sealers on the market, each containing protective and waterproofing properties. A few of the most common options include:
Gel-based sealers
Mod-Podge
Spray sealers
Paint-on sealers
Sealing waxes
Polyurethane
Polycrylics
When the craft is completely dry, add at least two coats of your chosen sealer, allowing time for each layer to dry before adding another one. Most of these sealers are available in a few different finishes, including matte, satin, and shimmer. Think about the final look that you want your project to display, and choose from there. Many options, including polyurethane, are available in both a spray and paint-on model.
Apply a thin layer to your finished product, and you can rest assured that it will last much longer!
Question: What Are Some Other Types of Paint for Wood Crafts?
Answer: In this guide, we've focused on acrylic paints because they are far and wide the best choice for wood crafts. However, they aren't the only choices on the market. Other options include:
Latex paints
Chalk-finish paints
Milk paints
Enamel paints
Wood stains
Latex paints work best on very large surface areas. These paints are easy to spread and are best applied with a paint roller. For this reason, many homeowners prefer them when painting furniture. Usually sold by the gallon, you can also find them in exterior-specific models, which are great for painting outdoor chairs, benches, and other pieces.
Both chalk-finish and milk paints have become more popular due to the rustic look that they give a finished piece. These can give a worn, antiquated look to your furniture and usually deliver a trademark matte finish. While they're ideal for distressing an antique dresser or adding vintage charm to a headboard, they aren't usually suited for smaller crafts.
Enamel paints are the closest match to acrylic paints, although they come with far fewer benefits. These usually take around 24 hours to dry completely and provide a glossy finish that some crafters might not prefer. Often sold in spray cans, most are designed to work fine on wood, although some will not adhere to it very well. Some are designed specifically for a non-porous surface (like plastic), so it's important to read the labels before you buy.
If you just want to change the tone of the wood that you're working with, then a stain may be preferable. These won't deliver a bold color for your project, but they can help bring out its natural beauty. Most wood stains are semi-opaque, allowing for the grain to show through.
Explore Your Creativity With Painted Wood Crafts
When you discover a hobby that you love, it can be a welcome creative outlet. Whether you build your own wood crafts from scratch or you simply want to enhance a natural, store-bought model with a bold dose of color, these paints get the job done.
Of our top five choices, we give top honors to the Apple Barrel Matte Finish Acrylic Paint Set. The set of 18 paints is just the right size for a variety of home projects, and we love that the brand is such a crafting mainstay. These paints are easy to find in the store and online, and the smooth matte finish is first in its class. Both pros and beginners alike can appreciate its ease of use, quick-drying formula, and wide collection of colors.
Now that you know how to find the best paint for wood crafts, you're empowered to create a unique piece to decorate your home! You may even decide to sell your wares to like-minded art enthusiasts who can appreciate your talent.
In the meantime, we're proud to be your go-to source for everything crafting-related. Check back often for more guides on the tools and materials you need to jumpstart your next creation!