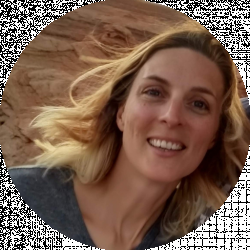 Latest posts by Shaleena Quinlan
(see all)
Modern technology may have overtaken the world of art on many levels, leaving pens and pencils resting on desks while architects and engineers click away at their computers to produce the same designs that were once accomplished by ink, lead, and paper.  But, this doesn't happen all the time.  Many who work as designers, architects, and engineers still enjoy the feel of a drafting pencil scribbling out sketches between their fingers.  Sometimes, they do this alongside their high-tech computer software because it makes the process so much richer.
If you are one of these creatives who still enjoys using a good drafting pencil, then let's find you the best options for your work.  Craft & Stitch has been designed to help creatives and professionals get the most out of their artwork, hobbies, and careers by providing excellent resources for finding the best crafting tools. We have guides that will make the processes of finding and purchasing items simple so that you can get on to the work that you love so much.
So, if you're ready to begin sketching with the best drafting pencil ever, let's get started.
Drafting Pencils: a Quick Definition
Before we jump into a lot of product selection or tips on shopping for a drafting pencil, we need to define the item.  Drafting pencils are pretty much mechanical pencils, but they have a few key features that set them apart and make them a better option for sketching designs.  These differences in features include:
Drafting pencils are made to be durable. They are built from high-quality materials such as aluminum, brass, or strong plastic; whereas, mechanical pencils are typically built inexpensively and with a less-durable material.

Drafting pencils usually feature some type of handgrip design to make drawing and sketching more precise; whereas mechanical pencils may have some type of handgrip design, but many do not.

Drafting pencils are designed with long, narrow lead sleeves, known as guide pipes; whereas, mechanical pencils usually come with very short lead sleeves.

Drafting pencils are available in a wide range of lead hardness grades so that the many different projects they are used for are done right; whereas, mechanical pencils typically only come in one or maybe two lead hardness grades.

Drafting pencils also come in a wide range of lead sizes; whereas, mechanical pencils only come in 0.5mm or 0.7mm options.
The Features of a Drafting Pencil
When you begin searching for a new drafting pencil, you should be looking for pencils that offer the following key features:

Hand Grip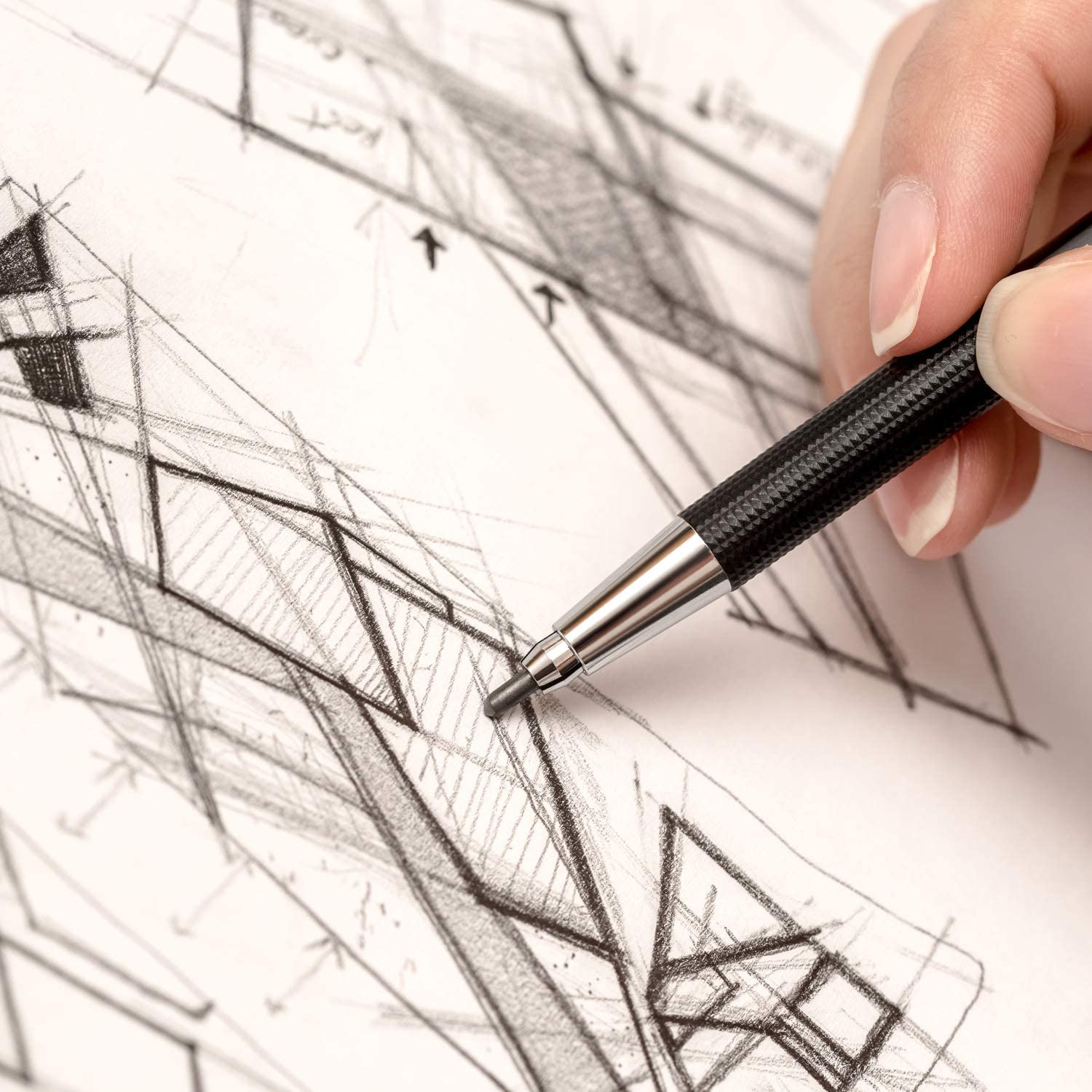 This feature could cause you to love or hate your new pencil.  Make sure to test the handgrip of your drafting pencil so that you know that you can hold it comfortably and work with it for many long hours.
Lead Advancement
This is the feature that keeps the lead inside the pencil continually coming out of the tip.  There are several different lead advancement designs, and you will need to decide for yourself which one you prefer.  
Lead Color
If you are someone who works on projects that need color to highlight certain aspects of your sketch, then look for pencils that offer a colored lead.
Lead Size and Hardness
Make sure you get all the pencils you need to complete your project perfectly.  Look for pencil sets that offer different lead sizes and hardness so that you have all your equipment ready to go.
Retractable Tip
This is the feature that will protect the guide pipe that holds the pencil lead.  If the tip is retractable, then you don't have to worry about bending or breaking this part of the pencil.
What the Marketplace Offers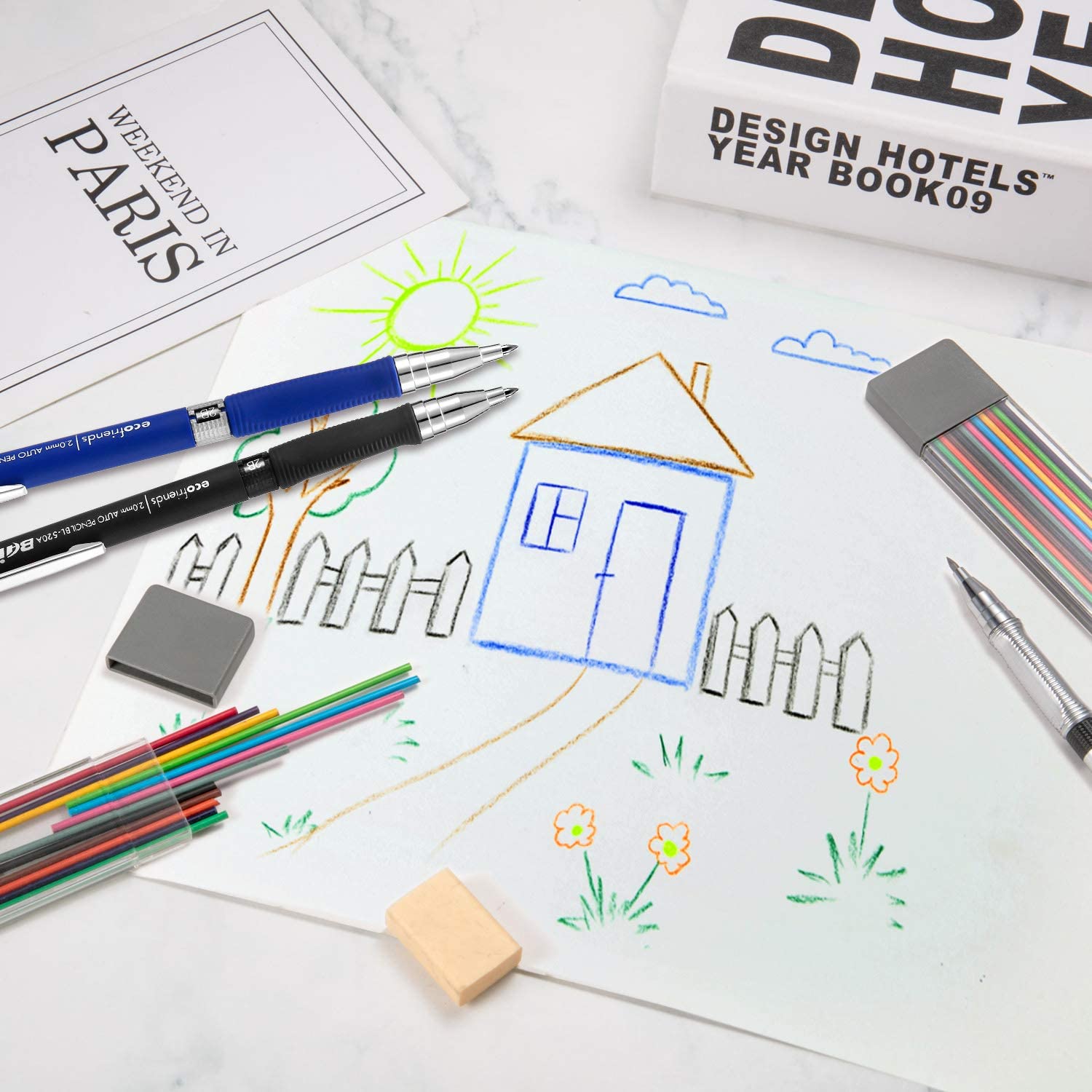 Now that we have defined our terms and laid out the features we will be looking for in a drafting pencil, we can begin looking at the available products on the market.  All of the recommended products have been gathered using the following criteria:
Features – We will recommend drawing pencils that have as many of the required features as possible.  We will look for a wide variety of pencils so that you have plenty of quality options to consider.
Price Range – While we won't settle on a budget for you, we will be aware of the price range each recommendation is in.  Some of these items can get expensive, and we want to make sure you get the most for your money.
Ratings & Reviews – All the recommended products must have at least a 4-star rating to be included.  We will, of course, give you the pros and cons of each item so you can mull over all the information available before purchasing anything, but just know, these will all be highly recommended by the majority of those who use them.
This pencil may be purchased individually rather than as a set so that you can get the right size of lead for your projects.  If you decide to get one of each option, they are color-coded, so you can quickly tell them apart.  Customers rated every pencil option with at least a 4-star rating and priced reasonably at under $10 per pencil.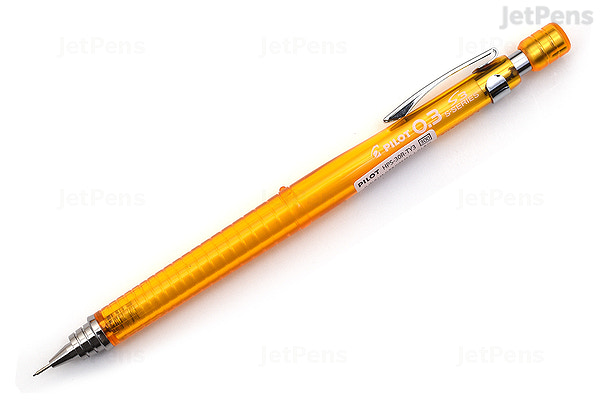 Pros
Pencils can be purchased individually in differing lead sizes

Pencils are color-coded for easy organization

Designed with a comfortable hand grip
Cons
The body of the pencil is made from plastic
With this pencil set on hand, you can do it all.  The set includes 9 pencils and 12 refill cases, 6 in black and 6 in color.  This is a great option for those who need to highlight or show shades of color in their work.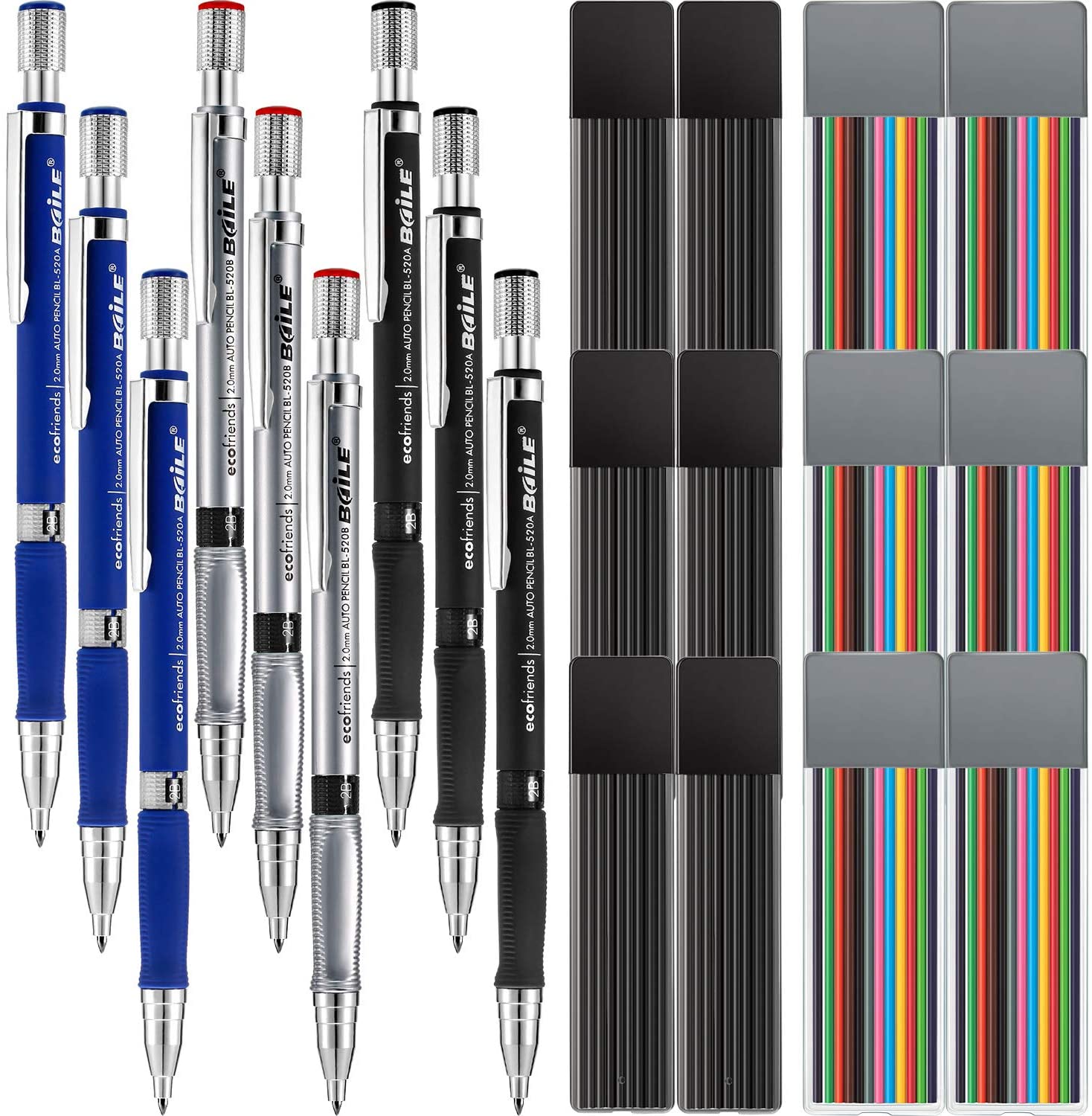 Pros
Includes a comfortable hand grip

Cap includes a built-in sharpener

Includes twelve colored lead refills

Refill lead is kept in protective sleeves to prevent breaking

As of the writing of this article, this product has a 4.5-star rating
Cons
Some customers have commented that the lead breaks easily
The customers have spoken, and they all agree that this pencil is amazing.  The comments about how durable, well-styled, and balanced it is selling it right away.  While this is not a cheap tool, it is an investment worth making if you like to work with quality items.
Pros
Includes a lead hardness grade indicator

Includes a knurled grip

Designed for industrial-strength durability
Cons
The lead is a bit thin and can easily break with too much pressure
This is an extremely reasonably priced item, especially when you consider all that is included in the set.  In one purchase, you will receive two pencils and two tubes of lead refills.  The body's design is in plastic, but it is so well balanced and includes a non-slip knurled rubber grip.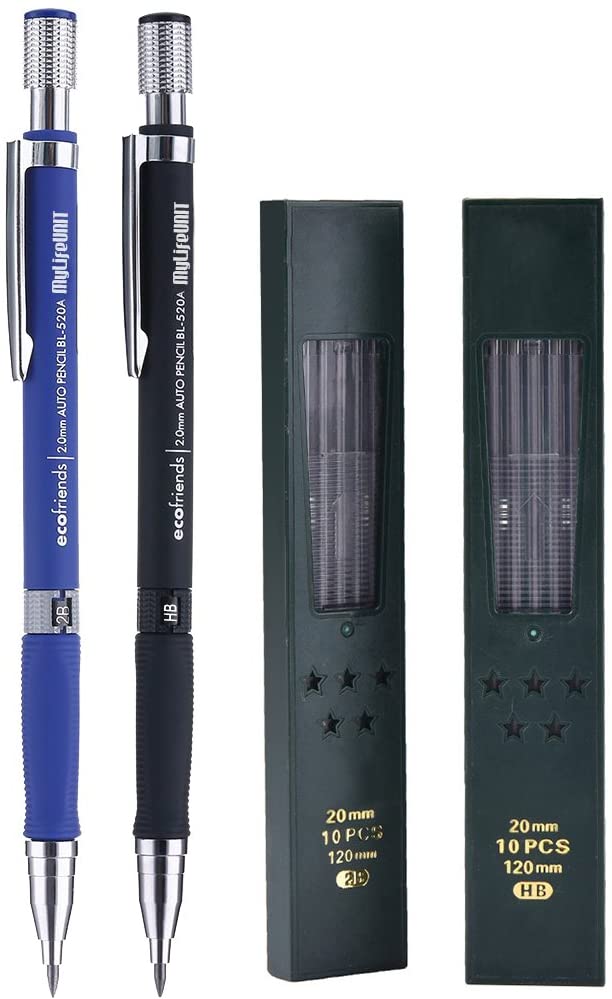 Pros
As of the writing of this article, customers have given this item a 4.4-star rating

Customers are raving about the value and the good grip construction of this item
Cons
Some customers have commented that they are too lightweight
With this set of three high-quality pencils and plenty of lead refills, you can spend all day working on your projects.  This set is designed for a balanced drafting session with less hand fatigue.  If you don't think it is the best pencil ever, return it for a refund, no questions asked, with the manufacturer's risk-free purchase offer.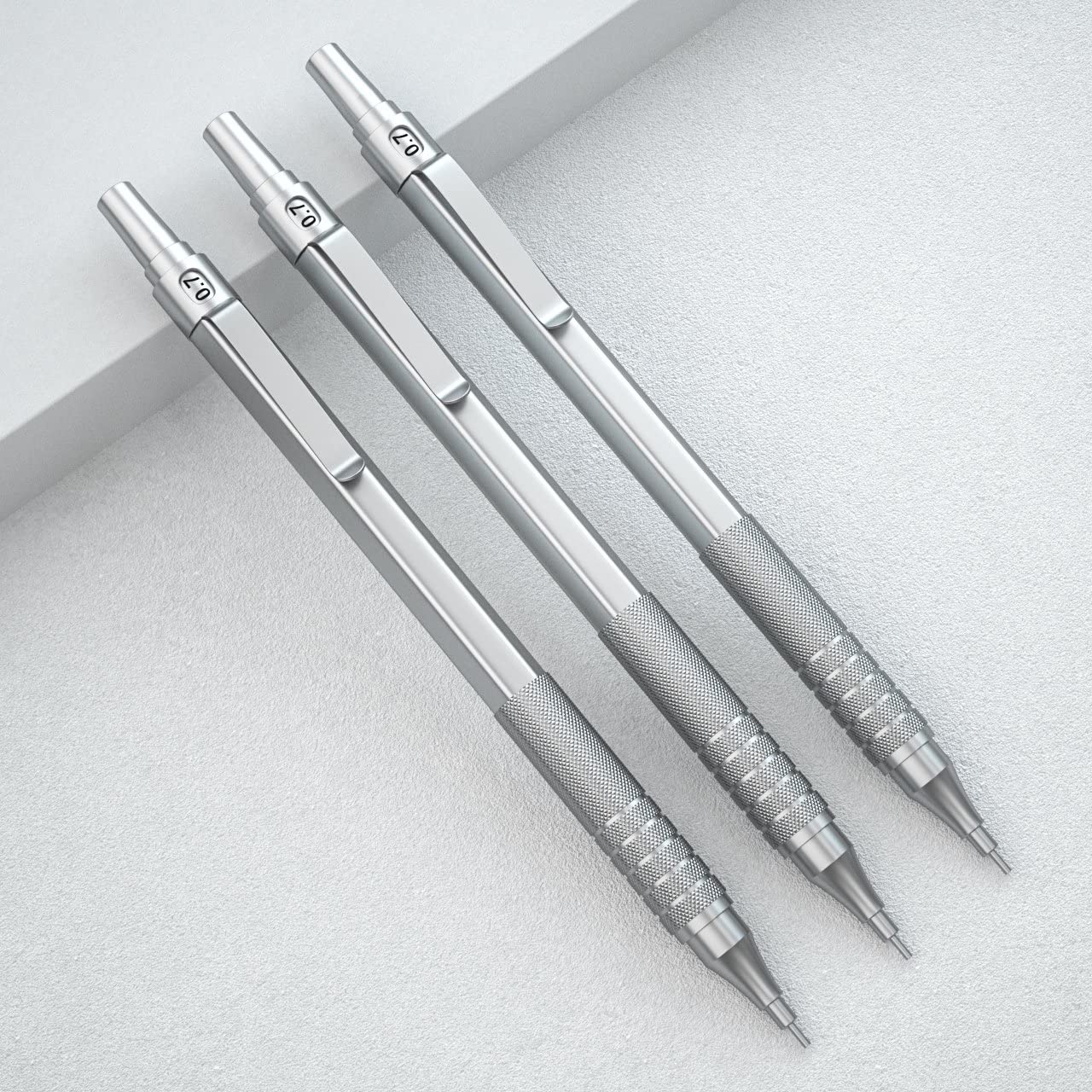 Pros
Includes three pencils, six tubes of lead refills, three erasers, and a storage case

As of the writing of this article, customer reviews have made this a 4.5-star rated item
Cons
Some customers have commented that the eraser caps fall off easily

Some customers thought they were too lightweight for their liking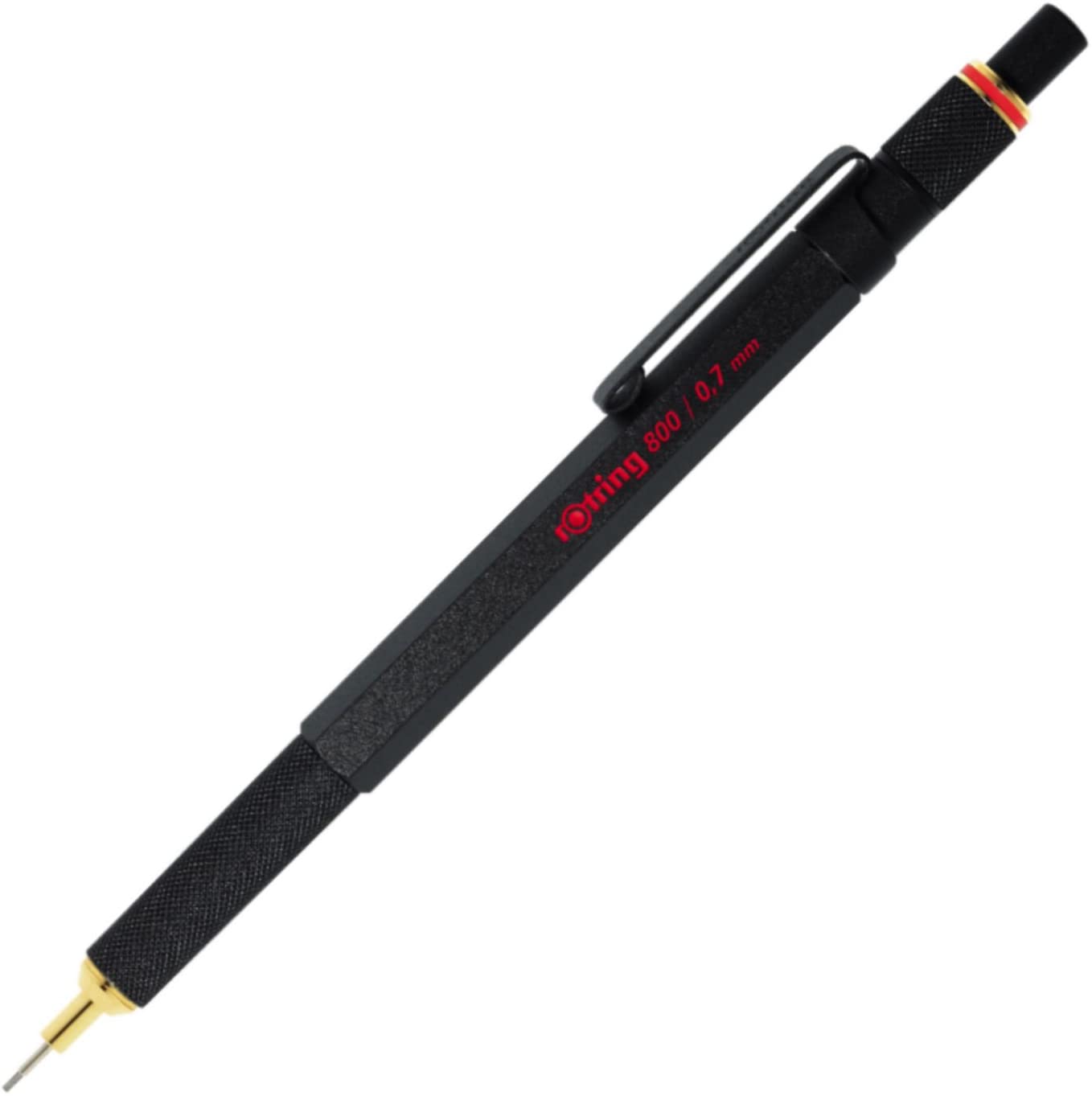 A pencil that is simple but sturdy in design is how one would describe this item.  It may be a little pricier than you want, but that is because of the high-quality material used to build it and the quality workmanship that went into every design detail.
Pros
Uses HB 0.7mm lead

The retractable tip is a twist and click mechanism

Customers are raving about how wonderful this pencil is and have given it a 4.8-star rating
Cons
Some customers have had problems with the lead feeding properly
Plan ahead by buying this set so that you have all the pencil sizes you need to complete every project on the books without spending time and money hunting for more.  Included in this set are four pencils in lead sizes 0.3, 0.5, 0.7, & 0.9 mm widths.  You can't go wrong when you have one of everything.
Pros
Set includes four sizes of lead width

Each pencil includes a non-slip rubber grip

Customers have given this set a 4.7-star rating
Cons
Cost ranges over $20

Some customers have had issues with the lead breaking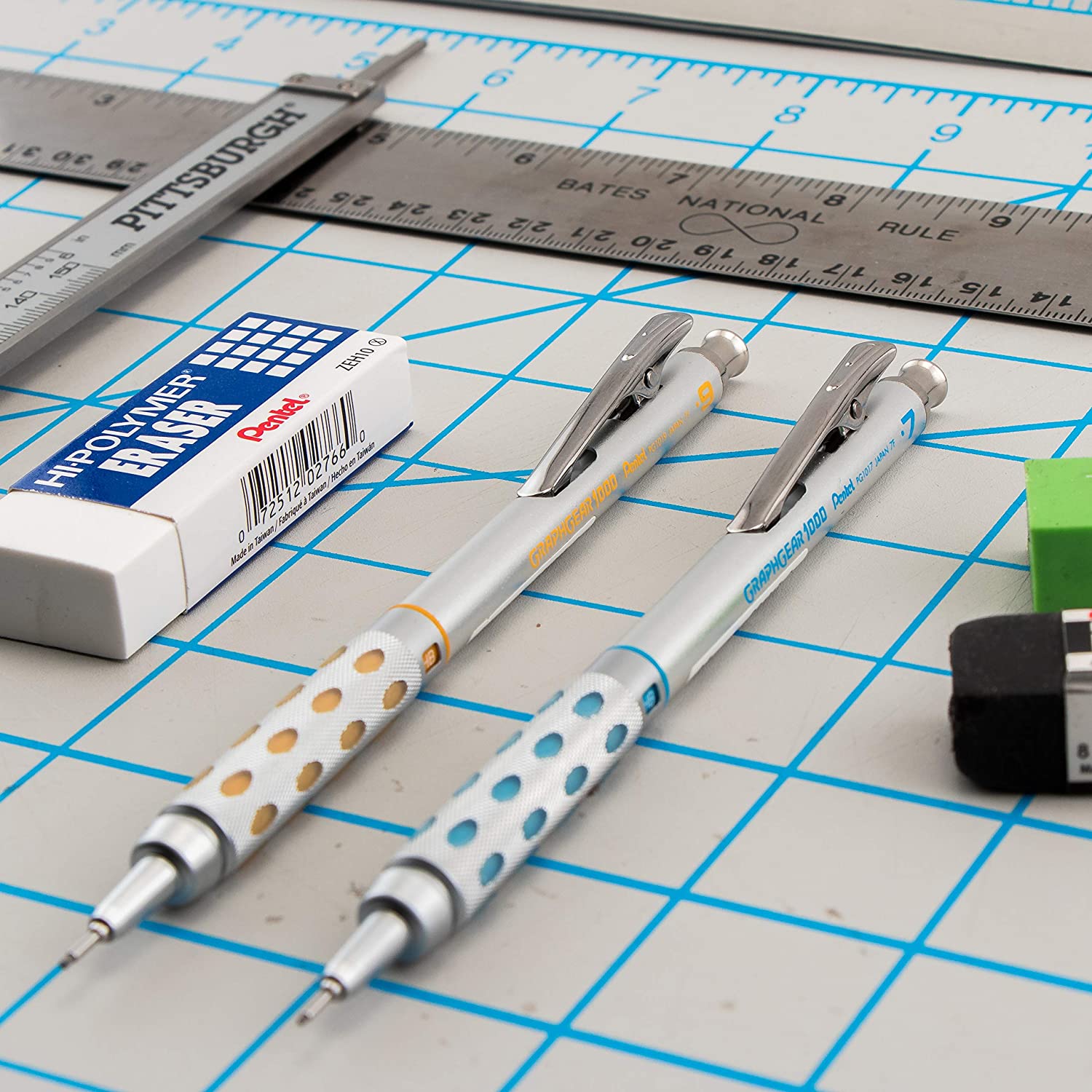 With over 18,000 reviews, this pencil is possibly the most enjoyed by those who work in the architectural and engineering fields.  Its design is simple, sleek, and quality – three features no one can overlook.
Pros
Uses 4mm length lead

The metallic hand grip is inlaid with soft pads

Includes a retractable tip to prevent the lead from breaking

As of the writing of this article, customers have given this pencil a 4.7-star rating
Cons
Slightly costly at over $20

Some customers have commented that it tends to be a little fragile because it is not made entirely from metal pieces.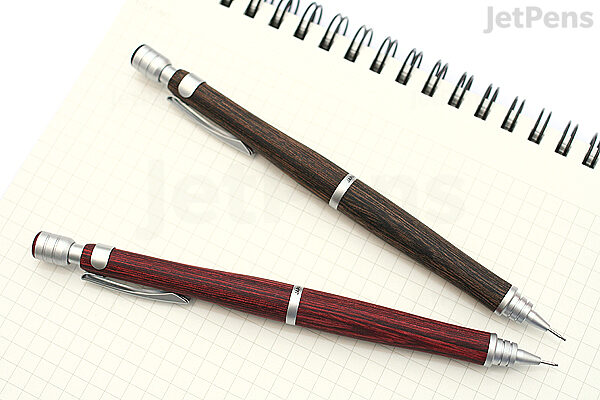 If you love the look of a wooden pencil, then you are going to enjoy selecting one of these pencils for your drafting table.  While they are a bit pricey, they are so good-looking and so fun to use, you won't really mind.
Pros
Available in two different colors

Available in two lead sizes

As of the writing of this article, customers have given this pencil a 4.4-star rating
Cons
Some customers have commented that the pencil is too lightweight

Some customers have commented that the pencil's tip is too fragile
FAQs
Question: Can Drafting Pencils be used for Regular Writing?
Answer: You can certainly try, but it will probably not feel right as you use the pencil to form words.  These are designed specifically for drafting, so they will function slightly differently from a regular pencil that you would use in your English classes.
Question: What is the Hardness of a Pencil?
Answer: The hardness of a pencil refers to how much pressure must be applied to the pencil lead in order to get a black line.  Here is a scale of pencil hardness that makes it easier to understand how this works:



At the center of this scale, HB refers to lead that is hard black, and F refers to lead that is a fine point.  These are considered mid-range levels and are typical of most pencils used in school. On the far right side of the scale is 9B, and this is as soft as pencil lead is offered.  This type of pencil doesn't take a lot of pressure to produce a dark black line, which means it does not have a lot of filler in its graphite center.  On the opposite end of the scale (far left) is 9H.  This refers to pencil lead that requires a lot of pressure to show on paper at all.  Lead that is 9H is made from a lot of filler and is typically used for underdrawings.
Question: What is Knurling?
Answer: This is a process of constructing straight and angled lines that cross one another until they form a pattern.  A knurled pattern is used to create hand grips on many handheld tools, but especially on pens and mechanical pencils.
Concluding Thoughts
After looking long and hard through all the amazing drafting pencils on the market, my heart is set on the Pentel Graph Gear Automatic Drafting Pencil.  Sure, it is a little pricey, but all the great reviews have convinced me that it just might be worth the price.  What about you?  I hope you found the drafting pencil of your dreams on our list and are ready to order it today so you can work on your projects soon.
Now that you have found the best drafting pencil for what you do, why not let Craft & Stitch help you find all your other equipment?  We can help you discover the best sketchbook or paper for your artwork.  If you have crafting questions, we have the answers you need.
Research Citations