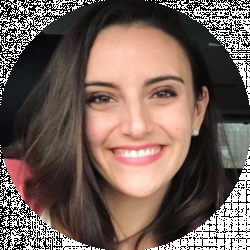 Latest posts by Courtney Myers
(see all)
Whether you're an amateur artist or a professional graphic designer, the right art tools matter. In addition to paints, oil pastels, colored pencils, and other supplies, a great set of markers is key.
However, there's nothing like finishing a masterpiece only to pull up the paper and find that your bold colors have bled onto your desk or the sheet below. Not only could this ruin your furniture, but it will also shorten the lifespan of any sketchpad that you buy.
You can avoid this fate if you know where to find the best markers that don't bleed through paper. Today, we're sharing everything you need to know as you start shopping!
What Are No-Bleed Markers?
Non-bleed markers or pens are also called water-based pigment pens. These are specially formatted writing and coloring utensils that will not bleed through the other side of the paper on which they're applied.
From parents with creative children to adult artists, anyone can benefit from ink that stays where it should. While you can buy coloring books with designs on only one side of the page, most are dual-sided. If your marker bleeds, then you'll wind up with an inevitable shadow of ink on the other side, which can ruin the next design.
Why does this happen? A quick science lesson can explain why ink bleeds, and what you can do about it.
In short, paper is made from the pulp of pressed wood. Within that pulp, there are thousands of layers of cellulose fibers. Those fibers are tangled around one another, creating a design that resembles a sponge-like rope.
Any time you press a marker to a sheet of paper, the ink dumps all over those fibers. Almost instantly, they get to work soaking it up. Standard markers usually produce an excess amount of ink. When this happens, the cellulose fibers directly below the tip of the marker become saturated. Then, the ink flows to nearby fibers that haven't absorbed any ink yet. This process is similar to what happens when you spill a drink on your clothing. The direct impact spot becomes wet first, and then the liquid spreads outward.
Non-bleed markers contain a smaller amount of ink, which prevents the above process from occurring. The ink that they do contain is designed not to spread as easily or widely as standard ink.
Finding The Best No-Bleed Markers: Features to Look For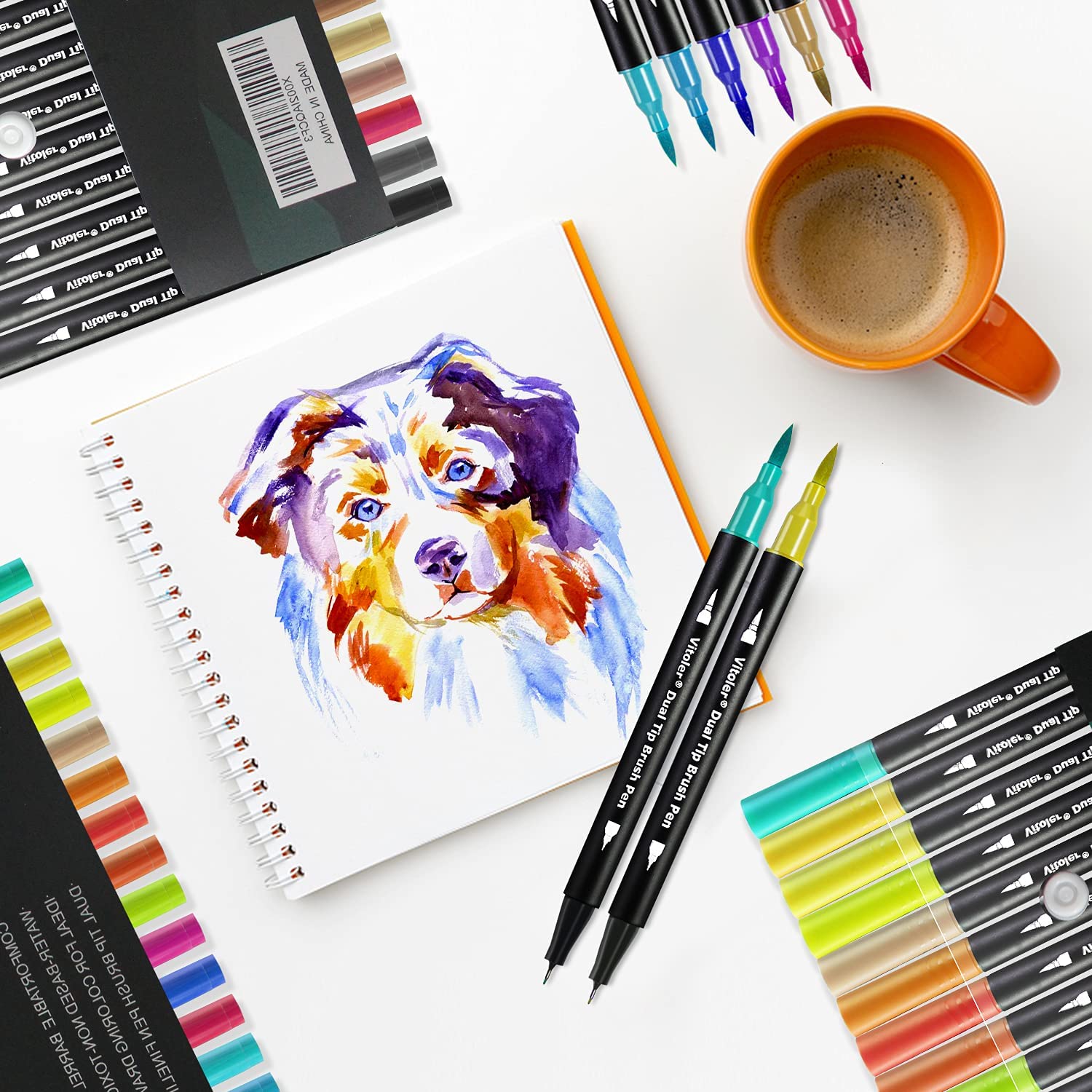 It's no secret that there are plenty of art supplies on the market. This is one sector that saw a major boom with the recent pandemic, as people began staying indoors and exercising their creative muscles a little more. While the volume and variety are great news to budding artists, it can make it difficult to narrow the selection down to just those that you need.
That said, here are a few of the features to consider as you browse the available options.
Color Variety
It might seem like a minor detail, but certain artists will require access to a specific range of colors. The no-bleed markers that you choose should include them all.
While you can find smaller sets of 12 or 16, look for ones that include at least two dozen different colors. This way, you can be sure you're getting more than the basics. Different shades will display certain nuances that can change the look of an image, so be sure to read the label before you buy to make sure all your preferred tones are in there.
While bigger sets will include a greater variety, they will also come at a higher price point. If you're just starting or you know that you need only the basics, then you can't go wrong with a mid-sized set.
Dual-Tip or Single Tip
Many art projects will require both thick strokes and thin strokes. For instance, you can use a thin-tipped marker for outlining and coloring intricate sections. Fine tips are also ideal for note-taking, journaling, and calligraphy.
On the other hand, thicker tips can help you cover a wider surface area. They're great for coloring large portions of your paper or shading in bigger details. Instead of buying two sets of markers, look for ones that are dual-tipped, with a thick tip on one side and a fine tip on the other.
This is a great way to expand the usability of your set and increase the return on your investment! All of the markers reviewed in this article feature a dual-tip design.
Water-Based or Alcohol-Based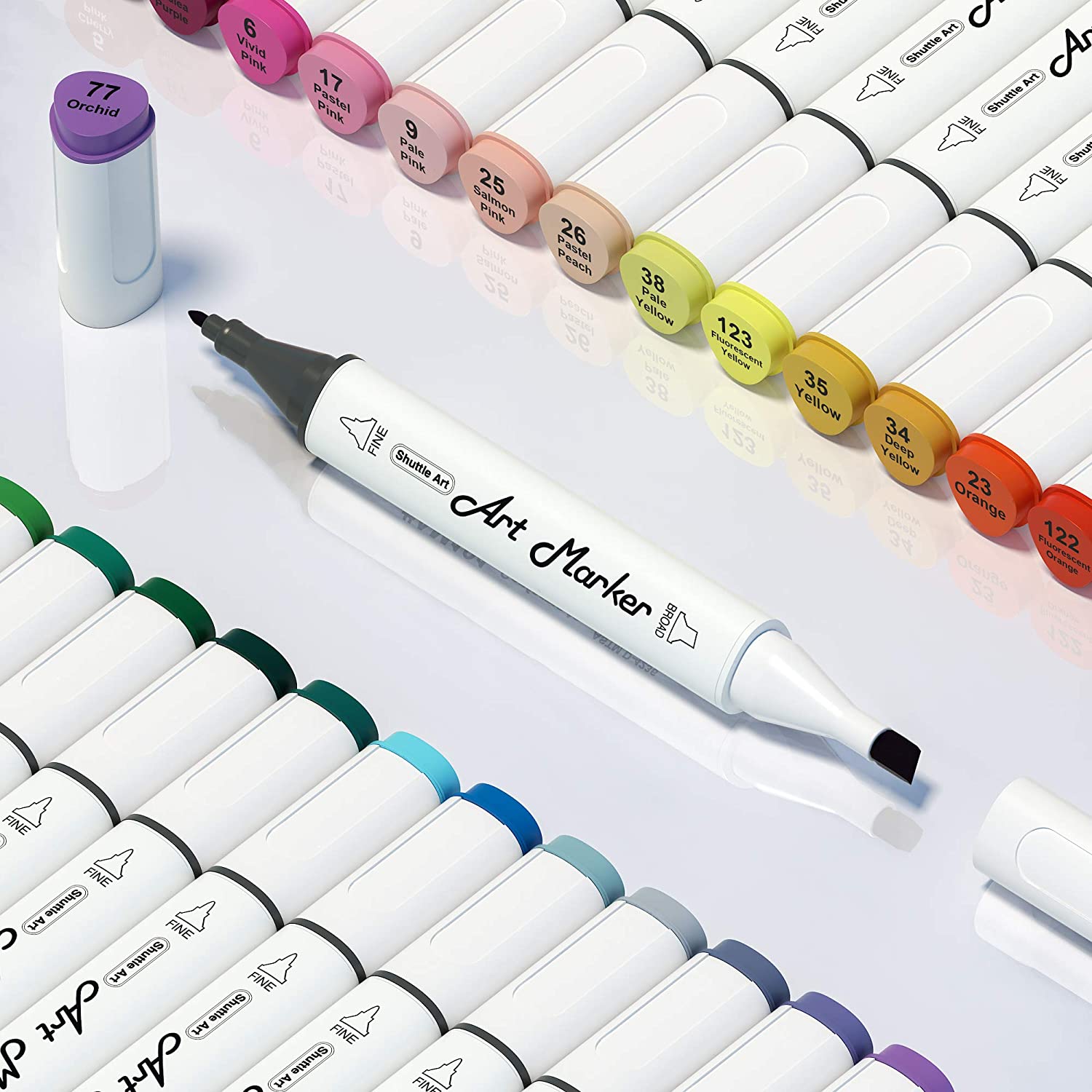 Both water-based and alcohol-based markers can be non-bleeding. Each option has its benefits and drawbacks. While water-based markers deliver bold and dramatic color, they tend to take longer to dry. Especially if you plan to color more than one layer, this can add a major time constraint to your project.
Conversely, alcohol-based markers will dry more quickly, but the color might not be quite as rich. These also tend to be easier to blend, though they may include an odor that can be off-putting to those with sensitive noses. Another feature to note about alcohol-based markers is that they tend to blend a little more smoothly, whereas water-based markers can sometimes leave brush marks behind.
Blendability
Do you intend to blend multiple colors in your project? If so, then look for non-bleed markers that advertise this ability. Some will even come with a special blender pen that's colorless and designed specifically for this purpose.
Even water-based markers aren't always made for this purpose, so it's important to double-check.
Ease of Handling
Markers might be lightweight, but it can be cumbersome to hold an oversized one for an extended period. Coloring, sketching, and shading are all intricate activities that require a ton of small, repetitive motions in your fingers, hands, and wrists.
That said, skip any markers that look like they would become uncomfortable after a while, including ones with oversized barrels. While they may hold more ink, you will begin to feel the extra weight before too long.
Best Markers That Don't Bleed Through Paper: Our Top 5 Picks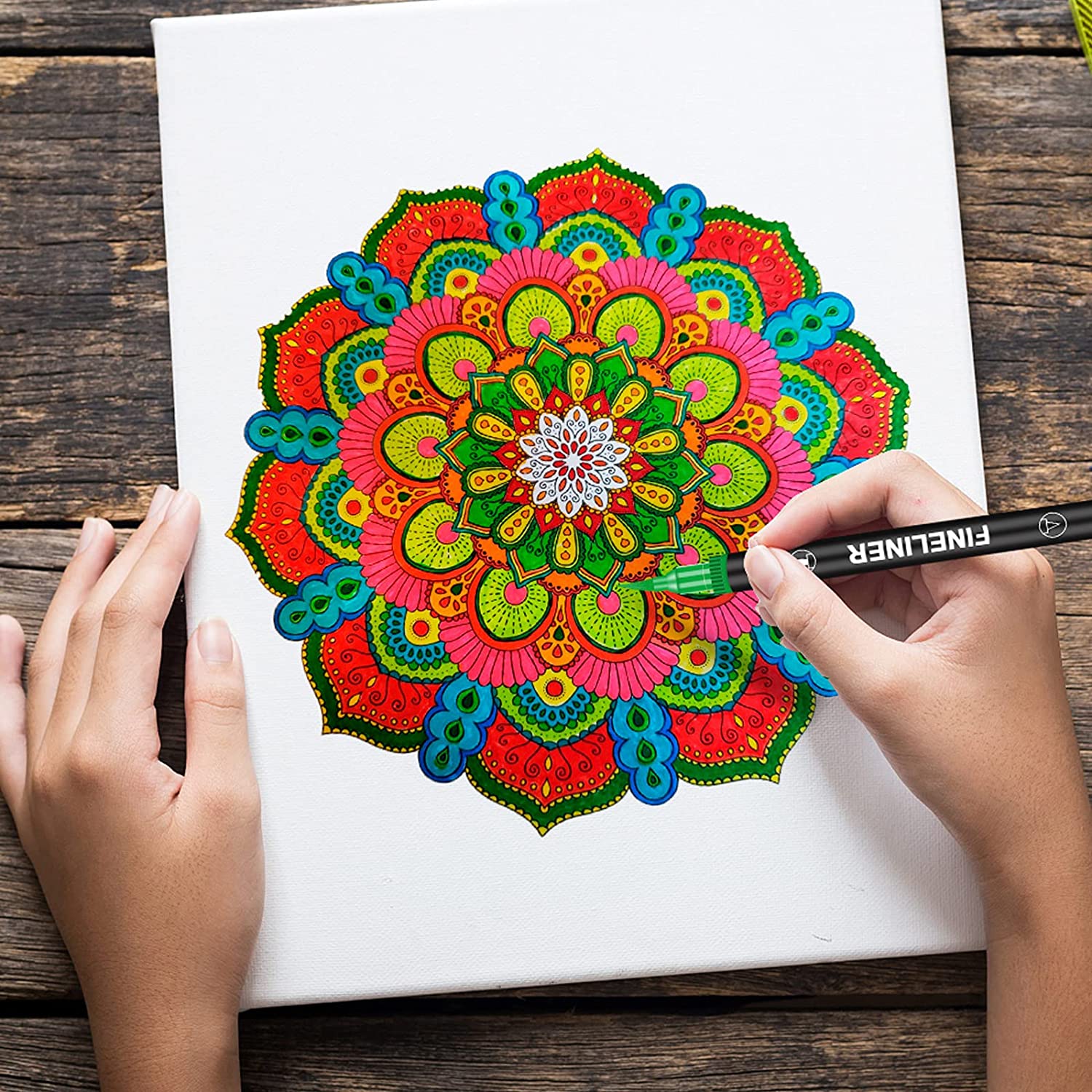 When searching for the best markers that don't bleed through paper, we developed a shortlist of characteristics that we wanted each product on our list to have. These include:
Great user reviews (at least 75% four stars and above)
Affordable price point
Wide range of colors
All of the markers sets that we reviewed are available on Amazon. That means you can start using them as soon as possible! Let's take a look at the top five ones that cut.
SUTOROO No-Bleed Dual Sided Markers
Users rave about the versatility of the SUTOROO No-Bleed Dual Sided Markers, and for good reason. One side of each marker features a soft 3-millimeter tip, while the other is an ultra-fine 0.4-millimeter tip. Available in a set of 24, the colors are gorgeous and richly pigmented. Whether you're scrapbooking, practicing calligraphy, or working on a professional project, you'll reach for this set time and time again.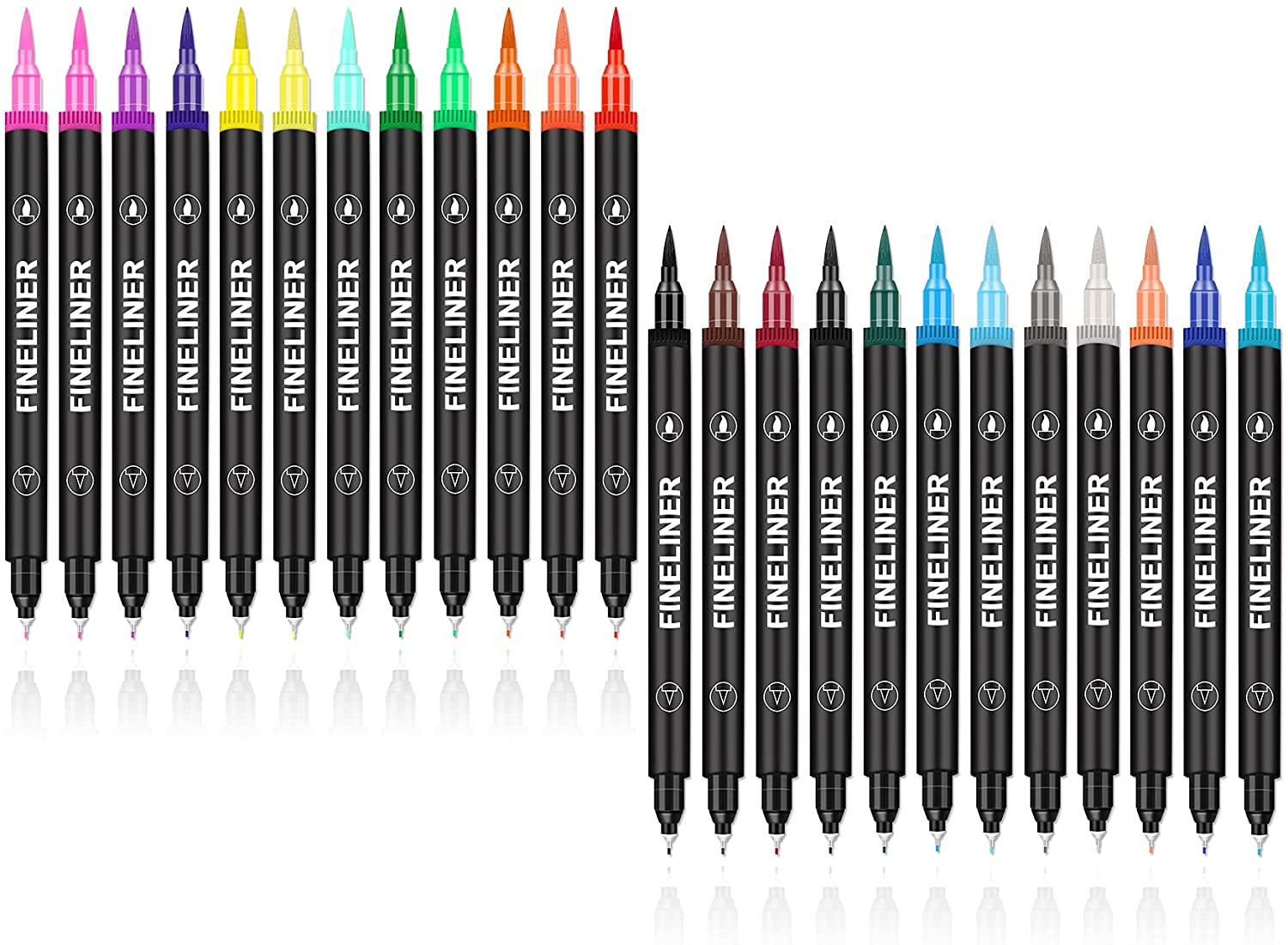 Pros
Water-based ink that won't run or bleed
Includes a colorless blender pen to blend different colors
Dual tips offer versatility
Quick-dry
Non-toxic and odor-free
Safe for both children and adults
Flexible brush tip for fine and broad strokes
Cons
Some users mentioned that the ink isn't dark enough
The soft tip can lose its shape after much use
The entire set is available for just $9.
Soucolor Art Markers
Available in a set of 34, the Soucolor Art Markers offer 10 more colors than the SUTOROO option. Each marker in this set is also dual-sided. The broad tip measures 2 millimeters, while the fine tip is 0.4 millimeters. One of our favorite things about this set? The colors are especially pigmented to create a watercolor effect, which makes them ideal for coloring books, crafts, and hand lettering.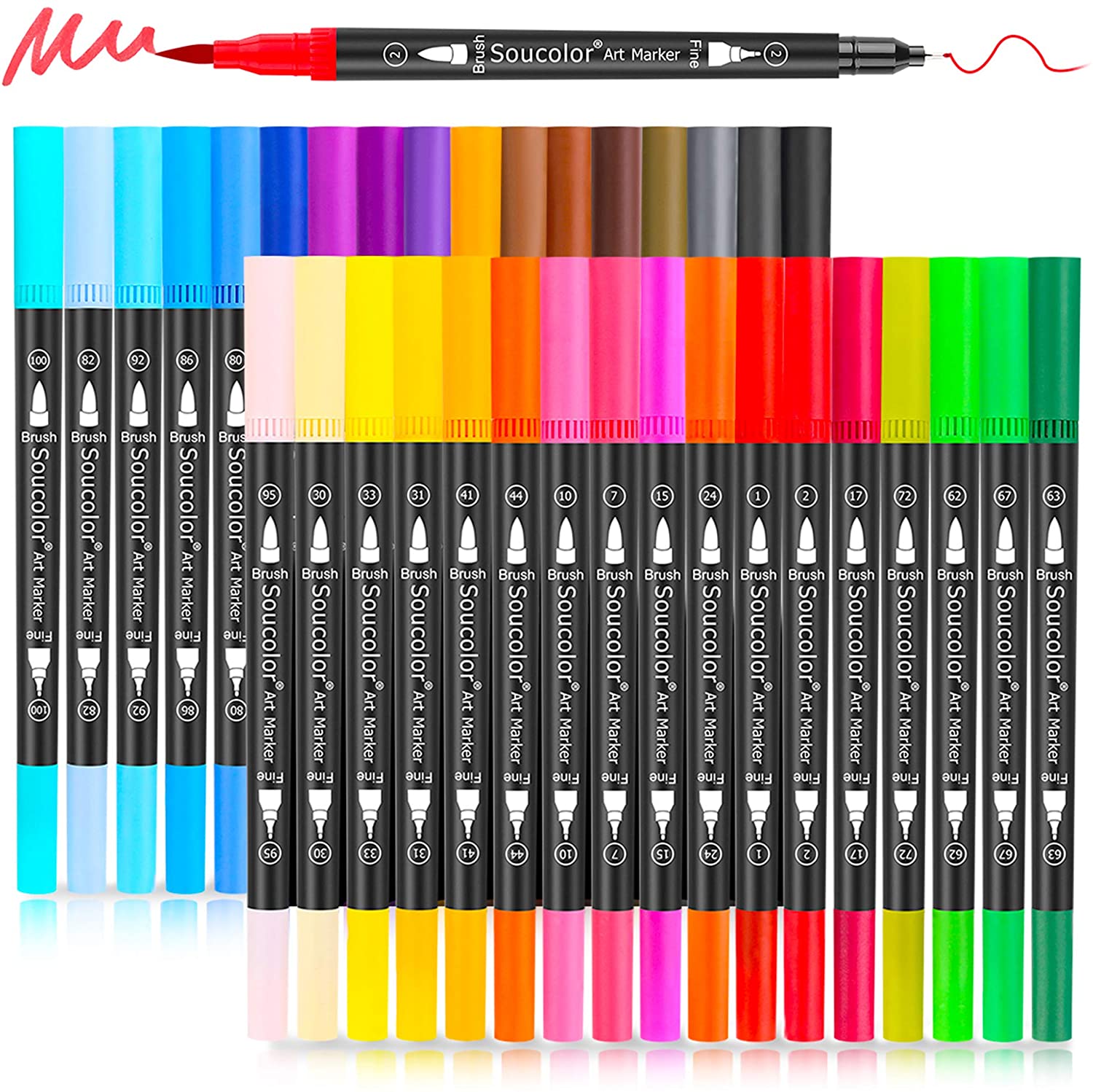 Pros
Water-based ink that won't bleed or leak
Metal castings around the tips for precision
Quick-drying
Flexible brush tips
Great range of vibrant colors
Cons
The ink can dry out quickly
Caps can be difficult to keep on
This set is available for just $10!
Shuttle Art 50+1 Blender Art Markers
Unlike the previous two sets on our list, the Shuttle Art 50+1 Blender Art Markers are alcohol-based. You'll also receive quite an uptick in sizing, as this set contains 50 uniquely colored markers, along with one colorless blender marker.
Like the others, each marker is dual-tipped. The broad tip measures 7 millimeters, while the fine tip measures 1 millimeter. Rated for a whopping 300 meters of continuous use, you can rest assured that you won't run out of gorgeous color any time soon. We also appreciate this set's intentional barrel design, which makes even the longest coloring sessions that much more comfortable.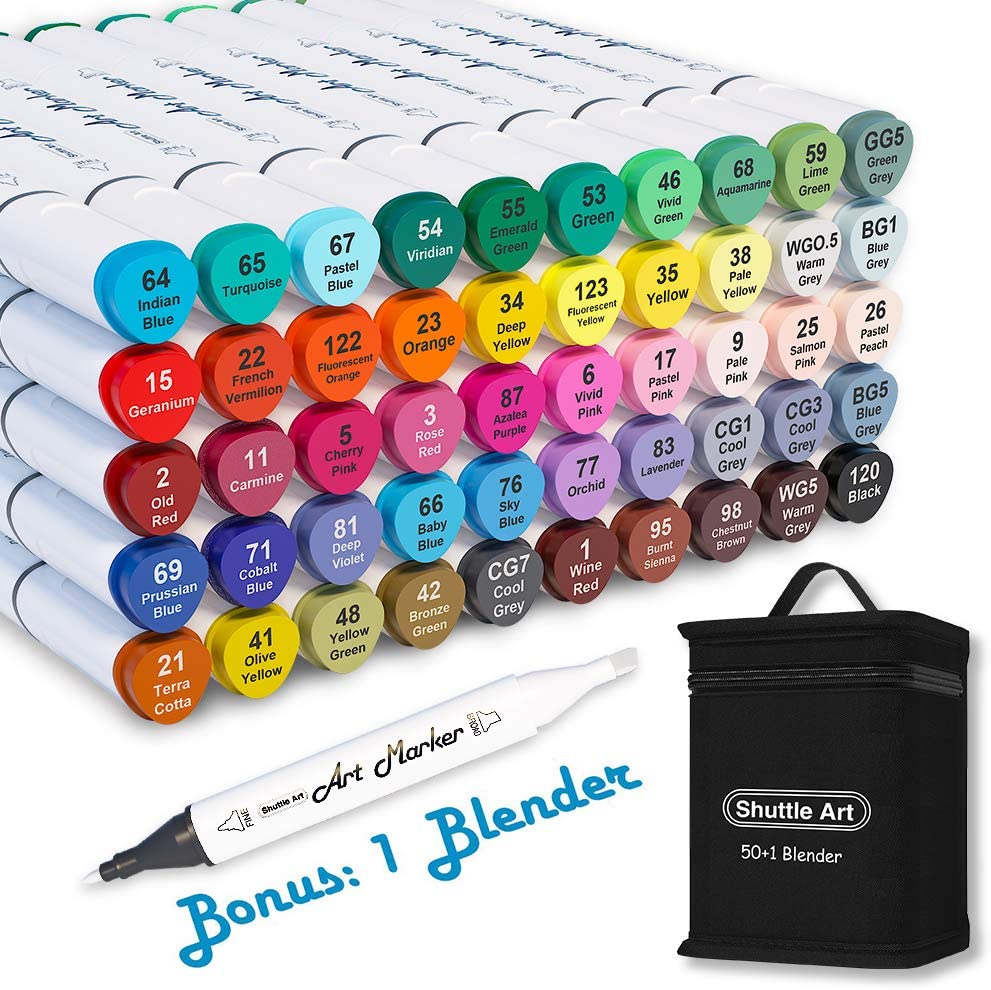 Pros
Widely varied collection of colors
Ergonomic, triangular-shaped marker barrels for easy handling
No-slip grip
Zippered storage case and carrying strap included
Quick-dry
Easy to blend
Non-toxic and acid-free
Color labels on the caps
Cons
Work best with special marker paper, which can mean an extra purchase
Some users say that the colors are too dark
The smell can be strong
This set is only $23 on Amazon.
Caliart Dual Brush Art Markers
Want to expand the colors of your world? The Caliart Dual Brush Art Markers come in a huge set of 72, so you're never too far away from the perfect pigment. Each marker is dual-sided, with a broad-tipped side that measures 5 millimeters and a fine tip that measures 0.4 millimeters.
One of the standout features of this set is its free nib replacement program. Another name for tips, marker nibs are the portion of the marker that comes into contact with the paper.
If your Caliart ones wear out over time, then the brand offers a free replacement program. All you have to do is remove the original nibs with a pair of pliers, and insert the replacement nib using the same method. Once the nib is placed firmly into the marker, you can press it downward to restart ink flow! This simple step can extend the lifespan of your markers and make them much more durable.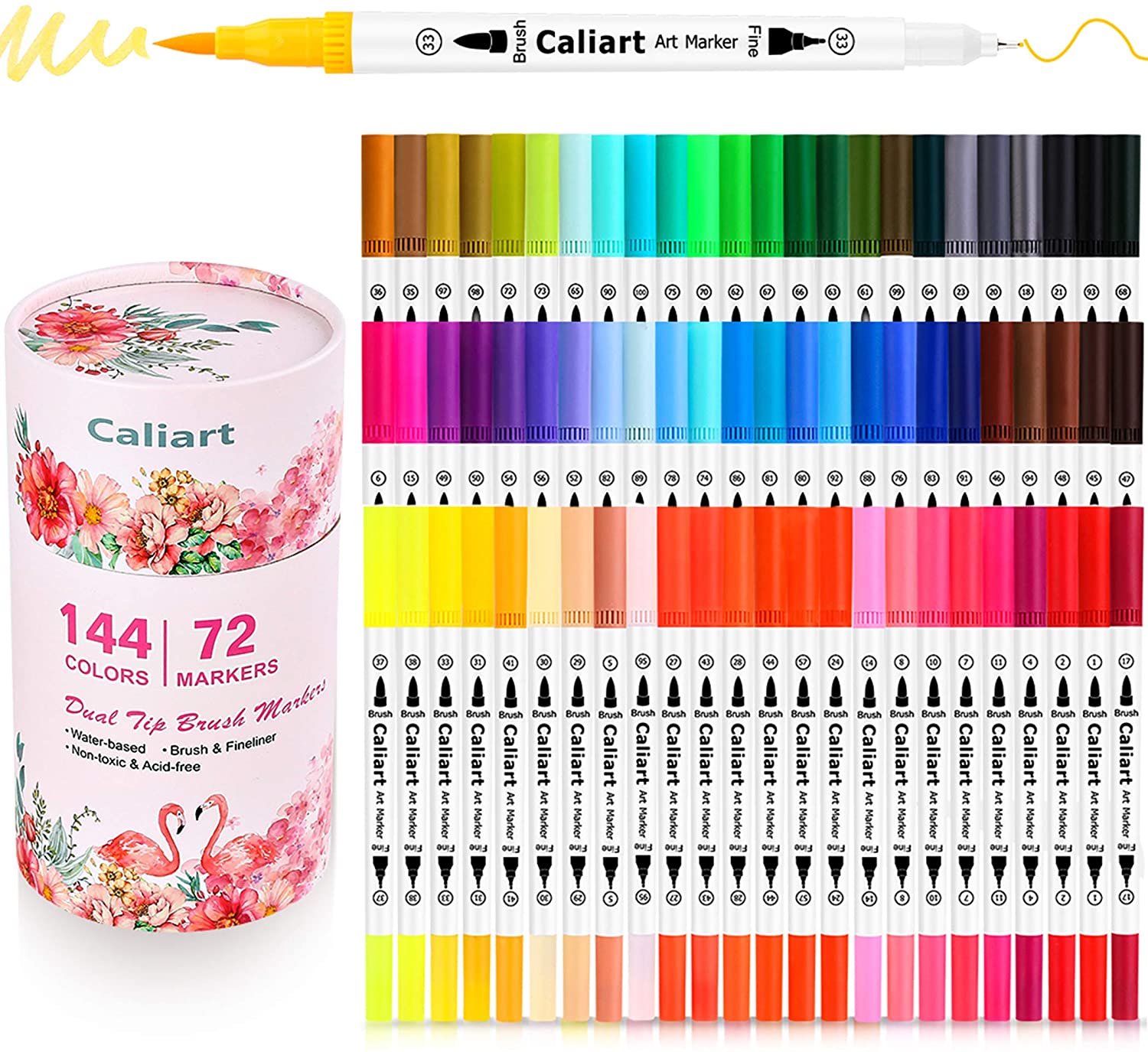 Pros
Largest marker set on our list
Comes in a sturdy storage container
Labeled color coding chart included
The broad tip is a little darker than the fine tip, offering a color variation
Odorless and safe to use
Quick-drying
No smudging
Cons
Some users mentioned that the cap colors aren't always accurate
Colors may not appear as brilliant on some surfaces
Colors can be too dark for some uses
This set is currently available for $20 on Amazon.
Vitoler Dual Tip Brush Markers
The Vitoler brand is synonymous with premium-quality markers and ink pens. Thus, it comes as no surprise that the Vitoler Dual Tip Brush Markers check every box on our list. This set of 34 colors is vibrant, bold, and perfect for almost any application. The wide tip measures 4 millimeters while the fine tip is 0.4 millimeters.
The water-based ink is designed to blend beautifully without bleeding through your paper. Whether you're shading, blending, or drawing an entirely new creation, this set is sure to become a new favorite.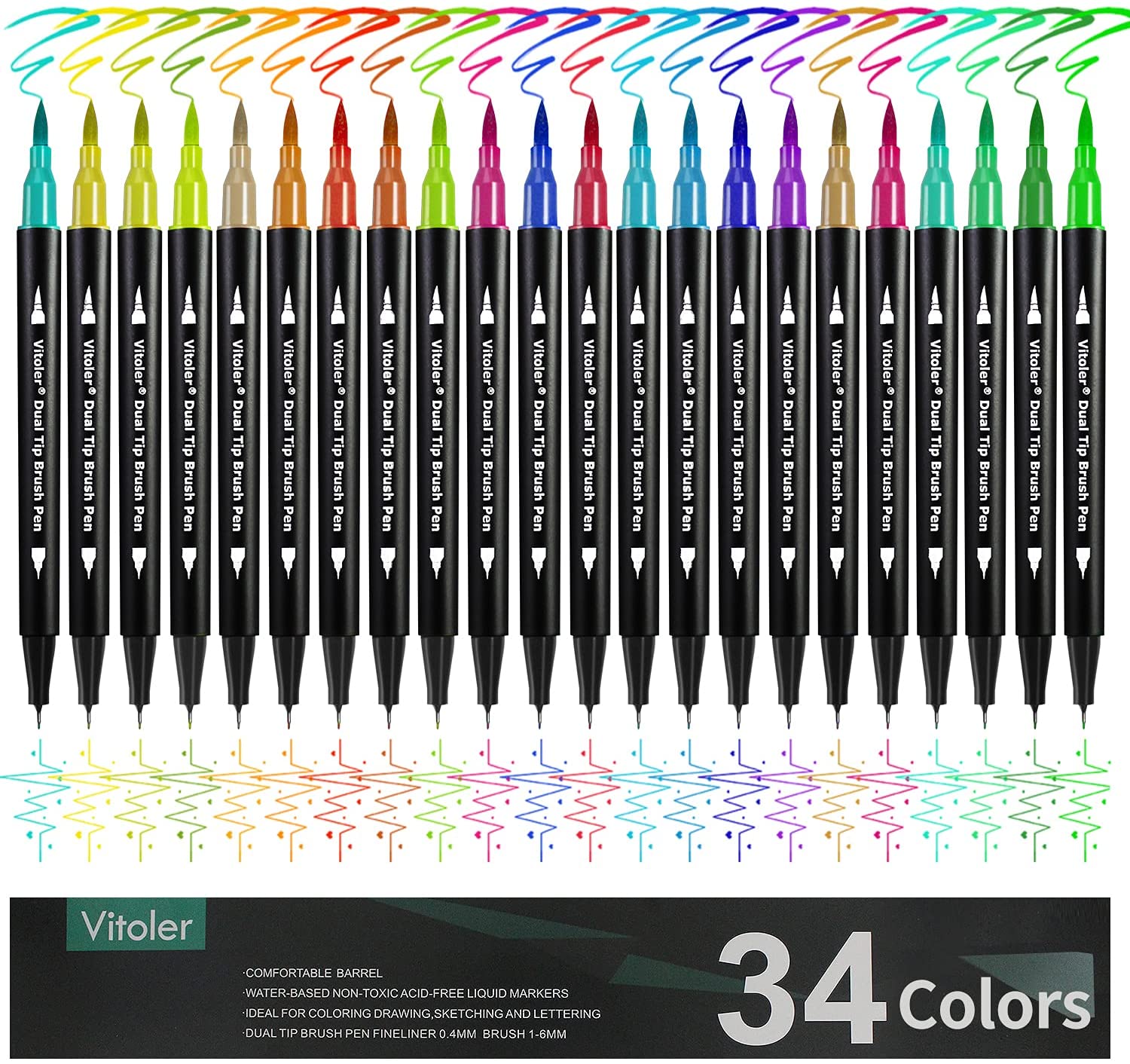 Pros
Water-based, no-bleed ink
Acid-free
Quick-drying
No issues with ink flow or ink skipping
Extra-flexible brush tips for the ultimate precision
Cons
Some users mentioned that their sets were missing colors
These markers can dry out more quickly than others
Ink application can be inconsistent
FAQs
Question: How Can I Make Sure My No-Bleed Markers Don't Bleed?
Answer: You invested in no-bleed markers for a reason. This set is supposed to deliver richly pigmented color without any type of ink transfer. Still, you can't afford to take any chances. While the stakes might not be as high for at-home coloring book artists, professionals need to ensure that their final product is crisp and clean.
Thankfully, there are a few steps you can take to make sure that your markers don't bleed at all. First, it's always best to use marker paper. This is a heavy-duty type of paper that is designed to prevent any type of ink bleeding or feathering from occurring. You can also use paper that's laminated with a protective barrier in the middle, though this can be a little more difficult to find and is usually only available in craft stores.
If you can't find marker paper or laminated paper, then any sort of cardstock or thick paper can help prevent bleeding. These materials should be able to withstand multiple layers of color. You can also simply add a scrap sheet of paper underneath your original paper to act as an extra safeguard.
To know which paper is the thickest and best-quality, look at the grams per square meter, or GSM. While most standard printing paper has a GSM of between 60 and 120, any GSM above 160 is considered to be cardstock.
Question: How Should I Store My No-Bleed Markers?
Answer: Some of the best markers that won't bleed through paper will come with a special carrying case included. This makes it easy to take your set with you when you travel, and also acts as a handy organizational tool for your craft room or home office.
If your set includes a case, then always return your markers to their proper spot after use. Make sure to place each cap back on securely and store them properly to keep the ink from drying out. If you do not have a corresponding case, then look for a box or container that will allow enough space for the pens to sit together. Something as simple as an empty oatmeal canister will work, though you can also buy specialty marker stands made just for this purpose.
If you purchase dual-tip markers like the ones we've included on the list above, then look for a container that lets you store the pens horizontally. This can help prevent the ink from pooling at one end of the pen, ensuring an even application when you're ready to use it.
Question: Will a Sharpie Bleed Through My Paper?
Answer: While you wait on your new set of no-bleed pens to arrive at your doorstep, you may be tempted to use a set of Sharpies in the meantime. These are among the most common household markers, but how will they hold up on paper? Will they bleed through to the other side?
The good news is that most Sharpies will dry relatively quickly, compared to other alternatives. As long as your paper is sturdy and thick, you should not have any issue with bleeding. Of course, the risk heightens when you begin piling on multiple layers of ink.
For best results, stick to fine-tipped Sharpies and test them out with scrap paper before committing. Add a protective sheet underneath your paper to be extra cautious. Thicker-tipped Sharpies tend to feather and bleed, especially if force is used. Still, these can be adequate stand-ins until your premium no-bleed markers are delivered.
Question: How Do I Revive Dried-Out No-Bleed Markers?
Answer: Dry markers are ineffective markers. Especially if you do a good amount of blending, you may notice that the tips of yours are starting to look worse for the wear. This can affect the look of the ink and negatively impact your project. Maybe you left the lid off for too long, or you've just simply used them to max capacity. Either way, it's time to take action.
It's relatively easy to revive the nibs of your markers, as long as you know what to do. First, fill a small bowl with three cups of warm water. Make sure it is warm but not boiling, as this could ruin the marker. Mix two tablespoons of white vinegar into the water.
Next, place the tip of your marker carefully into the water. You can keep it in there for up to five minutes, although the longer it becomes saturated, the longer it will take to dry. You should see a little ink released into the water. Once that happens, take the marker out and lay it on a clean paper towel.
Place the cap back on the marker and allow it to sit for about 15 minutes. Then, you should be able to use it again with the rejuvenated ink! Note that this process is only recommended for water-based markers.
Question: Can I Apply Colored Pencil Over My No-Bleed Markers?
Answer: Some art projects require a darker or bolder base color and a lighter color on top. For this reason, many artists will create a background in marker and then add special details on top with colored pencil. Plus, although markers can cover a large surface area, many are not capable of producing the bold details and sharp contrast that pencils can provide.
If you're using no-bleed markers, then it's possible to blend these two mediums. Yet, it's important to understand the right process. Always make sure to apply the marker first and wait until it's fully dry before adding the colored pencil accents on top. These steps will require time and attention to detail, but the result will be worth it.
Color Away in Confidence
A fully-stocked art room can inspire anyone to become more creative. Whether you want to take notes, doodle, hand-letter, or create your drawings, you need to use the right tools.
While all five of the no-bleed markers on our list are excellent choices, we give the top spot to the SUTOROO No-Bleed Dual Sided Markers. For less than $10, you can enjoy a set of 24 gorgeously pigmented markers that won't bleed or run, including a colorless blending pen. The set is safe for anyone to use, and includes flexible brush nibs for a range of different applications.
Now that you know where to shop for the best markers that don't bleed through paper, what will you design next? Your imagination is the only limit, and that's as big as the sky.
As you brainstorm your next creation, we're here to help make it as beautiful as possible. Visit our site for more helpful tips on everything related to the art of crafting!
If you are looking for more tips to improve your crafts, check the links below;