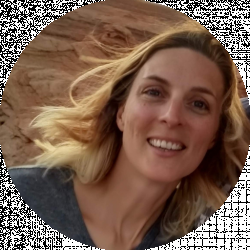 Latest posts by Shaleena Quinlan
(see all)
When it comes to the world of art markers, the name Copic has a regal sound. This company is known for its high-quality products. They are finely made and perform well in the areas of lightfastness, color options, blending, and ink quality. This is such a successful brand that some artists may be wondering if there is even a question of competition in the market.
Well, as a matter of fact, there is. For those who are looking for the best Copic alternatives, there are plenty of options. Whether you need something different because your budget is tight, you have had a bad experience with Copic markers, or you have a desire to try something different for a change, the market is full of wonderful alternatives to meet your need.
Making the Mark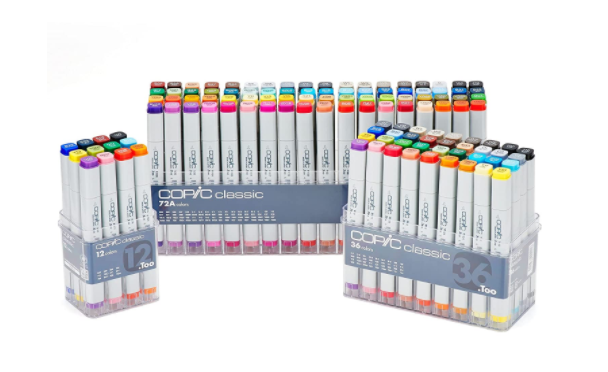 Finding the perfect set of markers is more than just looking for what is on sale or if the set includes all the colors possible. While these two factors should be taken into consideration, marker quality also needs to be examined through several other variables. When looking to purchase a set of markers, consider all of these qualities:
Blending Capabilities
This is the technique of transitioning from one color to another without leaving distinct lines between the colors. Look for markers that have high reviews when it comes to blending colors together.
Color Selection
This will be a personal preference, so make sure you get the color(s) you need. It may be a good idea if you organize your marker colors on a chart so that you know which colors you have in stock.
Also, it is recommended that you keep a chart that you have marked with each color so you can see what it really looks like after it has dried on paper.
Ink Quality
A good marker will have ink that dries quickly, blends easily, and does not streak. If possible, try out a marker before purchasing it. If this is not possible, look through some reviews of the marker to make sure the ink quality is what you need it to be.
Lightfastness
This is the quality of not fading and of being able to hold color longer. All ink will fade over time, but you can find markers with ink that resists fading better than other types. Look through reviews to find what other users are saying about the marker's fade resistance.
It's A Buyer's Marker
Now that we have gathered information on how to find a quality marker, it's time to go shopping. This is going to be a wonderful moment of discovery because the shops are chock-full of markers that will make great alternatives to Copic markers.
Best Alternative for Budget Markers
This set of markers from Ohuhu is going to make your wallet very happy. But more importantly, it will not upset your creative passions. Let's look at why you should consider purchasing some of these markers.
Blending Capabilities: These markers blend very well and are comparable to other more expensive brands in their capabilities to perform in this area.
Color Selection: This set offers 100 different colors for a broad range of needs. What is very important to remember with these markers is that they need to be tried out on a piece of paper so that the true color of the marker can be seen; unfortunately, this is because the marker doesn't list the color name nor does the cap color match the ink.
Ink Quality: The quality of the ink used in these markers is nice. The pigment is vivid and the ink dries fast. These are two pluses in favor of them.
Lightfastness: These do not have the fade-resistant qualities of other more expensive markers, but they do have some lightfastness.
Pros:
Inexpensive
Double-tipped
100 colorful options
Excellent blending capabilities
Cons:
They are not refillable
The nibs are not replaceable
Cap color and ink color do not match
They have a strong odor
Summary:
If you are looking for a marker set that is a little more budget-friendly than a Copic marker set, but without skimping on quality, this set from Ohuhu is certain to satisfy. It has all the bells and whistles you could ever want in an art marker set and is perfect for all artistic levels.
Best Alternative for Double-Ended Markers
The Prismacolor company is well-known for high-quality products that are sold at a reasonable cost. Let's discuss what makes them a quality marker and worth purchasing.
Blending Capabilities: These are considered comparable to the blending capabilities of Copic markers. The nibs are flexible enough to move the ink around easily so that they provide a satisfying blended color scheme.
Color Selection: This set comes in forty-eight colors. They are bold and vivid colors that show well in art projects.
Ink Quality: The quality of the ink in these markers is nice. The ink blends well, it is bold and vivid, and it dries in a way that is reminiscent of watercolors.
Lightfastness: These markers are very fade-resistant and the colors should remain vivid for many years.
Pros:
Excellent blending capabilities
Excellent ink quality
Contains a single source of ink for color consistency
Users have commented on its excellent lightfastness
Includes both a brush and a bullet nib
Cons:
They are not refillable
They tend to bleed through paper
Their lids are very difficult to remove
Users have commented that the markers have come out of the package dried out
Summary:
If you are looking for something to replace your double-tipped Copic marker set, try a set of Prismacolor markers. They are high-quality markers for a more reasonable price. This is a trade that is sure to please your creativity and your budget.
Best Alternative for Refillable Markers
These markers are sheer perfections; they offer everything you could want in one. If you're still unsure of how wonderful these markers are, consider how they meet the qualities every marker should have.
Blending Capabilities: When it comes to blending with these markers, it is a dream. They are so smooth and they do not leave lines.
Color Selection: This set comes with 60 brilliant colors. They range from skin tones to bright and vibrant shades. And, if for some reason, this set doesn't have the color(s) you need, you can order its companion set to get even more color options.
Ink Quality: The positives of the ink situation in this set cannot be overstated. The ink itself is lovely; it doesn't bleed, it doesn't smudge, and it flows smoothly. Also, it is refillable. This is an amazing factor because it makes replacing a color easy and cost-effective.
Lightfastness: All marker ink fades, but with such high-quality ink in these markers, they are sure to resist fading for a long time.
Pros:
They are non-toxic
They are odorless
Ergonomic shape
Refillable ink
Replaceable nibs
Excellent blending capabilities
Excellent ink quality
Cons:
They are expensive
Colors are sold in two different sets
Summary:
For those artists who are looking for an excellent alternative to a set of Copic markers, ShinHan Touch should meet all their requirements. These are finely constructed and designed markers that are able to create intricate and vividly colorful works of art.
Best Alternative Markers for Blending Capabilities
Markers that blend well are highly prized possessions in the eyes of artists. This set from Arteza is known for its wonderful capabilities at blending various colors without smudges or lines, but it also has plenty of other great qualities; let's look at those now.
Blending Capabilities: This is what the set is famous for. When it comes to blending, these markers are top of the line. It even has a blending marker as a part of the set.
Color Selection: With sixty different colors from which to choose, this set is going to work well with nearly every art project.
Ink Quality: The ink used in these markers is highly pigmented and designed for excellent blending without smudging or bleeding.
Lightfastness: This is the one area where these markers fall short. Many users have stated that these markers fade very quickly.
Pros:
Excellent blending capabilities
Come in 60 different colors
Includes a blending marker
Comes with an organizer case
Dual tipped
Ergonomic design
Tips are replaceable
Cons:
Does not provide a lot of skin tone color choices
Does not have a good rating for lightfastness
Summary:
If blending colors is a primary concern for your artwork, then these markers are sure to impress. This set also provides a large selection of vibrant colors and a pen that is easy to hold for many long hours of work or play.
Best Alternative Markers for Travel
Not only does this set of markers provide a quality product, but its design is also ideal for travel. Let's look at why this set may be the best travel companion an artist could ask for.
Blending Capabilities: The blending capabilities of these markers are mid-range. Some users have commented that they don't blend well at all, while others state that it is necessary to keep the marker on the paper at all times in order to blend colors.
Color Selection: This set includes 24 different colors that are bright, vibrant, and do not streak.
Ink Quality: The ink in this set does not smudge or blot easily. It dries quickly and maintains its vibrant color.
Lightfastness: These markers are highly pigmented and designed to resist fading.
Pros:
Excellent ink quality
Fast drying
Great selection of vibrant colors
Excellent fade resistance
Dual tipped
Comes in a sleek and compact carrying case
Cons:
Some users have commented that the ink is not easy to blend
Some users have commented that they bleed through paper
Some users have commented that they dry out quickly
Summary:
If you are apt to travel a lot, this is an excellent option to bring along. The carrying case is simple, sleek, and organized, but also, it keeps the markers from spilling into a suitcase or getting lost. The markers, themselves, are a good quality that will keep your creative ambitions high while you are away from home.
FAQs
Question: Can Art Markers be Cleaned?
Answer: Yes, they can, and they should be. Here are some best practices for cleaning your prized markers.
Place the markers somewhere that you don't mind getting dirty. This can be a slightly messy process.
Get your supplies ready. You will need rubbing alcohol or nail polish remover, paper towels, and some Q-tips.
Squeeze some rubbing alcohol or nail polish remover onto a paper towel and wipe the outside of the markers.
Squeeze some rubbing alcohol or nail polish remover onto a Q-tip and use it to clean the inside of the marker caps and the area around the marker nibs.
Use a dry paper towel to wipe off any excess ink.
Question: How Should Art Markers be Stored?
Answer: It is very important that art markers are stored properly. This will help them last longer and work better. When storing your markers, keep these tips in mind.
• Store them horizontally
• Store them in a cool, dry area
• Store them in a place that does not get a lot of heat or sunlight
• Store them with their lids on
Question: Can Dried Out Art Markers be Revived?
Answer: Sometimes markers dry out before their time, and fortunately, there are a few options for reviving them.
• Water-based Markers:
If your marker is water-based, you can pour a cup of warm or hot water into a bowl and set the marker tip down into the water. Let the tip soak for about five minutes. Dab off the excess water onto a paper towel and let the marker dry.
Another way to revive a water-based marker is to set the marker tip down into a dry bowl and then dampen the tip with a few drops of white vinegar. Allow the marker to soak in the vinegar for a few minutes before drying it on a paper towel.
• Alcohol-based Markers:
To revive an alcohol-based marker, simply pour some rubbing alcohol into the cap of the marker and let it soak for about fifteen minutes. Drain the cap. Then, place the cap back onto the tip of the marker and allow it to dry for another fifteen minutes.
Final Thoughts
Art markers are one of the most common tools in the art world. They offer a chance for everyone to create, color, and design. Each art marker brand offers its own unique qualities and styles that can be appreciated by the art world, and with the right information, each artist can find the perfect marker for their projects.
Knowing what makes a quality marker and what purchasing options are on the market is only going to empower and increase an artist's creativity, your creativity. So, take the time to find the marker that works for you and discover how much more art you can cultivate.
For more recommendations to make your drawings look clean and sharp, check the following links: