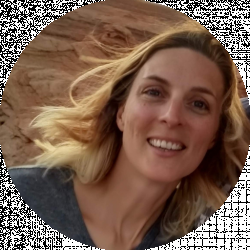 Latest posts by Shaleena Quinlan
(see all)
It was a wondrous moment when I glanced at the four women sitting at the table next to me in a coffee shop. The moment seemed completely normal to them as they were chatting between themselves, but I had to do a double-take when I noticed why they were actually meeting together. Certainly, they were there to connect as friends and to enjoy a cup of coffee, but really, they were there to let their creativity run wild and free.
Spread out on their table were art markers and coloring books. Now, maybe you would not have been stunned at the sight of four grown women coloring at a coffee shop. Maybe you are the person who meets regularly with friends to chat and color.
To some of us, though, coloring is a pastime for the little ones. It's the art that you're expected to put aside after elementary school. Fortunately, that is not true any longer, which is why here you'll find out more about the best art markers, and how to find a good set.
Their table was a rainbow-colored menagerie of fun and creativity that left me inspired. I can honestly say that I went home from that coffee shop with plans to gather my own circle of friends for a glorious coloring session of our own.
Yes, fun and creativity never go out of style. Art markers are not just for kids. And why should they be? Art, in any medium, is a beautiful and expressive hobby that can bring friends together.
Why Art Markers?
It's good to be reminded that art markers are not limited in use to coloring books alone. They are also an important art tool used for hand-lettering, calligraphy, and illustrations. It has become more and more popular to opt for an art marker since they dry quickly, blend well, and come in a large variety of colors. Art markers also looks good on scrapbooks so you might want to try it.
What to Look for in Art Markers
If you have an artistic penchant or have been inspired by a random group of women to gather your friends for an evening of coloring, it may be a good idea to learn more about art markers. You'll need to know what makes an art marker good. It will also be good to know what type works best for the art projects you have in mind. Finally, it will be nice to find a quality product at a good price.
Since you are probably very excited to get started on this new hobby, we have done the hard work for you. We are going to do a thorough run-down of what to look for in an art marker and what the best kinds are for different projects and different needs. It is going to be a rainbow-colored menagerie of fun and creative information that will help you to begin your next art project without a hitch.
Ink Quality
This is the most important thing to consider when purchasing art markers. If the quality of the ink used in the marker is poor, your artwork will also be poor. A good quality ink will dry quickly, blend easily, and does not streak.
Color Needs
Each project you take on will require a different selection of colors and shades of colors. If using art markers is going to be a true pastime, it is essential to have a wide range of options. Keeping a variety of colors handy will make it easier to complete a project just as you would like it to be. Also, it makes the blending process much easier.
It is recommended that you use a chart to organize the colors you have purchased. The Copic company has a wonderful color template that will help with this process. Once you have a color listed on the blank chart, shade in the rectangle so you can visualize what you have and what it really looks like on paper.
Blending
Blending with art markers is the technique of transitioning from one color to another without sharp and distinct lines between the colors. This particular technique will take some time and practice to learn well. Success in blending art marker colors also depends on the marker and the paper. If this is a technique that seems a little daunting, consider watching a tutorial on how to blend with art markers.
Lightfastness
This refers to how long it takes for the art marker's color to fade. Since markers use dye to get their colors, it is guaranteed to fade as light and oxygen break down the molecules that create the color. If lightfastness is something that concerns you, there are a few things you can do to help sustain the color of your artwork a little longer.
Remember, all marker ink will fade with time and most of these suggestions will only delay the process.
Purchase markers made with pigment rather than dye
Use alcohol-based markers more since they do not fade as quickly
Store your artwork in archival boxes or under UV-filtering glass and away from direct sunlight
Consider treating your artwork with a varnish that will help preserve its color
Scan your artwork and save it digitally – this is the best solution for preserving artwork
Art Markers Equal Creativity
When it comes to art markers, it is easier to talk about what you can't do with them than what you can do with them. The creative possibilities are nearly endless. If you are just jumping into the world of art markers, or if you are looking for a new art marker project, consider trying one of these.
As you can see, we have proven that art markers are not just for coloring books (but it's okay if that is what your heart is set on doing). Art markers are one of the most versatile tools in the craft world. You will never get bored crafting with them.
Types of Art Marker
Now that we have learned what to look for in an art marker and have an idea of what things we can create with them we need to learn more about the types of markers out there. We are going to look at several types of markers to learn what they do best and what they don't do so well at. This information will help you decide what type of markers you need in your craft collection.
Alcohol-based
Art markers that are alcohol-based have their dye or pigment suspended in alcohol. Once the alcohol dries, the color remains.
Pros:
Some alcohol-based markers are refillable
Can be used to layer colors
More resistant to fading
Offers more color options
Ink dries quickly
Cons:
Alcohol-based markers are not soluble in water, but some are soluble in alcohol
Are usually more expensive than water-based markers
Has a tendency to bleed through paper
Can have an odor
Recommended Project:
Not only will this project give you a creative outlet, but it will also give you a creative and personal way to send cheer, encouragement, or comfort to others.
With a wide range of colors and the ability to refill the ink and change the nibs, these markers are well worth purchasing. Since they are a high-quality product, they are a more expensive option, but they will provide high-quality artwork and last for years.
Water-based
Art markers that are water-based have their dye or pigment suspended in water. Similar to how the alcohol-based markers work, once the water has dried, the color remains. The difference between these markers and those that are alcohol-based is that a paintbrush dipped into water can be used to blend colors. This makes these markers a form of water coloring.
Pros:
Colors can easily be blended using a brush dipped in water
Are usually less expensive than alcohol-based markers
Does not have an odor
Cons:
Less resistant to fading
Does not dry quickly
Does not offer as many color options
Can misshape paper
Recommended Project: Outside the Lines Paintings
A project like this allows you to color and blend to your heart's desire (a great way to practice). Once you have the look you are going for, cut out the picture for use in gift tags or framed artwork.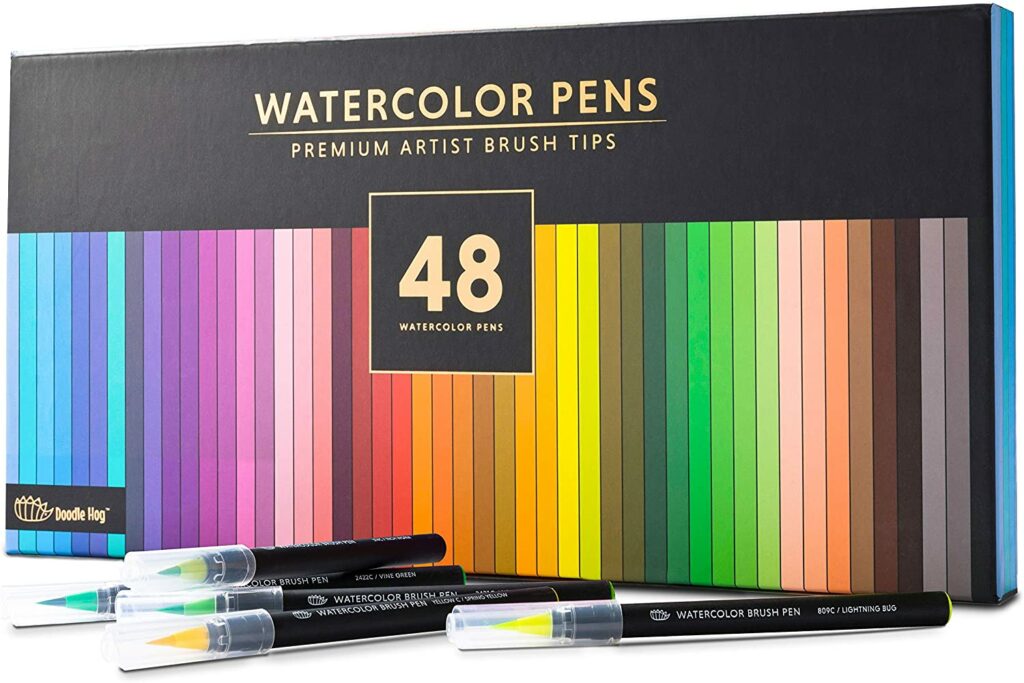 This set of markers is a product that perfectly blends the need for selection, quality, and economy. It is a great product for everyone from a beginner to the more experienced artist. Everyone will appreciate what it provides in color selection and its ability to blend colors.
Best Markers for the Budget-Conscious
Hobbies require tools that are inexpensive and reliable. Whether you are new to the world of art markers or are an experienced artist, you are sure to look for value and quality when purchasing your supplies. To help you with your search for a new set of art markers, we have listed a selection of options that make any budget-conscious artist happy.
Comes in a variety of sizes and colors to suit any artist's need
Two different tips provide the ability to do intricate details or broad strokes
Blends colors very well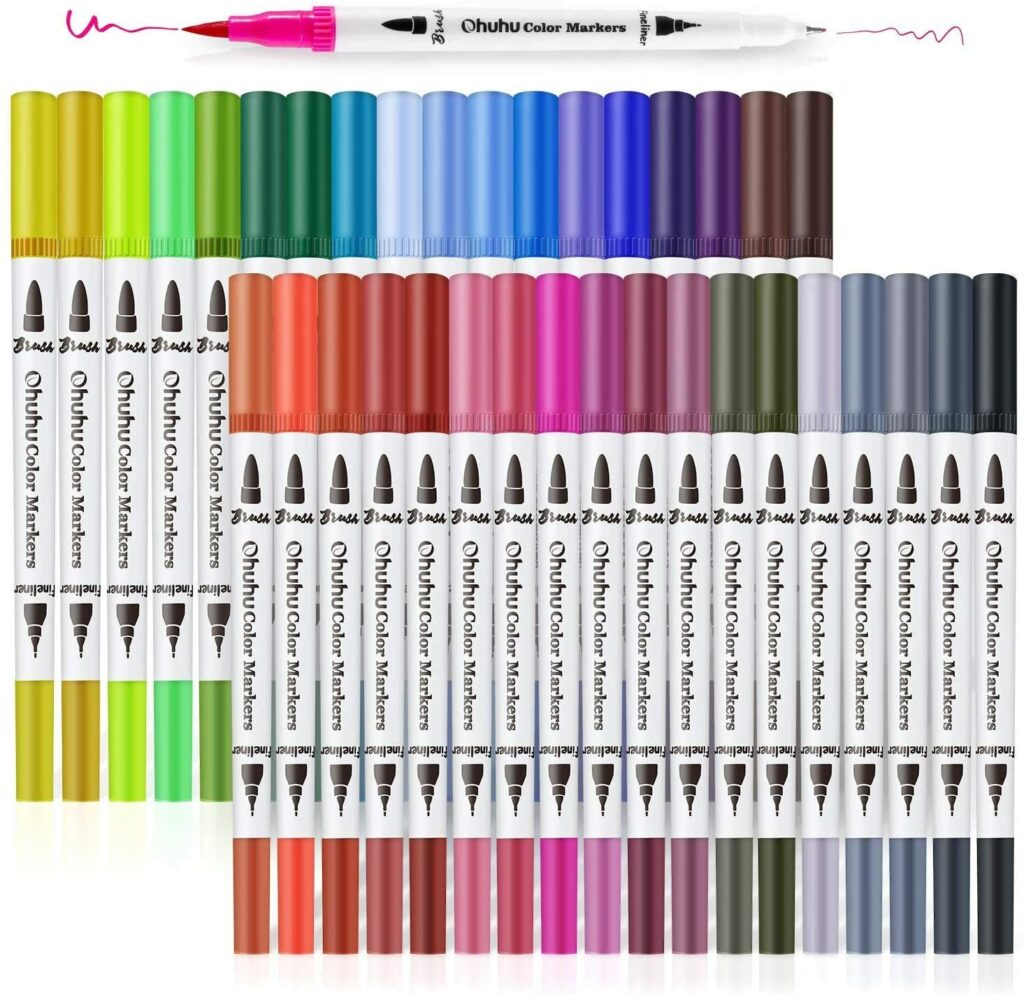 Offers a variety of colors
Comes with two different tips for intricate details and broad strokes
Dries quickly
A great purchase for beginner artists
Best Markers Based on Projects
Some art markers work best for a particular project; others are more versatile. Here are a few options of popular art marker projects and the best selection of markers to use in these types of projects.
Manga Sketches
When you want to sketch or illustrate characters, you will want a set of the Dual Tip Markers from Art-n-Fly Store. Whether your style is Manga or not, these markers will meet your needs as an illustrator. This set comes with 24 different colors, a bullet tip, a chisel tip, and a blender marker to make your illustrations vibrant and irresistible to look at.
Coloring Books

For those who enjoy pouring their creative energy into a coloring book, this set of 24 Prismacolor Double-ended Markers are for you. The two different tips are guaranteed to meet all your coloring needs, while the sleek carrying case will meet all your organizational needs.
Fabric Crafts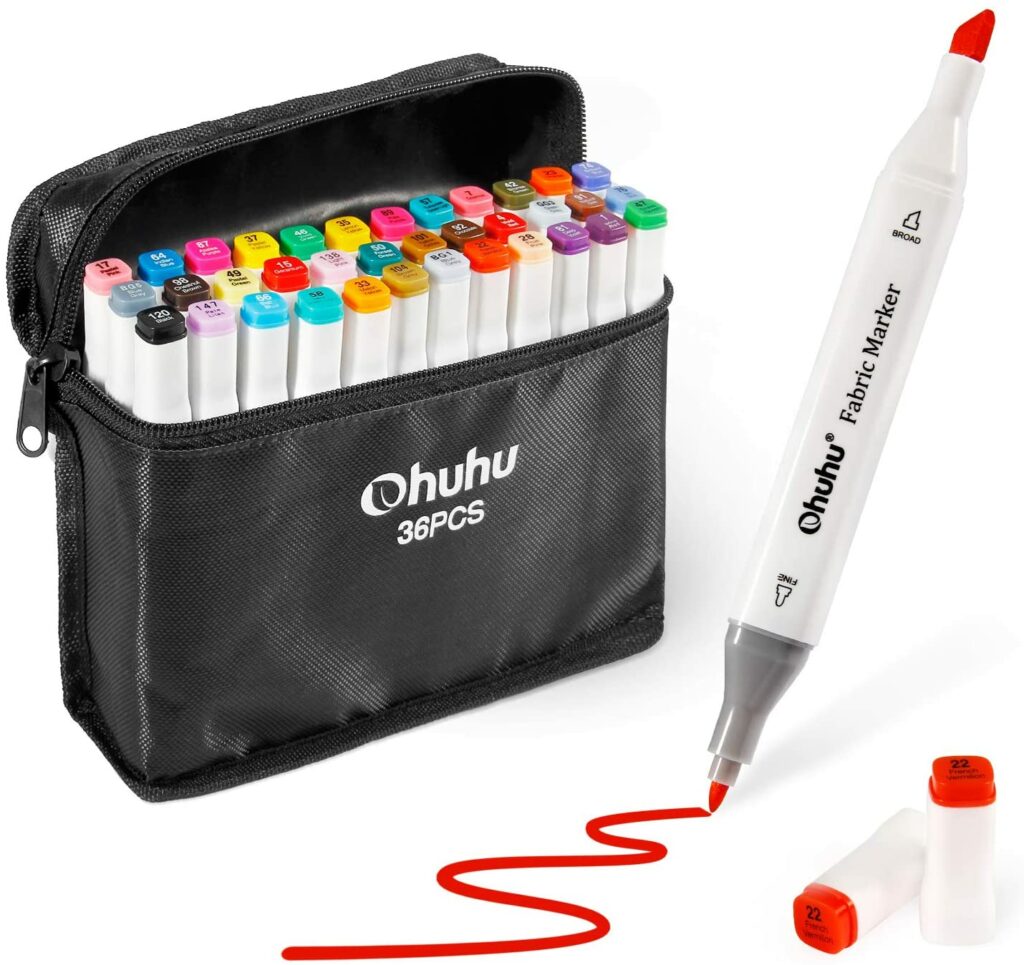 There is so much you can create when you bring fabric and markers to the same table. Literally, there is so much. Explore your creative side with a set of Ohuhu Fabric Markers and a T-shirt or a pair of shoes. It is a guaranteed good time.
Read More: Top Guide to the Best Crafting Materials
Best Ergonomic Art Markers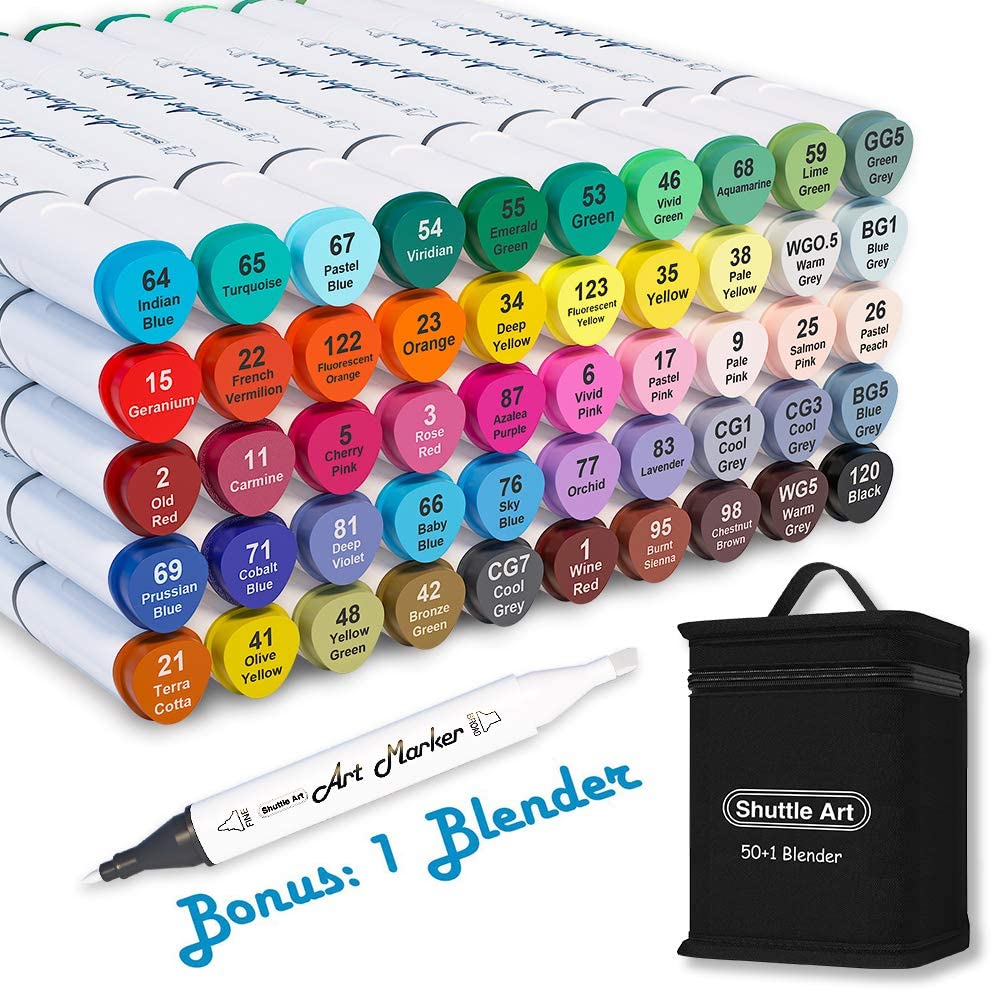 Our hands do get tired after using a marker for a long period of time. Fortunately, there are products available that help with hand and joint discomfort. If your hands hurt after working for only a short period of time, try using an ergonomic marker such as the Shuttle Art 51 Colors Marker Set. They are triangular-shaped to help with gripping and hand pain issues. They also come in a convenient carrying case and a variety of colors.
Best Refillable Markers
Sometimes it is best to invest in a top-quality product. This is especially true if you are trying to build a brand out of your artwork in order to sell it. If you are considering taking your art from hobby to vocation, explore the world of refillable markers.
FAQs
Question: What paper should I use?
Answer: This depends on what you intend to create. What you will need to look for is a sturdy paper that will not allow the ink to bleed through but will still allow blending. A popular option is Copic Marker Blending Card Paper. This paper offers all an artist needs when working with art markers.
Question:  Can I sell my artwork made with art markers?
Answer: Yes, many artists do sell their artwork. How you go about doing this depends on your desires and personality. Some artists scan their original work and sell prints of it. Other artists, create coloring books and sell those as printable downloads or a published book.
Final Thoughts
I hope you been inspired to let art into your life. I also hope this information helps you find the creative outlet that brings serenity to your day. There is something beautiful and calming about art, so let this moment of creativity inspire and calm you. Now, go grab your coffee, your coloring supplies, and call up a friend for a calming chat.