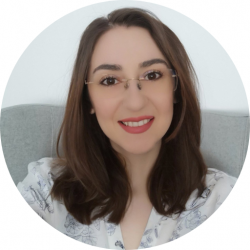 Latest posts by Alexandra Gavrilescu
(see all)
I am an art lover, and I am passionate about creating artworks of my own. For that reason, I am always involved in all sorts of DIY projects. If you're here, it's obvious you're just as passionate as I am. Today, I will present you with the proper tips and tricks on how to find the best calligraphy ink as well as some of the best options on the market.
I fell in love with calligraphy a couple of years ago when I attended a dedicated course that got me through one of the darker periods of my life. I always tend to do something creative with my hands, such as calligraphy, painting, and playing the piano every time I feel a bit sad or even depressed. It helps me a lot, and I hope this article will help you as well.
How to Find the Best Calligraphy Ink – Useful Guidelines
Selecting the right kind of ink for your calligraphy artwork can be a tad challenging because of all the available options you can find on the market.
There are so many different colors and formulas that the task of finding the best one could become daunting and overwhelming. However, I'm here to help you by saying that this entire process can be a lot easier if you follow the tips and guidelines described below.
So, here's what you need to keep in mind, besides opting for a reputable brand that has a long presence on the market.
The Type of Calligraphy Pen You Use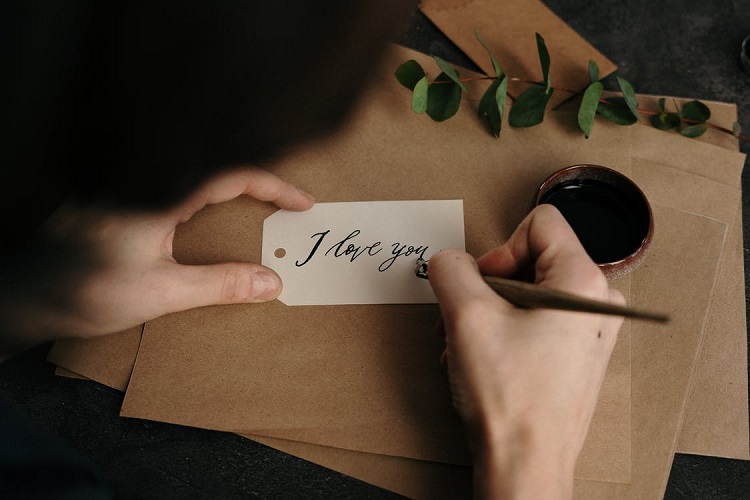 There are various types of pens meant for calligraphy projects. The type of pen one uses will determine the type of ink one should purchase. For instance, fountain pens work with ink that's more restrictive and doesn't flow very much.
On the other hand, if you're ready to invest in a more expensive calligraphy pen, you will find some options that can convert the ink you're using, which allows you to use different types of calligraphy ink.
Some pens require cartridge ink, whereas others require bottle inks. If you want a more versatile pen that can accommodate various ink types, you should opt for dip pens. That way, you won't worry about the lack of a converter anymore.
Whether or Not the Ink Is Waterproof & If You Need That Feature
The waterproofness of the ink is important, especially if your finished project will be displayed in an open location. Rain can mess your hard-worked project in just a matter of seconds. Calligraphy implies a lot of attention, precision, and effort, and, believe me when I say that you don't want all that to go down the drain because of raindrops or moisture.
Some artists use special products to protect their art, such as micro glaze or fixative. Still, if you opt for waterproof calligraphy ink, you will save time and the extra work needed to apply the fixative.
One thing you must remember is that there are two different concepts: water-resistant and waterproof. Waterproof is way better than water-resistant. This second version will last through the rain, but the ink might fade or run.
Your Preference Regarding the Ink's Black Shade
When it comes to calligraphy, black ink has various shades and highlights. Some artists work with warmer brownish colors, while others prefer to use black ink that features a cooler shade of blue. Dip pen calligraphy ink should be your go-to option if you want to achieve more toned black elements.
This kind of ink made for dip pens has a denser texture and a darker color, both of which make it last longer even if your art is displayed in intense light. The opposite choice would be fountain pen calligraphy inks because they're more fluid and have a bluish shade. They also fade away pretty quickly.
Permanent or Temporary Ink
For those projects that need to remain as they are for a long period without the ink fading, you should opt for either Japanese stick inks or dip pen inks. These two alternatives are long-lasting and deep-toned. For more delicate works of art, you will also need fountain pen ink, but that will start to fade after a while, especially if you place it outdoors where it's exposed to light.
The Quality of Your Calligraphy Paper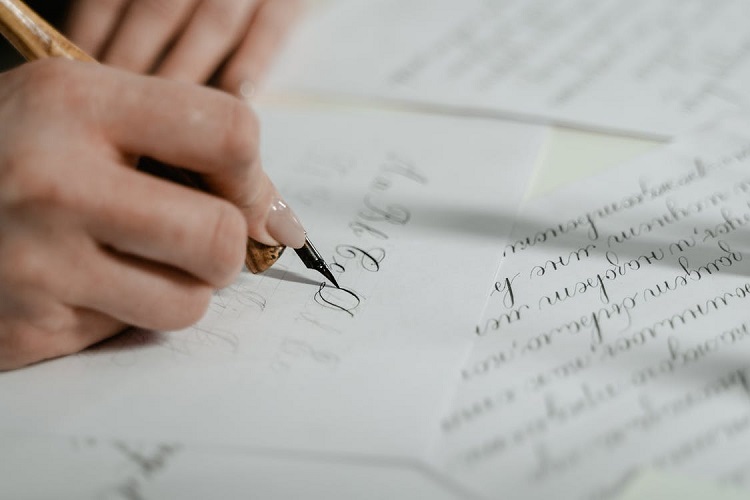 The quality of your calligraphy paper doesn't impact the quality of the ink, but it has an effect on the way the ink looks like when you start creating shapes and letters. If you use calligraphy paper that's made for fountain pens, you're free to choose any type of ink you desire.
But, in case you don't really know the type of paper you're currently using, you should always choose an ink that behaves well on multiple types of surfaces. This precaution measure will lower the risk of ink feathering or bleeding.
The Wetness of the Ink
You must ask yourself how quickly the ink flows through your calligraphy pen?! While some artists like to work with wet inks, other calligraphers prefer dry inks. The wet version feels smooth, but it doesn't look good on bad-quality paper. Dry ink behaves better, and it doesn't feather or bleed over time.
Calligraphy pens can also be dry or wet. Therefore, you must pick an ink that suits the type of your pen.
It's almost impossible to find the perfect calligraphy tools that serve multiple purposes. There are so many choices out there, so feel free to explore and experience by testing and trying various types of ink until you find the one that suits your needs and style the most.
Finding the Best Calligraphy Ink – Top 5 Choices to Consider
The following ink alternatives are listed and detailed in no particular order. I've picked them based on their user reviews, their quality, and the fact that they're marketed by reputable companies. 
Winsor & Newton Ink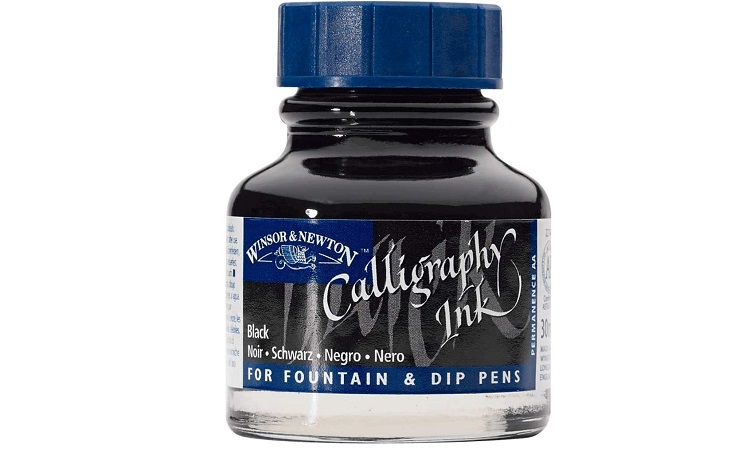 The Winsor & Newton ink is highly recommended by many calligraphy experts. This product has gathered numerous amazing reviews due to its quality and distinct colors. I also love working with this ink because of its vibrant shade. You can choose from 8 available color options that range from basic or traditional ones to shiny and bright versions.
You can also use this ink with almost any type of calligraphy pen because the ink flows very well. The same goes for your chosen type of calligraphy paper. This Winsor & Newton ink won't bleed or get clogged in your pen. Once it dries out, your artwork will have a nice shiny finish. It's a great calligraphy ink for both drawing and writing.
Pros
Both its consistency and color options are magnificent;
It does not clog, and it provides good flow;
It's ideal for writing and can be used with both calligraphy brushes and dip ink pens. 
Cons
Its consistency is a bit thick, which leads to a very quick dry. 
Dr. Ph. Martin's Ink for Calligraphy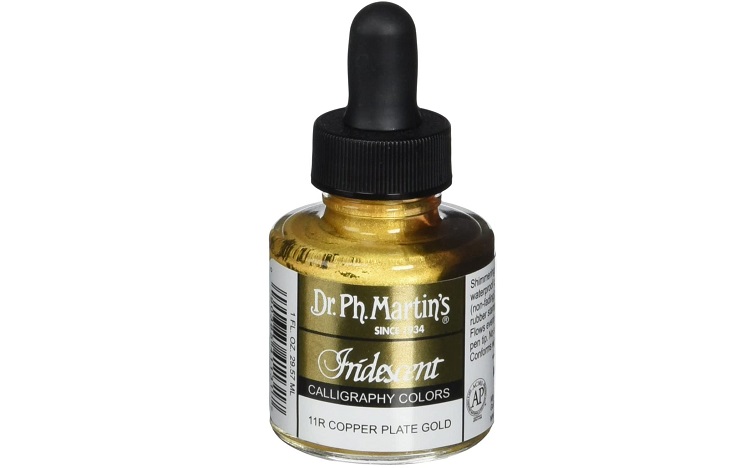 I love this calligraphy ink marketed by Dr. Ph. Martin's due to its lovely glow and stunning color. You will achieve great elegance if you create your work commissions with this copper plate gold ink. With this ink, you will be able to create fine details that will look good on various surfaces. The shimmer that this ink has will attract everyone's attention.
This is a lightfast calligraphy ink, so you can use it anywhere you want, including on smoother wooden surfaces outside. The ground pigments are premium quality, so you won't have to worry about discoloration. You can use this ink in your aesthetic projects with a number of tools such as airbrushes, regular brushes, and dip pens.
Pros
It's a gorgeous and high-quality calligraphy ink that's also waterproof, which makes it resistant to outdoor humidity and raindrops;
Once it dries out, this ink will have a nice shimmery finish;
It's a versatile calligraphy ink that can be easily used with different types of pens and tools. 
Cons
The bottle of ink comes with a dropper that's a bit flimsy, and that could be more durable. 
Yasutomo KY6 Sumi Ink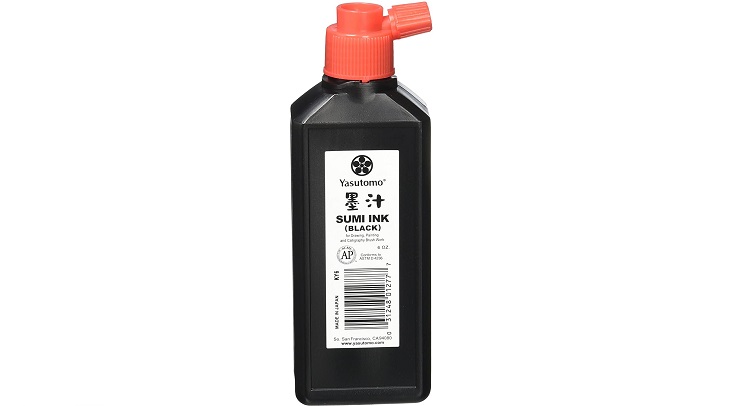 The KY6 Sumi ink by Yasutomo is much appreciated among numerous calligraphers. It's a permanent calligraphy ink that will not disappoint you. This basic black color is the perfect choice for when you want to create hand-written letters.
You will be able to do some amazing fine details due to the fact that this ink was formulated for both calligraphy and painting.
With this ink, your artwork will certainly stand out. It has a high consistency that makes the product flow well on a wide range of different papers and surfaces.
It's a reliable product. I personally like the way the container was manufactured, which prevents spills or accidental falls and breaks. You can squeeze the container to get out only the amount of ink you need at a certain moment.
Pros
It's a basic ink color that all beginners should use;
The container has an ergonomic shape which makes it easier for you to pour the ink;
It helps you create smooth and delicate lines;
This is a high-quality calligraphy ink that's also non-toxic;
Compared to other similar products, this ink doesn't have a strong chemical smell. 
Cons
This ink has a thin consistency;
If it's not completely dry, it can easily get smudged. 
Drawing & Calligraphy Ink by Tom Norton Designs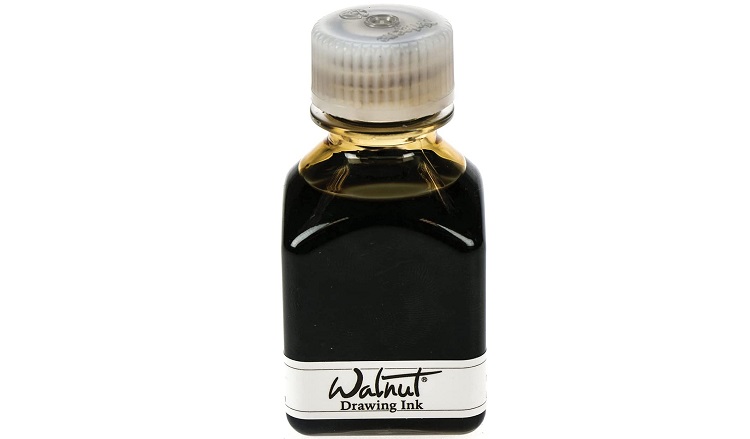 This is another calligraphy ink that's highly recommended by numerous artists. The Tom Norton Designs ink will help you create beautiful pieces of art. It's a versatile product due to the fact that it allows you to mix it with other colors without changing its consistency. You can use this ink for both your drawing and calligraphy projects.
I love how this ink flows on paper, and, in my opinion, its consistency is ideal for my lettering projects. I have even exposed some of my commissions outside in direct sunlight, and the ink remained the same the entire time. It didn't fade.
Pros
It's a great calligraphy ink that's free from acid; this makes it safe for the users;
You can easily and safely blend this ink with other similar products;
The bottle has an ergonomic shape which makes it easy to manage;
The flow of this ink is very smooth.
Cons
The ink isn't resistant to water, so you should avoid places with a high level of humidity.
Easyou Redstar Liquid Ink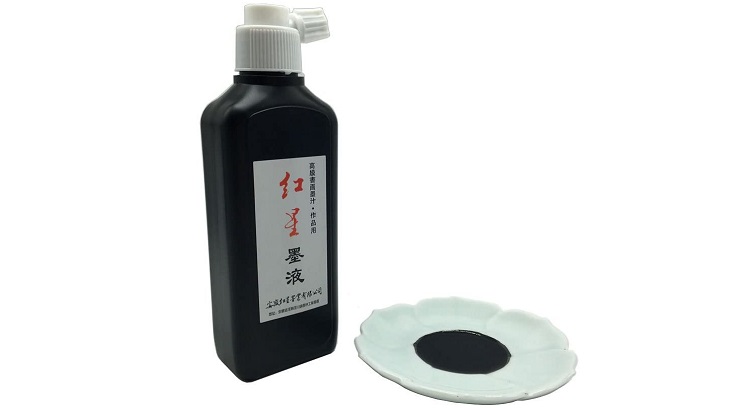 The Easyou liquid ink is the ideal choice for beginners, and it can also be a great birthday gift idea for your children or young relatives. It's a great product that works well for both brush painting and traditional calligraphy. Therefore, it can also be used by experts and professionals.
One of the things I like most about this product is its pleasant fragrance which isn't strong like the smell of other calligraphy inks. Its perfume will make your long and hard work a lot more fun and enjoyable.
It dries out pretty quickly, which means you must move pretty fast when creating shapes or letters. On the bright side, this means that your work of art won't get smeared.
Pros
It's suitable for a wide range of people, from beginners and children to calligraphy professionals and painting artists;
It smells good, and it doesn't have a strong or disturbing perfume;
This ink doesn't bleed or smear;
After it dries out, it will feature an amazing dark and smooth finish;
The container provides a lot of ink, and the product is a good-quality one. 
Cons
It's thick ink, so you must be careful when applying pressure on the paper.
How to Find the Best Calligraphy Ink – Frequently Asked Questions
Question: What Is Calligraphy Ink?
Answer: It's a special type of ink that's made for calligraphy. Calligraphy is a beautiful, old, and noble art of writing letters, words, and sentences in a special way. Each letter requires great precision.
Question: Who Is Calligraphy Ink For?
Answer: All calligraphers will need calligraphy ink for their works of art. But DIY aficionados can also benefit from having good-quality calligraphy ink around the house.
Question: What Types of Calligraphy Inks Are There?
Answer: There are 3 different calligraphy ink types:
Dip ink;
Fountain pen ink;
Chinese/Japanese stick ink. 
While fountain pen inks are very colorful and suitable for smaller projects, the other two are denser and thicker, so they last longer without issues such as smudging or fading.
Question: What Are the Best Calligraphy Ink Brands?
Answer: Brands such as Winsor & Newton, Speedball, Tom Norton, and Higgins are all reputable and trustworthy when it comes to calligraphy ink. I'm speaking from personal experience, but I've also made thorough research before creating today's article to make sure I am updated to the latest trends in this beautiful and artistic field.
How to Find the Best Calligraphy Ink – Bottom Line
If you're passionate about calligraphy, or you're even considering a career in this artistic field, I support you completely. Calligraphy is one of the few things that make me happy and fulfilled. But, don't think this is a simple activity. It requires a lot of learning, techniques, patience, and perseverance.
Besides your skills and calligraphy paper, you will also need high-quality calligraphy ink. All the products mentioned above are good and reliable. But, my personal favorite ones are the Winsor & Newton and Tom Norton Designs inks due to the fact that they're made and marketed by reputable brands with a long history and raving reviews.
Get inspired to start new projects by reading the next guides;