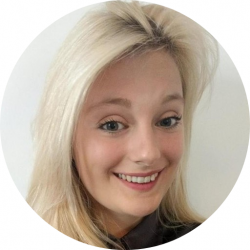 Latest posts by Rosie Greaves
(see all)
If you're an avid crafter, you've probably used or at least heard of transfer tape. But, if you're new to vinyl crafting, transfer tape does precisely what it says on the tin: it carries your vinyl designs from its backing paper to a new surface.
When working with vinyl, it's imperative to use high-quality transfer tape. 
Why?
Vinyl's fragile, making it tricky to transfer – especially if the design boasts intricate detailing. It can quickly lose its adhesiveness, not to mention the faff that comes when the edges accidentally stick together! These are just a few of the obstacles that make it challenging to position your art exactly where you want it. 
Cue, decent quality transfer tape. This is where this crafting product comes into its own. That said, let's get into the best transfer tape for vinyl we think it's a must have.
How to Use Adhesive Transfer Tape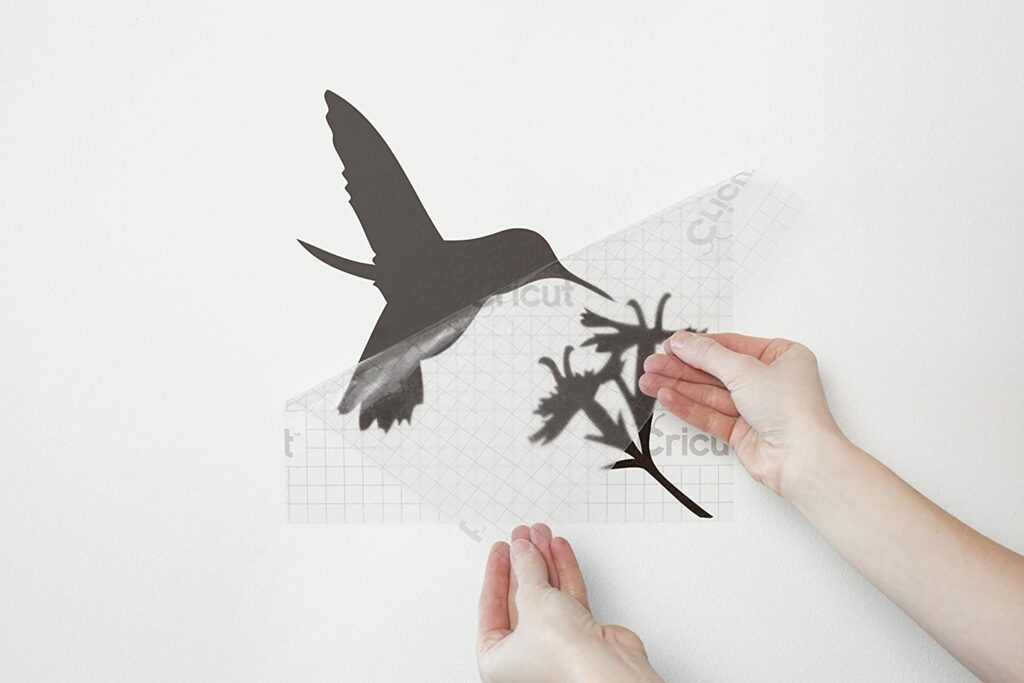 When using adhesive vinyl, always use transfer tape. First off, prepare your vinyl design, either using a vinyl cutting machine or manually carving the design out yourself. 
Once you've removed the extraneous parts, rub the vinyl transfer tape over your design and smooth it out. Now the transfer tape is stuck to your vinyl creation, you'll find it much easier to shift your work to another surface.
A Few Things to Bear In Mind 
Before we reveal our preferred transfer tapes for vinyl, it's worth mentioning different transfer tapes complement different kinds of adhesive vinyl. That said, there are some general considerations to bear in mind when picking the best possible tape for your project:
Size
If you're transferring a small design, a 12" x 12" piece of tape could be all you need. However, it's not uncommon for transfer tapes to come in huge rolls, often over 10 feet. That said, consider how much tape you'll need and factor that into your purchasing decision. 
The Type of Vinyl You're Using
Not all tapes work with all kinds of vinyl. That said, some of the more versatile tapes should be suitable for most vinyl types with an average thickness. However, you'll still need to marry the transfer tape's adhesive strength to the kind of vinyl you're using.
For instance, if you're transferring glitter vinyl, you'll need a tape with a more robust grip. In contrast, standard transfer tape is sufficient for thinner vinyl types. 
Grids
There are plenty of transfer tapes with 1" x 1" grids printed on them. These come in handy for positioning and aligning designs on your chosen surface. That said, some crafters prefer gridless tapes – the choice is yours!
Paper or Clear?
There are minor differences between paper and clear tapes. Most notably, clear tape isn't as breathable, so there's a greater possibility of air bubbles forming. This means that if you're transferring wet vinyl, paper tape is preferable.
On the flip side, unlike clear tape, paper tape is opaque, so it's harder to see your design when applying it to your surface. 
Price
Transfer tapes cost varying amounts depending on the brand and type. However, if you're looking for a ballpark figure, $1.50 per foot is a rough average.
The Best Vinyl Transfer Tapes
Now that we've covered the basics, let's get into the best vinyl transfer tapes on the market:
YRYM HT Vinyl Transfer Paper Tape
This clear tape comes in at a massive 12" x 50″ ft., with a red 1/2" x 1/2" grid printed on it. At 54 cents per foot, this transfer tape is one of the cheapest around! At such a bargain, it's no wonder it's so popular with crafters using removable and permanent vinyl alike. 
It's smooth to cut using near-on any vinyl cutter, including brands like Silhouette and Cricut. That said, users say this paper boasts a glossy surface that makes it easy to cut with just scissors. It's also tear-resistant, which goes a long way to preventing the tape from ripping as you lift it off your project. 
This tape has a medium tackiness, so you can reuse the same piece several times. It attaches to and frees itself from the vinyl effortlessly without leaving any residue behind. However, it's not gluey enough to work with holographic, glitter vinyl, or HTV.
On the flip side, it's too sticky for adding intricate decals to paper with the tape's first use, so be sure to factor this into your purchasing decision. 
Frisco Craft Transfer Roll
This tape comes in a 50-foot long by 12-inch roll and is one of the more affordable options on this list. It's completely transparent, and as such, this tape doesn't have a grid printed on it. In short, if you want a thin, see-through, and high-quality transfer, this could be the tape for you. Thanks to its clarity, nothing will obscure your view during its application.
Its robust grip is perfect if you're working with thicker and/or textured vinyl. However, it still releases the vinyl with comparative ease, reducing the risk of ripping. Thanks to the tackiness of this tape, you'll save both time and money because you can reuse the same piece again and again. 
Top Tip: As this tape's highly sticky, try placing and peeling it off your clothing to reduce its tackiness for more delicate designs. 
Frisco's tape works well with many different types of vinyl – including Cameo, Silhouette, Cricut, Puzzles, Provo, Oracal, Holographic, glitter vinyl, and Craftopia sparkles. Not only that, but you can apply it to all kinds of surfaces. 
To summarize, when you weigh up Frisco's quality for its price and quantity, you get a pretty good deal.
Cricut Transfer Tape
This is one of the smaller tapes on this list, measuring just 12" x 48." It's also one of the more expensive options. This is an excellent choice if you're using Cricut vinyl for your project. That said, this tape comes in four different sizes, the most extensive measuring 30 ft, so you're bound to find the appropriate quantity of tape for your crafting needs. 
This tape is clear with a discrete black grid, enabling you to carefully position your design onto your chosen surface. Cricut sells lots of different tape types, including StandardGrip for conventional vinyl. Whereas, StrongGrip tape is better suited to textured, thicker vinyl, including glitter vinyl.
JH Best Crafts Vinyl Transfer Paper
If you're looking for a smaller quantity of tape for the occasional crafting project then, JH-Best's 10 feet by 12-inch wide vinyl transfer paper is worth considering. Not to mention, the price is pretty reasonable. 
This is a suitable tape for conducting multiple transfers at once. You can also reuse the same piece of tape around four times before its gumminess wears away. 
This tape is versatile and works well with a broad spectrum of vinyl types, including Silhouette, Pazzles, Provo, Cricut, and Oracle – to name a few. You can also use it to transfer vinyl onto various surfaces (both indoors and outdoors).
JH Best Crafts vinyl transfer paper is better described as translucent than transparent. There's a very delicate haze to the tape, and it comes with a red grid to help you position your design. You should be able to see everything relatively clearly. Still, if you're transferring incredibly intricate patterns, this might not be the best option.
Craftopia Vinyl Transfer Paper
If you're familiar with vinyl crafts, you'll probably already know that Craftopia is a higher-end US brand that offers excellent quality products. Craftopia transfer paper is useful when working with Cameo, Silhouette, Cricut, Oracal, Puzzles, Provo, and even glitter and holographic vinyl – to name a few!
Craftopia transfer tape is entirely transparent, so you have complete foreknowledge over how your decal looks on your chosen surface. On top of that, there's a 1" x 1" blue square grid with a low opacity you can use to help position your design. 
This roll is 12 ft. long, which considering its price, is pretty cost-effective. 
You also get a cyan or pink felt tip squeegee you can use to polish the tape with the vinyl beneath to smooth out any bumps or bubbles. 
Compared to other tapes on this list, you'll need to use a decent amount of pressure to transfer your design. However, its peel application is pretty effortless; you shouldn't experience any messy residues or tears. 
Oracal HT55 Transfer Tape
Suppose you're looking to use Oracal vinyl and decorative window films, including dust, frost, and etched glass. In that case, this could be the transfer tape for you. It's also an excellent choice for transferring intricate glitter vinyl designs. 
Unfortunately, this tape isn't entirely transparent, and it doesn't come with a grid. As such, you may find it tricky to perfectly align your design onto your chosen surface. However, on the flip side, this tape is adhesive enough to pick up tiny detailing. 
At a whopping 300 feet long, this roll is pretty extensive! It's also a third of the price of some of its competitors! However, you'll need to buy in bulk to benefit from this impressive discount. So, if you're a professional crafter, this tape is well worth considering. 
StyleTech High Tack Transfer Tape
This tape is fantastic if you're using thick types of vinyl like glitter or Oracal Oramask. The same applies if you're looking for a tape that can transfer vinyl decals with more minor details.
As its name suggests, this tape's incredibly tacky, so if you're transferring your design onto standard vinyl, this tape probably isn't suitable. That said, you can reuse this transfer tape several times. With each time it's used, the tape becomes better suited to thinner, more traditional pieces of vinyl. 
This transfer tape's fully transparent, and on its back, there's a red grid to help you position your design exactly where you want it. Unlike some of the rolls on this list, the StyleTech High Tack Transfer Tape only boasts a 30 ft length, which may be too much if you don't regularly use glitter and thicker types of vinyl.
Siser EasyPSV Application Tape
This tape comes in four different sizes. The larger the roll, the bigger the discount, with the most extensive option measuring 150 feet, where you'll save almost double. In contrast, the smallest option is just 12" x 12".
This tape is utterly transparent and boasts a very discrete, semi-transparent 1" x 1" grid. So, rest assured, you can see exactly what's going on underneath the tape, making it an excellent choice for positioning more minor details.
This tape boasts a medium tackiness, making it suitable for most standard, glitter, and high-gloss types of vinyl. But, with thicker vinyl types, you'll need to apply a little more pressure to ensure the design sticks to your intended surface. Thanks to its medium tack, you'll find that your decal peels pretty easily off the tape.
FAQs
Question: What's transfer tape?
Answer: Transfer tape helps crafters move adhesive craft vinyl from its backing to their desired location. If you're wondering whether you'll need transfer tape for your vinyl project- the answer is most likely yes. 
Although you can usually shift vinyl from its backing elsewhere without transfer tape, moving intricate details is very challenging. 
Once you've cut and weeded out any excess vinyl, apply the transfer tape over the project so that when you remove the backing, the vinyl clings to the transfer tape.
You can then apply the tape to your chosen surface using an application tool. Use this and apply the necessary pressure to adhere the vinyl to the surface and smooth away any air bubbles. Now, gently remove the transfer tape by pulling one corner downward at an angle.
Voila, that's it! 
Question: Are there different kinds of transfer tape for vinyl?
Answer: As we've already hinted at, there are two primary types of transfer tape: clear and paper. Transparent transfer tape is best described as a plastic film, whereas opaque transfer tapes are more like paper with an adhesive back. 
Question: Can you use transfer tape on regular paper?
Answer: The short answer is no. If you attempt to apply transfer tape onto paper, it will most likely tear.
Question: Why won't my transfer tape stick to the vinyl?
Answer: If your transfer tape isn't sticking to the vinyl, there could be a few reasons for this. For one, the quality of your vinyl might be inferior. Alternatively, your transfer tape might have too lower tackiness. 
Our Final Verdict: What's the Best Transfer Tape for Vinyl?
As you can see, all the tapes in this review have their own sets of pros and cons. So take some time evaluating your project(s) and opt for the tape that best aligns with your crafting needs. For instance, do you need lots of tape?
What kinds of vinyl are you planning to work with? Do you want a grid to help you position your work? These are just a few considerations, but you get the gist. 
That said, weighing everything up, i.e., price, quantity, and versatility, you can't go wrong with the Siser EasyPSV tape. With different sizes available, the sheer array of vinyl it works with, and its reasonable price, you should find a tape that works for you. 
That said, if you're looking for the most cost-effective option to work with traditional vinyl, then YRYM HT Transfer Tape is well worth considering. 
Which of these vinyl transfer tapes has jumped out at you? Let us know your thoughts in the comments box below!
For further read:
How to Find the Best Glue for Felt
How to Find the Best Drawing Pencils [2021]: Our Top 10 Picks!
8 Creative Glass Painting Ideas That Are Budget-Friendly