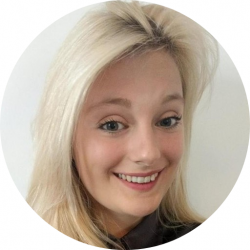 Latest posts by Rosie Greaves
(see all)
Suppose you're at a point with your crafting skills where you're considering selling your work or gifting it to beloved friends and family. In that case, you may want to up your game by using the best possible tools for the job. 
It may be that you want to extend your creative skills and portfolio but aren't sure how. If that's the case but you're unsure where to start, you're in the right place. We're going to take a look at a particular type of machine and accompanying software that's inspired many crafters to become super creative.
Yes, we're talking about The Cricut Design Space software. 
If you're wondering what this is, put simply, it's an electronic cutting machine with accompanying software that allows you to cut different materials into shapes that you can then use in your crafting projects. 
Loads of avid crafters have sent their work to be proudly showcased on the Cricut website. In response, the company has said: "we are touched, moved and straight-up inspired by how members of our community turn everyday objects into something special. And they do it every single day."
If you're new to Cricut Design Space and Cricut in general, or you're unsure about what it is or what some of its terminologies are, you're in the right place. Here, we're exploring what the Cricut Design Space software actually is, and we're putting under the microscope two of its most popular design functions: Weld and Attach. We're hoping that by better understanding these two functions you too can enjoy being a part of the Cricut community and make beautiful-looking crafts.
There are lots to cover, so let's get going!
Main Differences Between Cricut Weld vs Attach
The main differences between Cricut Weld vs Attach are:
A Weld action cannot be undone, whereas an Attach one can.

When you send your design to the mat to cut, the Attach tool lets you keep shapes in the same arrangement you see on your screen, whereas Weld doesn't offer this. 

Weld is for cutting detailed shapes that you can then weld together to form one object, whereas Attach doesn't have this option.
Weld vs. Attach: Their Key Similarities:
You can access both these functions on the Cricut Design Space software for free

Both tools can be used on mobile devices.

Both empower you to better cut your shapes to achieve higher quality results.

Both functions can be used offline but only on Mac and iOS devices.
Cricut: The Basics
Before diving into the nitty-gritty of this comparison, let's quickly explore some of the basics to ensure everyone's on the same page from the get-go:
What's the Cricut Machine?
In short, the Cricut machine is a cutting machine that enables you to cut and make gorgeous crafting items using different types of materials. There are various Cricut machine models, some of which also allow you to draw, create folding lines, and more. These come in handy if you're looking to make greeting cards, boxes, 3D projects, etc. 
What's The Cricut Design Space Software?
This is Cricut's easy to learn software that works alongside the Cricut Maker and Cricut Explore smart cutting machines. 
Cricut Design Space boasts several functions, including the two terms we're covering today. It's available as a mobile app that you can download via Apple or Google app stores or use on desktop. Windows, Mac, iOS devices, and Android devices all support the Cricut Design Space app. But, please note: Although you can use Design Space offline, this is only the case on iOS and Mac devices, not Android. 
If you don't already have  Cricut Design Space, download the app. Don't worry, it's free! Then you'll need to set up an account before you can start using it. Design Space is cloud-based, so you can access your projects wherever you are. 
Design Space provides access to tons of fonts, photos, and project-ready templates. While it does take a bit of time to get to grips with it, it's worth persevering because it's an incredible tool for developing your crafting skills. 
At first glance, you might think the Weld and Attach functions seem really similar to one another. But you'll get very different outcomes once you send your designs to the mat.
Before diving into the features we're covering below, our best advice is to familiarize yourself with Cricut Design Space and what it can do. Otherwise, the rest of this article may seem confusing, and the last thing we want to do is put you off! There are tons of YouTube tutorials that can help with this. Alternatively, take a look at the Cricut manual or website for more information. 
That said, for the rest of this review, we're getting into the specifics. So we have to assume a certain level of knowledge and familiarity with the Cricut Machine's basics and its accompanying software. 
That's enough a preamble; let's take a closer look at this software's 'Weld' and Attach' functionality:
What's Weld?
Cricut Design Space has an edit toolbar, and one of its features is the Weld tool. You can use this to remove any overlapping cut lines and create a customized image. For example, you could utilize it to combine shapes, create new designs, simplify an existing structure, and keep the letters of a word connected. The Weld tool lets you join two different shapes so that the result is two shapes fused into one. 
Please remember: The process cannot be undone, so proceed with caution.
Imagine you're making a great meal that involves adding different ingredients. Once they're added, they can't be taken out, right? Welding operates on the same principle. 
To avoid lost work or potential errors while you're starting out, copy your designs, so you'll still have the originals as a backup. 
What's Attach?
The Attach feature has two functions in Cricut Design Space:
It can help keep your cuts in the same position or arrangement when you send your design to the mat for cutting. This enables you to keep your shapes in separate pieces without disturbing your desired layout. 

You can also use Attach to fasten other line type selections, including draw, score, or foil to a cut layer. 
Tell Me More About Weld
It's natural for your mind to wander towards good old-fashioned welding when you think about this function – and that's exactly right. Except, in this scenario, you're using software to join two pieces together to make one. 
Like welding two bits of metal or plastic together, here you have two separate pieces that unite with no overlap. Weld is your go-to tool if you want to connect letters and/or shapes to become one permanent shape. Once you have one single shape, you can cut it out as one piece. 
You can find the Weld feature in the Layers panel in Design Space. You'll know when two pieces or images are united because they all turn the same color.  
Once your images are welded together, you can send the result to the mat to cut it as one image. 
Tell Me More About Attach
Your Attach button is the best way to freeze the layout of any project you're working on that involves multiple shapes and/or letters that you're attaching. Freezing your layout makes it easier to cut, which should result in a better quality end product.
Think of 'attaching' like using glue or sticky tape to connect two objects together. Unlike the Weld option, here, you can still see the original outline of the pieces you've attached together. They may be connected, but they aren't fused like when you Weld. 
If you're working on a project where the design has several colors in it, you may want to attach pieces of the same color so that you can then cut them on the same mat. The Attach function cuts your shapes as separate pieces rather than one unified piece, even if your elements overlap. 
How will you know if your images or pieces are attached? It's simple: They'll be labeled as attached in your Layers panel.
How to Use Weld
Now you have a better idea of what both Weld and Attach are and have an overview of what they do, let's explore how to use them both, starting with Weld:
The steps below are the same irrespective of which type of device you are using: 
Ensure any images you're welding together overlap with each other.

Select all the images you want to weld together. You'll see that as soon as two layers are selected, the

 

Weld tool activates.

Click on Weld in your Layers panel to merge the objects. (Alternatively, you can find the Weld function in your Actions menu).

If the image paths are intersected, don't worry. Only the most outer or exterior path will remain once welding has taken place. 

You'll see your images have successfully welded because they'll all change to the same color. That, and your new welded image will show up in your Layers panel. 
If you're interested in using Weld to write a single word in cursive script, follow these simple steps:
Write your word and then choose which font you want to use. You'll quickly see that all of your letters are spaced out, which looks kind of weird.

Select your written or cursive text and reduce your letter spacing to get it as close as possible to how you want it to look. Don't worry if some of your letters overlap. We can remedy that in a moment.

Select your written or cursive text again. Click on 'Advanced' on the top menu of the Canvas. Then, select the 'Ungroup' option. This enables you to move each individual letter to get them in the correct position. 

To ensure each letter makes up the word, select all the letters and click on the Weld option. You'll see this option at the bottom right-hand side of your Layers panel. 
How to Use Attach
Attach is typically used when you're adding text as writing. You can also connect written text concerning the rest of your project so that the machine knows where to place the writing when it cuts. 
Below we've outlined how to use Attach. The steps differ slightly depending on the type of device you're using:
Add your images and text to your project and arrange them how you want them to look.

Choose the images you want to cut. You should attach the pictures by color or layer. Suppose you're working on an iOS/Android mobile device instead of a Windows PC or Mac computer. In that case, you can choose your images by tapping and dragging a selection box instead. Then attach your pictures by color or by layer. 

From your Layers panel, click Attach. But, if you're working on an iOS/Android phone instead of a Windows PC or Mac computer, at the bottom of your screen, tap Actions and then Attach. 

If you can see that your images are labeled 'Attach' in your Layers panel, you'll know they're successfully attached. As soon as you're ready to start cutting, click 'Make It.' Alternatively, if you're working on an IOS/Android device, you'll see the images are attached because they'll show as 

'

Attached Set'

 

in your Layers panel. Again, tap 'Make It's to send your project to your machine.  

You'll see your images on your project preview screen precisely as you set them out on the Canvas. Click 'Continue' and follow the steps on the screen to cut your project. 
Now you have a better idea of what both Weld and Attach do and how to utilize these functions, you can start having some real fun with your crafting projects!
The Bottom Line: When to Weld in Design Space
If you want to use script fonts or cursive letters, the Weld function joins the letters together so that you can cut them as one word. Also, suppose you want to cut a detailed shape. In that case, the Weld function enables you to join different shapes together to make a more detailed and complex form. 
The Bottom Line: When to Attach in Design Space
If you want your images to cut in the place as shown on your Design Space Canvas view, use Attach. You can also use Attach when using Design Space's score and draw tools to keep shapes in the right area. 
FAQs
Question: Why do I need a Cricut machine? 
Answer: If you're a fully committed crafter who's serious about developing your skills, a Cricut machine is a worthy investment. In contrast, if you're not going to spend any meaningful length of time making crafts and designs that need cutting, then, no, it's not worth your time buying such a machine. 
But, if you know you're going to create multiple items that require lots of cutting (including complex shapes), a Cricut Machine accompanied by the Cricut Design Space app is the way to go. 
Of course, there are other cutting machines out there for you to choose from, such as Brother and Silhouette America. If you're doing some full-on research, the only thing to remember is that you can't use the Cricut Design Space software with anything other than Cricut Machines. 
Question: Can you help? I don't know which Cricut machine to choose? 
Answer: There are different levels of Cricut Machine out there. So before leaping in and just buying their most expensive model, think about your budget. You want to ensure that you can afford your investment and the materials you want to cut.
Sometimes materials alone can be costly, right? 
Also, check that your chosen machine actually cuts the materials you want to use. You can find all the different types of machines on the Cricut e-store, which also sells accessories, materials and often offers generous discounts. So keep your eyes peeled for those!
Question: What types of material can I use?
Answer: You can cut an enormous range of materials using the Cricut Machine. Some examples to whet your appetite include:
• Parchment paper
• Plan paper
• Card
• Metallic paper
• Vinyl
• Fabrics
• Textiles
• Faux leather
• Thin wood
That said, certain machines only cut specific types of materials, so again, it's worth checking your chosen product cuts what you plan on using. 
Question: Can I use Design Space on any Cricut Machine? 
Answer: You already know that you can't use Design Space with a non-Cricut machine. However, what we can tell you is that Design Space is compatible with the following Cricut machines at the time of writing: 
• Cricut Explore
• Cricut Explore One
• Cricut Explore Air
• Cricut Explore Air 2
• Cricut Joy
Our Final Thoughts
Initial outlay aside, a Cricut machine and Cricut Design Space can empower you to create beautiful crafts to share with friends, family, or even customers! Whatever you decide, let us know how you get on in the comments below. We can't wait to hear from you!
If you are interested to learn more about Cricut, check our reviews and guides about different models: