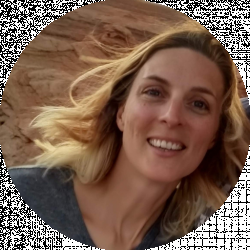 Latest posts by Shaleena Quinlan
(see all)
Brother Industries, Ltd. has done it again; they have created another fantastic sewing machine in their jx2517 model. This machine has become a popular option for beginners, for those who are looking for an inexpensive sewing machine, and for those who want a machine that is simple to use but is still dependable.
Ponder Before You Purchase
When it comes to finding a new sewing machine, there are seven factors that should be considered before spending any amount of money. Let's walk through these factors in detail so that you will be equipped with the necessary knowledge to purchase a great sewing machine.
Extras
Think ahead when you are looking at a sewing machine. Maybe you want to challenge yourself and learn new skills in the near future. If that is the case, pick a machine that offers the basics and a few extras that you can easily learn.
Foundational Features
It is highly recommended that you take a good look at what a sewing machine is made of before purchasing it. This means you need to know if the machine is mostly made of plastic or metal. Sure, some plastic is fine, but look for a machine that features more metal parts since this will make it a sturdier option.
On top of looking for a sturdy machine that is made with mostly metal parts, you should look for machines that include the following features:
An all-metal full rotary hook
The ability to open the machine to clean out lint
A sewing foot with stable foot pressure
A machine that is easy to thread
Mechanization
What type of technology are you comfortable working with? Do you prefer dials and levers that adjust settings? Or, do you like settings that are electronic and shown on a screen? Knowing how tech-savvy you are will help you find the best machine for your style of sewing.
Money Matters
Unless you plan to start a business venture or just have plenty of extra funds for your hobby, there is no reason to spend a lot on a sewing machine. Decide what features you absolutely must have, and then, set yourself a budget. Most likely, you are going to find a machine that will give you the features you need at the price you want.
Portability
You may not consider it when you're looking at sewing machines in a store, but the ability to pack and carry a machine is wonderful. If you plan to set your machine in one spot and never take it anywhere else, then you can get anything you like.
But if you plan to bring your machine when you travel, or even, if you plan to sew in different rooms in your house, make sure it is not too big or too heavy for you to move.
Repairability
This may require a little extra research, but it will save you in the long run. Make sure the machine you are interested in purchasing is easy to repair (check online reviews) and, if it has a warranty, that it is easy to claim.
Stitch Selection
It is very important that the machine you purchase has the ability to sew the types of stitches that you will use often. If you're uncertain which stitches you will use the most, then stick with the basics. Make sure your sewing machine can at least do the following stitches:
If you can get a machine that works a buttonhole for you, it will save you so much time and frustration.
This is the type of stitch that you will use to create smooth edges on your projects.
This stitch is exactly what it sounds like. It is the typical stitch that goes in a straight line. A straight stitch is what you will be using the most.
This is the type of stitch that is used to reinforce stitches on items that may get a lot of use.
This type of stitch is the best stitch to use when working with stretchy fabric or when you want to sew a piece that is highly decorative.
Key Features of the Brother JX2517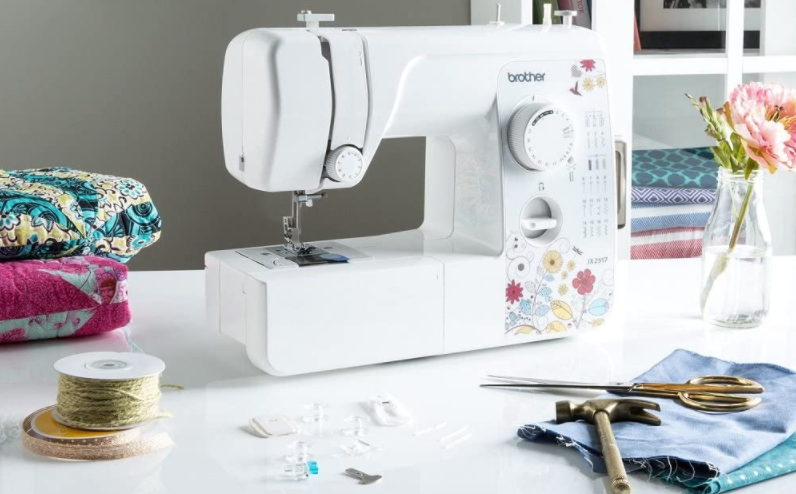 Now that you know what features to look for in a sewing machine, it's time to look at the jx2517 more thoroughly. Let's discover what features it offers and if it will be the best machine for you.
Extras
The Brother jx2517 is a basic machine with standard features, no bells or whistles to speak of. However, it does have a few extra features that make it a more pleasant machine to work with. These are:
LED light over the work area
Drop-in top bobbin
Bobbin winding system
A sewing speed of up to 900 stitches a minute
Foundational Features
The Brother jx2517 does not open easily for cleaning access, nor do any reviewers mention that it has a metal rotary hook. While these features may be lacking on this machine, it does feature a free arm and many users state that it is easy to thread and use the sewing foot.
Mechanization
This model is a basic sewing machine. It doesn't have a fancy screen, just dials that control the settings. This is a great feature if you are just learning how to sew or don't need anything but the basics.
Money Matters
Costing around a hundred dollars, this machine offers so many wonderful features for such a reasonable price.
Portability
The machine weighs ten pounds and is just over a foot long and a foot wide. This makes this machine very easy to store, travel with, and carry.
Repairability
The machine comes with a 25-year limited warranty. Since it is made by a reputable sewing machine company, it should be a machine that is easy to repair.
Stitch Selection
The machine comes with 17 built-in stitches including a 4-step automatic buttonholer, a blind hem stitch, a straight stitch, and a zigzag stitch.
Pros and Cons of the Brother jx2517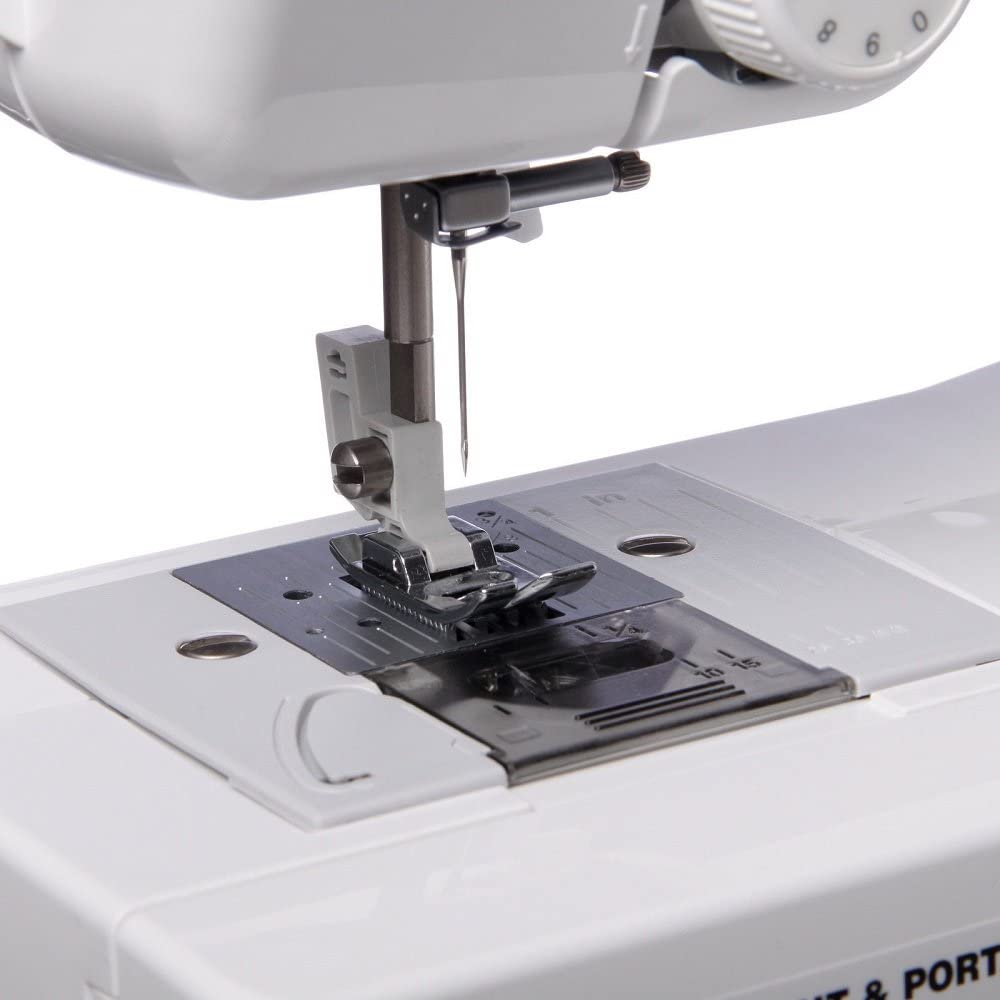 Now that we know what this machine offers, let's look at the reasons why you should or shouldn't purchase one of these machines.
Pros
It is a machine that is easy to operate, making it great for beginners
It is a compact and lightweight machine, making it easy to transport
It comes with a manual and instructional DVD, making it simple to learn
It is reasonably priced
Cons
It doesn't allow for the stitch lengths to be adjusted
Its LED light is not very bright
It is difficult to keep the needle threaded
Its bobbin case will need frequent cleaning
It has some parts that are made of plastic
Alternatives to the Brother jx2517
When looking for a sewing machine, it is nice to compare machines. This allows you to find the exact machine to suit your sewing needs. Let's take some time to look at three different, but comparable, sewing machines that may be precisely what you want.
Singer Mechanical MX60
This compact machine is also designed and produced by another reputable sewing machine company, Singer. It features a lightweight, metal frame, 23 built-in stitches, and LED lighting above the work area. The MX60 is a brilliant machine for beginners and for basic sewing projects.
Why Choose This Machine?
It includes a 4-step buttonholer
It is easy to learn and to use
It is portable
It comes with a downloadable manual to save paper
It offers an uncomplicated stitch selection
It is inexpensive
It has a 78% approval rating by users
Why Bypass This Machine?
Some users have commented that finding the downloadable manual is difficult
Some users have commented that it is difficult to wind the bobbin and thread the needle
It is not known to work well with thick fabrics
In Conclusion
The final decision will need to be yours. If you need an inexpensive machine for working on basic projects, then this the MX60 is going to be a great option for you. If, however, you are looking for something sturdier and with more advanced features, the MX60 may not meet your needs.
Brother GX37
This is another sewing machine model produce by Brother Industries. It features a sturdy, metal frame, 37 built-in stitches, and an automatic needle threader. The GX37 is a brilliant machine for beginners and for basic sewing projects.
Why Choose This Machine?
It includes an auto-size buttonhole
It includes 6 different sewing feet
It includes an instruction manual and DVD
It includes a free arm
It offers online, live chat, or over the phone technical support
It is designed for use by beginner or advanced users
It has an 81% approval rating by users
It is an inexpensive machine
Why Bypass This Machine?
Some users have commented that the customer service is difficult to reach
It does not offer a medium sewing speed
In Conclusion
The Brother GX37 offers many great features that will be appreciated by both beginner and advanced users. If you are looking for a sewing machine that is a workhorse; that is, the type of machine that will get the job done without a lot of fluff and frills, this is a great option for you.
Brother XR9550PRW
This model comes inspired by the hit show on Bravo. It features 100 built-in stitches, sewing speed control, and an automated feed dog.
Why Choose This Machine?
It is designed to be easy to thread
It has very high ratings and good reviews
It can sew stitches at seven different lengths
It includes 6 different sewing feet
It is constructed with a metal frame
It can sew up to 1300 stitches a minute
It works well on thick fabric, including denim
It includes an LCD display screen
It offers online, live chat, or over the phone technical support
It includes 55 alphanumeric sewing stitches
It includes a drop-in bobbin that is jam-resistant
Why Bypass This Machine?
Comparably, this machine is more expensive than the Brother jx2517
Some users have stated that this machine doesn't work well after using it for a few years
In Conclusion
If you have been inspired by Project Runway or any other popular show about the clothing industry, it could feel like surreal harmonization to use a machine that has also been inspired by what inspires you. Plus, this machine is great for anyone, whether they are a beginner or an advanced user.
FAQs
Question: Is the Brother JX2517 Low Shank?
Answer: Yes, this model is considered to have a low shank. This means that the distance between the bottom of the sewing machine foot and the screw on this model is three-quarters of an inch.
Question: Which Needle Size Should be Used on a Brother JX2517?
Answer: It is recommended that needles ranging in size from 90/14 to 100/16 be used on this model.
Question: Will Other Needle Brands Fit on a Brother JX2517?
Answer: Yes, other brands of needles will fit on this model. This includes universal needles produced by Singer or Schmetz. But, keep in mind that needles that are designed for embroidery machines, overlock machines, or other types of specialty sewing machines may use a completely different type of needle than this model.
If in doubt, check with the needle company or with customer care at Brother Industries.
Question: How Often Should Sewing Machine Needles be Replaced?
Answer: Sewing machines have to work extra hard when needles become dull, so it's a good idea to inform yourself on when to change needles so you don't burn out a motor or get frustrated with a slow-moving project. Here are the times when you should replace your sewing machine needle:
• You have worked through three full bobbins of thread.
• You have worked through two pre-wound bobbins.
• You have finished a project that uses fabric that dulls needles, e.g., leather and fleece.
• You have worked on a quilting project for 8 hours.
Your needle is broken.