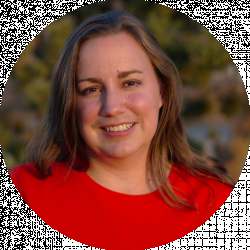 Latest posts by Christine Lindstrom
(see all)
Sewing is such a fun hobby and a practical skill. So many of us have sewing machines that we wish we used more often, and there are many reasons why we don't. One of the most common reasons is that we don't have space to keep them set up all the time.
They're big and heavy and setting them up sometimes just doesn't feel worth the effort, especially when you have to put them away again in mid-project so the table can be used for eating or homework. 
I love to mend clothes instead of throwing them away when they get small tears or broken seams. With two small boys, my mending pile can get pretty big before I'm able to get to it. I started to consider if getting a handheld sewing machine might save time and money in the long run.
I also have a daughter who loves to use the sewing machine – when we have it set up. Most of the time, though, she makes clothes for her dolls or scrunchies for her hair using a combination of hand sewing and fabric glue. It works, but she'd love to use a sewing machine more often.
So we decided to get her the best handheld sewing machine as a gift. And maybe mom and dad can borrow it sometimes to keep up with the mending.
Turns out, shopping for a handheld sewing machine isn't as simple as I thought it would be. (More on that later.) I did not find the quick and easy online guide that I was looking for, so once I had done all the research and made a decision, I decided to create the resource I wish I had had. Hope you find it helpful!
What is a Handheld Sewing Machine?
A handheld sewing machine is exactly what the name suggests: it is a small sewing machine that can be held and used in your hands.
These machines are typically very lightweight and small enough to fit in a purse, suitcase, glove compartment, or desk drawer for quick and easy mending or crafting on the go. Because they are small, they are usually also very simple with few bells and whistles. Often these machines resemble a stapler in both size and shape.
Advantages of a Handheld Sewing Machine
Portability
Whether you need a machine that can easily slip into your suitcase for business or personal travel, or you want something you can keep in your office or car to be available for wardrobe emergencies, a handheld sewing machine is small and light enough to go wherever you need it to go. 
Mending in Place
Depending on where your outfit needs to be mended, with a handheld sewing machine, you might not even need to take off the article of clothing that you're mending. Repair the hem of your curtains without needing to take them down. A handheld sewing machine makes basic mending unbelievably quick and easy – which saves you time and money.
Cost
Handheld sewing machines are very inexpensive, which means keeping one easily accessible is an easy decision. Buying a simple handheld sewing machine to fix a torn blouse will most likely cost you less than buying a new blouse, meaning these machines quickly pay for themselves.
Cordless Convenience
Handheld machines run on batteries, so there are no power cords to get tangled in your bag, and you never have to search for an outlet to use them. This is especially convenient if you travel internationally since you can use it without worrying about outlet adaptors or power converters. 
Lightweight Solution
Handheld machines are great for people with mobility challenges that make it difficult to lift and set up a heavy traditional sewing machine. Keep one in your purse, backpack, or briefcase without making the bag too heavy. Children can use them independently (with supervision) since they are not too heavy.
Disadvantages of a Handheld Sewing Machine
No Big Projects
Handheld sewing machines aren't intended to be used for big projects. The battery life alone makes them impractical for anything other than mending or small projects. If you like to sew, this machine does not replace your regular sewing machine for making clothes, quilting, embroidery, or any other special functions of your tabletop sewing machine.
No Heavy Fabrics
Many handheld machines claim that they can be used to sew any kind of fabric, often including leather and denim on the list. The truth is, the majority of complaints and negative reviews for any brand of the handheld machine come from people who found the quality lacking for these types of fabrics. Give it a try if you want to, but have reasonable expectations about what these machines can (and can't) do.
Location, Location, Location
Because of their size and design, handheld sewing machines can only sew on the edges of the fabric. They are great for simple seams, hems, and similar needs, but their reach is pretty limited, so keep that in mind.
Single Thread Sewing
Probably the biggest disadvantage of handheld machines is that most of them sew with a single thread. They do not have an under-thread that produces a locked stitch. When you reach the end of the seam, you will need to knot the thread to keep it from unraveling. Most machines include instructions for doing this properly. Some people feel that these single thread stitches are unreliable, while others have no complaints. 
Things to Consider
On the surface, many handheld sewing machines seem very similar to each other. How do you choose between them? Should you just purchase the cheapest one since they're all basically the same? While the differences are often subtle, there are some things you should consider as you choose a handheld sewing machine to make sure you get the model that will best fit your needs.
Size and Weight.

Yes, they're all relatively small and lightweight, but some are smaller and lighter than others. Depending on how you plan to use it, you might prefer the smallest and lightest available.

Power Source(s).

It is standard for handheld sewing machines to run on batteries and therefore be cordless. Most will need 4 AA batteries. Some models also have the option to run on AC power (with an electric cord), which might sometimes be helpful. Double-check if the power cord is included or if it is purchased separately. 

Extras and Features. Does it sew with one thread or two? Are there any additional features such as speed settings? What else is included with your purchase? Sometimes it might be worth paying a dollar or two more to get extra bobbins, a case, or other tools that might be included.
Reliability.

Is the machine backed by any kind of warranty? Is it a brand that you recognize and know to be reliable? Did you purchase it from a well-known retailer that will stand for quality and accept returns if the model fails to meet your standards? Peace of mind is worth considering as a factor in your decision.
The Challenge in Selecting a Handheld Sewing Machine
When I first started shopping for a handheld sewing machine, I assumed it would be a simple process. The price point meant it wasn't a major investment, but because it was intended as a gift for my daughter, the disappointment and frustration that would come with a bad choice was motivation enough to really do my homework. I was surprised by how difficult this task turned out to be.
Shopping online was overwhelming. On Amazon alone, there were about 900 different results for "handheld sewing machine."
That's a lot to sort through, but as I browsed the top results, I noticed that many of them had the exact same product pictures despite being different listings with different prices. The majority of these didn't even give the product a name, but the title of the listing was a string of keywords designed to boost search results.
The reviews of these machines were either raving 5-star reviews or scathing 1-star reviews with little in between. I don't know if these are good machines or not, but it was enough to make me suspicious.
I turned my search to what's available in stores, where I can see and feel the machine before I buy it. In looking at the three major chains that I have local access to – Michael's, Joann Fabrics, and Hobby Lobby – I found that each store chain carried only one type of handheld sewing machine, and there was no overlap among the chains.
Still, these three machines rose higher on my list thanks to the credibility of being sold by a major craft store chain and the ease of returning it if I wasn't satisfied with it.
I looked for blogs and websites that would give an overview and feature their top choices for handheld sewing machines. I was disappointed to find that there was little commonality between blogs in which models were best. Many seemed to be nothing more than a copy of the top Amazon search results – complete with strings of keywords where the brand and model name should be. 
Because it was so difficult, I decided that once I had waded through all the information and made a decision, I would collect it all into a guide to help others avoid the confusion. Based on my research and experience, here are the best models of handheld sewing machines that are worth your consideration.
5 Best Models of Handheld Sewing Machines
Singer is a name that is synonymous with sewing machines, so it makes sense that their handheld model would be one of the best options.
The reputation of the Singer company, as well as the availability of this model from both online retailers and major chains of brick and mortar stores, are the major advantages of this machine. The disadvantage is that it is the largest and heaviest of the top models. 
The Sunbeam model looks nearly identical to the Singer Stitch Sew Quick, though it is slightly smaller, slightly lighter, and slightly cheaper.
Online reviews are mixed, but many users experience it to be of lower quality as well. While it is not an unknown brand, this model is less commonly available, which is a disadvantage. The major advantage of this model is that it offers the same functionality as the Singer in a smaller size with a smaller price tag.
I wish that Singer had given this model a different name that more accurately reflects how different this is from the original Stitch Sew Quick. This machine has a different format than the other stapler-shaped models while still being small, lightweight, and handheld.
The major advantage to this model is that it offers double-thread sewing, so the stitches are locked without knotting off the thread at the end. There are also two-speed settings on this machine. The disadvantage of this model is that the format is less compact. It may be challenging to use for beginners who are not familiar with sewing machines. 
The Jeteven is one of the smallest handheld sewing machines available and it is sold with a lot more accessories than the other top models. The biggest selling point on this model is that, in addition to batteries, this model can be plugged in using a USB cord.
As USB outlets are increasingly popular, and you can also get an outlet adapter for USB cords to any outlet worldwide, this means the machine can be used almost anywhere, even without batteries. The USB cord is included with purchase, which is also a plus.
The disadvantage aesthetically is that it seems to only be available in pink, which might be off-putting for many people.  
The Loops and Threads model is the smallest handheld sewing machine among the top 5. It offers all the same functionality as the larger models with no frills or extra features. While size is the biggest advantage to this machine, the biggest disadvantage is availability. I have only found it for sale through the Michael's craft store chain. It can be ordered online or purchased in stores, but there is no opportunity to shop around for lower prices. 
Quick Comparison Chart
Model

Size/Weight

Single or Double Thread

Power Source

What's Included?

Price Range

Singer Stitch Sew Quick

9 x 2.25 x 7.5 inches

13.3 oz

Single thread

4 AA batteries or AC power (adapter not included)

3 needles, 3 pre-wound bobbins, 1 needle threader*

$20-25

Sunbeam 

9 x 2 x 7.2 inches

12 oz.

Single thread

4 AA batteries or AC power (adapter not included)

1 extra needle, 3 extra bobbins*

$15-20

Singer Stitch Sew Quick 2

8.5 x 3.5 x 7 inches

16 oz.

Double thread

4 AA batteries or AC power (adapter not included)

1 extra needle, 2 pre-wound bobbins, 1 needle threader*

$25-30

Jeteven 

9 x 3.75 x 2.25 inches

11.3 oz.

Single thread

4 AA batteries or USB cable (included)

2 extra needles, 12 pre-wound bobbins, 2 needle threaders, 1 measuring tape, 10 safety pins, 1 thread scissors*

$15-25

Loops and Threads

8 x 2.5 x 1.125 inches

Single thread

4 AA batteries or AC power (adapter not included)

1 extra needle, 4 pre-wound bobbins, 1 needle threader*

$20-25
* Included items may vary by retailer. Verify this information before purchasing.
FAQs
Question: Are handheld sewing machines worth it?
Answer: This is definitely an opinion question, but in my opinion, yes. The convenience of being able to grab it at a moment's notice and take it almost anywhere is valuable.
One big factor in deciding if something is "worth it" is the cost. If handheld machines were expensive, I might not think it's worth having one in addition to my regular sewing machine. But since most handheld machines can be bought for under $30 and they take up almost no space, I'd say that having it is worth it. 
Question: Is hand sewing better than machine sewing? 
Answer: Hand sewing might sound like it's better than machine sewing, but it isn't always. Sewing by hand gives you complete control over the size of your stitches, how tight they are, etc.
It also requires a lot more skill to keep the stitch sizes even, the seam lines straight, and the tension consistent. If the appearance of your project matters, you might want to consider using a machine. Using a sewing machine is also much faster than hand sewing.
Question: How do you use a handheld sewing machine?
Answer: Many handheld sewing machines come pre-threaded, so using them is as simple as inserting the batteries (usually not included), inserting the fabric you want to sew, and pushing the button to start sewing. Remember that these machines can only sew at the edge of the fabric and that most only sew with a single thread.
If you're using a single-threaded machine, you will need to secure the end when you're finished sewing to prevent it from unraveling. To change thread color, replace a needle, rethread the needle, or adjust the thread tension, consult the instruction manual that came with your machine since all handheld machines are a little different from each other.
You can also find instructional videos on YouTube if you search there for your particular handheld model. Often, video tutorials are easier to follow than written instructions, so this is always a great option if you need more help using your handheld sewing machine.
Question: Where can you buy a handheld sewing machine?
Answer: Handheld sewing machines can be purchased from a variety of online retailers, including Amazon, as well as from brick-and-mortar craft and sewing stores. Different models are available from different stores and sellers, so be sure to shop from multiple sources to consider all your options before purchasing. Pay attention to the retailer's reputation, shipping policies (if applicable), and return policies before buying your handheld sewing machine.
Top Pick for Handheld Sewing Machine
When it comes to handheld sewing machines, the Singer Stitch Sew Quick 2 is the clear winner. It is the only sewing machine that is truly handheld (not a mini tabletop model) that also offers double-threaded sewing and multiple speeds. While the Stitch Sew Quick 2 can be used in all the same ways as a traditionally-shaped handheld machine, it can also be put down and used as a tabletop model. This allows you to use two hands for guiding fabric if necessary. 
It comes from Singer, a name you can trust when it comes to sewing machines, and it can be purchased from online retailers such as Amazon, as well as brick-and-mortar stores such as Joann. It is not as light and thin as many other models, but it is still easily portable and can go almost anywhere you go.
In second place is the Jeteven handheld sewing machine. Its small size and USB power feature make it the best machine for truly going everywhere you go. It is well-suited to keeping in your office, car, or travel bag, as long as you can get past the cotton-candy pink color.
For more sewing machine guides and top picks, check the links below: