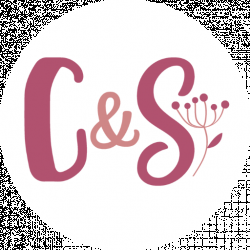 Latest posts by Craft 'n Stitch Team
(see all)
Visually appealing and personality revealing, monograms have been around in a variety of forms for centuries. The classical Greeks and Romans used monograms to personalize currency and documents. Later, monograms became the perfect way for Medieval artists to autograph their artwork, and eventually, they evolved into a sign of prestige during the Victorian era.
Today, monograms envelop all its historical usages and perspectives. They are used for beautification, personalization, and association. The wonderful thing about modern monograms is that they can now be done at home on a personal monogramming machine.
Modern monogramming machines are now designed to be functional, compact, and budget-friendly. Anyone can purchase one and easily use it for personal projects, or for a business endeavor.
A Machine Built for a Purpose
Before we investigate the qualities of the best monogramming machines and search for them in the marketplace, let's focus on the purpose of this type of machine. There are three key purposes that motivate the purchase of one of these machines.
Beautification
Monogramming machines can beautify a piece of fabric, whether it's a t-shirt, a canvas bag, or a set of towels. Items with a well-designed monogram are going to look beautiful and be a prized possession.
Personalization
Monograms allow us to show our personality and claim ownership of our items. A well-designed monogram reveals and expresses a person's style while keeping material possessions in order.
Association
A group of people wearing the same style of monogrammed shirt announces that they are together. They could be a band of co-workers, friends relaying their love of a similar hobby, or family members meeting for a much-anticipated reunion. This is what a well-designed monogram can do: it can bring people together for the better.
A Peek Inside
Before we look at some actual examples of the best monogramming machines on the market, we need to understand what makes a monogramming machine the best. Let's take a quick peek inside these machines and find the qualities that they must have.
Design Size
When looking for a monogramming machine, remember that the distance between the needle and the body of the machine is the largest width. If you plan to create large projects, you will need a machine built to do so.
Touch Screen Features
Is the touch screen black and white or color? A color touch screen allows users to create more designs and see their designs more easily.
Does the touch screen allow users to combine designs? The ability to combine designs on the screen and print them in one pass is ideal. You don't have to get this feature but it certainly does make the monogramming process easier.
Transferring Designs
You want a machine that can transfer designs from your computer to its screen in an uncomplicated way. Choose what is best for you. Your options are a USB stick, WiFi connection, or a cable.
Multiple Functions
If you can get a machine that can function as another type of machine, you are going to be thrilled. Some machines are built to monogram, embroider, and sew. It isn't necessary to have an all-in-one machine, but it is wonderfully convenient.
Alphanumeric Options
Before purchasing a machine, be sure that it contains all the alphabets and numerals you want/need. Inquire if more alphabet styles are available for purchase and what they cost. This particular feature could make or break your creativity, so don't settle for something subpar.
Direct Connections
Some models need a direct connection to a computer in order to run properly. It will get frustrating to need to be tethered to a computer in order to work on a project, so make sure this is the feature you want.
Q's & A's
The best monogramming machines are going to feature easy access to service technicians, classes, and support communities. You are going to have questions, technical troubles, or creative dilemmas at some point, so make sure the model you are interested in has these features readily available.
The Greatest of These
Now that we know why a monogramming machine is a purposeful crafting tool, and what the qualities of the best machines are, we can go on to searching the marketplace for one of our very own. Let's take some time to look at the key features and the pros and cons of the best machines out there. Once we have taken a thorough look, you will be able to determine which one is best for you.
Janome MB-4W Embroidery Machine
Hands down, this is the top-of-the-line machine for monogramming. Whether you want to monogram professionally or for personal projects, this machine is going to accomplish all your creative dreams.
Pros
Designed with a Remote Computer Screen for editing control
Designed with an LED light for vision clarity
The MB-4S Board Control stores over a million stitches and can be used without the controller
Contains an automatic thread cutter
Designed with a Dedicated Bobbin Winding Motor
Offers a variety of hoops for embroidery various types of objects
Cons
Does not come with built-in designs
It costs almost $5,000.00
Some users have reported that the customer service for this machine is not helpful
Summary
This particular machine is geared more for business owners. The cost of this machine alone will probably cause many hobbyists to look for something else. But, if you are looking for a machine that features multiple design options and can work through many projects, this is the machine you need.
Brother Embroidery Machine PE770
This machine is user-friendly and is the perfect option for those who are new to the world of monogramming.
Pros
5" x 7" space allows users to work on larger projects
Comes with 136 built-in embroidery designs
Built-in memory
Designs can be imported via a USB stick or port
Allows for easy design editing
Threading the machine is easy
Quick-set bobbin
Auto threader cutter
Available with a 25-year limited warranty
Cons
The LCD screen is black and white
Winding the threads may be difficult
Summary
This machine has so many wonderful features that make it ideal for those with home embroidery businesses. Whether you are a beginner or a more advanced user of monogramming machines, you are certainly going to enjoy working with this model.
Brother SE400 Combination Computerized Sewing & Embroidery Machine
This particular machine is simple and versatile. If you want something that does it all and isn't complicated at all, you are going to want this machine.
Pros
Doubles as a sewing machine and an embroidery machine
Comes with 67 built-in stitches
Comes with 5 lettering fonts
Has the ability to connect to the internet and download designs
Designed with a free-arm feature for larger projects
Is budget-friendly
Easy to set-up and learn
Comes with an LCD screen that is easy to use
Automatic needle threader
Drop-in bobbin
Offers technical support online or via telephone
Cons
Built-in sensors force users to clean the machine regularly
So many built-in stitches can cause users to feel overwhelmed
Some users have stated that the tension on the machine doesn't work well
Some users have stated that it is challenging to keep it threaded
Summary
For those who are intermediate to professional sewers, this machine is going to bring you a lot of joy. With its easy-to-use interface and multiple functions, you can set-up quickly and get busy creating.
Brother PE800 Embroidery Machine
Here is another model that is perfect for intermediate and professional sewers.
Pros
138 built-in designs
11 built-in fonts in three languages
USB port that allows users to download and customize designs
Large color touchscreen
5" x 7" embroidery field for larger projects
Easy design editing features
Automatic needle threader
Cons
It is an expensive option, costing over a thousand dollars
Its many lovely features may be intimidating for beginners
Some users have stated that the thread breaks easily
Some users have stated that the thread tension is poor
Summary
This is another lovely model built for those who have quite a bit of experience with sewing, embroidery, and monogramming. It is also built for those who prefer to embroider or monogram using their own designs.
SINGER Futura XL400 Portable Sewing and Embroidery Machine
You have to begin somewhere and beginners in the world of monogramming will want to begin with this machine. Let's look at what it can do to alleviate the concerns of those who are new to this craft.
Pros
30 built-in stitches and 125 built-in embroidery designs offering plenty of choices but not too much
Features 5 fonts and outline lettering
LED light illuminates the work area
Automatic needle threader
Drop-in bobbin feature
Features a design system that allows users to customize and combine their embroidery designs
Weighs only 23 pounds
Available with a 25-year lifetime warranty
Cons
Does not contain an LCD display
Must be hooked to a computer to use
Summary
This particular model is not for everyone. Intermediate and professional sewers will probably find its features are archaic or too downsized for their liking. However, a beginner sewer who needs something simple and basic will appreciate a model like this.
EverSown Sparrow X2 Sewing & Embroidery Machine
This is the machine that the tech-savvy sewers are clamoring for. It is all about pushing innovation.
Pros
Can be controlled with any smart device (phone, tablet, or computer)
Comes with 120 built-in stitch patterns
Advanced auto threader
Comes with 100 embroidery designs
Designs can be added by using the EverSown Pro App available on Google Play or the App Store
Cons
Is relatively expensive
Requires knowledge of smart device technology
Requires a good WiFi connection
Summary
A technologically advanced machine such as this one is perfect for modern sewers. If you are tech-savvy and have ever wanted to learn to sew, embroider, or monogram, this is the machine built for you.
Which Machine Is the Best Machine for You?
Now that you know more about the best monogramming machines on the market, you are better equipped to make a purchase. This is an important decision since this machine will open up a world of creative and business opportunities for you.
Take your time as you make this decision. Write out what you need/want in a monogramming machine. Then, compare and contrast each of these machines against your list. This process will help you know which one you should purchase.
FAQs
Question: What is the Difference Between Monogramming and Embroidery?
Answer: Just as it is in the case of cross stitch and embroidery, monogramming and embroidery are types of the same craft. Let's compare a little so you can better understand how they are unique from one another, but at times can be referring to the same thing.
Monogramming is something that can be done on any material, not just fabrics; whereas, embroidery is a stitching craft meant specifically for fabrics.
Monogramming also refers to only letters; whereas, embroidery can refer to many different types of stitches and designs that are not necessarily alphanumerical.
Question: How Can You Monogram on Materials Other Than Fabric?
Answer: One of the best ways to monogram on different materials other than fabric is by using a die-cutting machine such as a Silhouette machine or a Cricut machine. Die-cutting machines allow you to design your monogram and then cut it out in vinyl, paper, plastic, metal, etc.
Question: How Can You Design a Personal Monogram?
Answer: Even if you don't have an artistic side, you can design your own monogram. Let's break this down into easy-to-do steps.
• Keep Your Design Simple: If you add too many lines, squiggles, or swirls, the lettering can look odd or be unreadable. The best thing to do is make a basic sketch, add a little to it, and ask a friend if they can read it. Back off on some of your designs if it looks crowded.
• Keep Your Coloring Simple: Colors can add beauty and meaning to a design or they can just flat-out ruin it. Pick a color that means something to you personally or to the particular project. Stay with that one color or blend it with one or two other complementary colors.
• Keep Your Typography Simple: Once again, it must be said that less is more. This is especially true when it comes to the typography you choose for your personal monogram. Use a type that appeals to your eye in small and large font. Test it out in a variety of sizes before settling.
• Keep Your Experimenting Smart: Try and try again until you get the look that you want. Remember, this is your design and your chance to express meaning and motive. Don't just settle for the first thing you see; experiment with several designs, colors, and typographies that you like. Ask friends and family for their input, if you need it, but ultimately, this is your creative endeavor.
• Try an Online Monogram Maker: There are plenty of online programs that will help you design the perfect monogram. Logaster, Markandgraham, and Invys are just three of the options out there. Try one of them or search for others online.
Wrapping Up
There is so much beauty in design and we live in an amazing time where anyone can participate in making things beautiful. This is your time to explore new hobbies or create a dream business.
If you think sewing, embroidery, or monogramming is the best way to express your creativity, then let this article be your guide as you select the best machine for your needs.
May you have much success in your creative endeavors.
For further read, check these links below:
How to Find the Best Cricut Machine
The 5 Best Vintage Sewing Machines Ever Made
How to Find the Best Sewing Machine for Denim That You'll Love