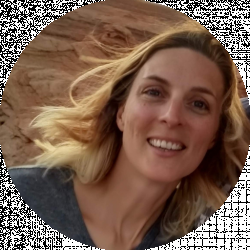 Latest posts by Shaleena Quinlan
(see all)
A sewing machine is just another sewing machine; that is until you find the sewing machine that does it all. Is that what we have here with the Brother XR3340?
That's what we're going to attempt to find out in this guide. When we get done with our examination of this machine, you are not going to wonder whether or not it is the machine for you. There's no reason to wait any longer. Let's begin examining and reviewing.
The Features of a Sewing Machine
Brother Industries is a household name in the craft world. Their sewing machines are strong and sell incredibly well, making them one of the best options for sewists of all skill levels. When we thoroughly examine one of their machines, we can be relatively certain that it will receive high marks.  
But, we have to be fair.  We simply cannot judge a machine by its name, and this is why we must look at each sewing machine through the lens of its features.
There are four basic features that every sewing machine possesses or should possess. We are going to stop here and look at those features and define them thoroughly so that when we examine the Brother XR3340, you will be able to understand if it is a machine worth the money.
Material Make-up
Every sewing machine is made of some type of material.  Typically, modern sewing machines have more plastic pieces than metal pieces. This isn't an all-out negative feature, but remember plastic bends, cracks, and breaks much easier than metal.
Metal may be sturdier than plastic, but on the other hand, it is heavier, and it is not utilized in modern machines very often. You'll have to make this decision for yourself since both materials have their pros and their cons.
Parts
Sewing machines come with special parts or tools that help perform certain techniques in an easier fashion. Make sure you know what parts you need to challenge your sewing skills and complete your sewing projects. A few parts that are pretty much essential these days are:
A free arm

A sewing foot that has stable foot pressure

All-metal full rotary hook

An Easy to thread needle and bobbin 
Stitch Selection
Unless you enjoy experimenting a lot, you'll probably never use all the stitches most modern sewing machines include, but that doesn't mean you should go without a good stitch selection. 
Make sure you get a machine that has the stitches you are most likely to use. At the very least, get something with a buttonhole stitch, a blind hem stitch, a straight stitch, a straight stretch stitch, and a zigzag stitch.
Technological Abilities
Most modern sewing machines are built like a computer with LED lights and LCD touchscreens that list out all the features and stitches provided. Make sure you get a machine that you will enjoy working with, and that is not too complicated or too simple for your technological tastes.
A Thorough Look at the Brother XR3340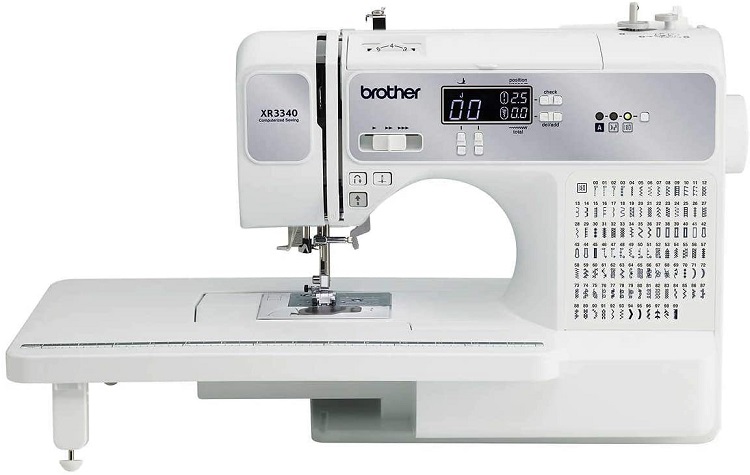 Now that we have covered the basics of what to look for in a sewing machine, we can begin to examine the Brother XR3340 in more detail. Let's use our list of the basic features each sewing machine has to guide us through this examination and review.
What is the Brother XR3340 Made From?
While this modern machine has a lot of plastic pieces, it is still built from a lot of metal as well.  This machine weighs nearly 20 pounds and is incredibly sturdy.
What Parts and Extra Features Are Included With the Brother XR3340?
This machine has plenty of extras that every sewist will be excited to try.  Check out this list:
A free arm for quilting

A freehand sewing feature

Automatic needle threading feature

Drop-in top bobbin

LCD display screen

LED lights over the workspace

Variable speed control
What Does the Stitch Selection of the Brother XR3340 Look Like?
This machine has it all when it comes to stitches. Unless you plan to experiment with a new stitch every day, you will probably never get through them all.
There are 140 built-in stitches on this machine, including the five absolutely essential stitches listed above. On top of those stitches, you can also utilize the 55 alphanumeric stitches included. Let's just say you're not going to get bored using this machine.
Technological Abilities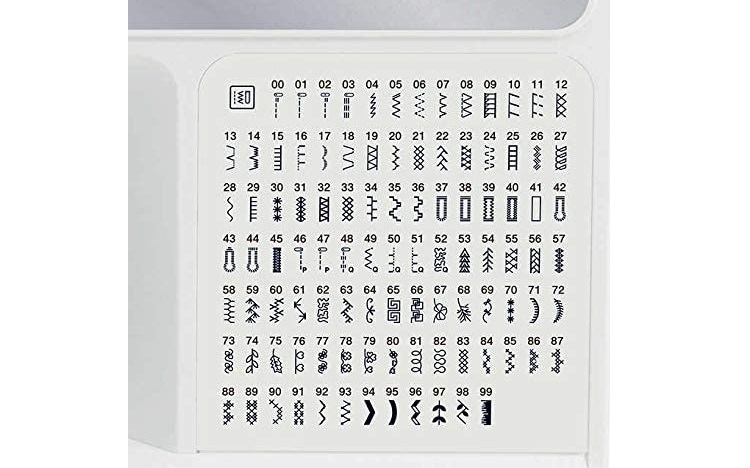 This is not a machine for those who are not familiar or comfortable working with computers. Sure, there are some mechanical aspects to its build, but these are relatively mild when compared to all the modern functions and features incorporated into the machine.  
While this might make beginner sewists uncomfortable, it is actually a machine that was built with them in mind. If you have a little knowledge of computers, you will be able to figure out how to use the XR3340 in no time at all.
Pros
It is lightweight and yet sturdy

It includes 140 stitches

It includes eight 1-step buttonholes

It includes 55 alphanumeric stitches

It is designed to be easy to thread

It includes an LCD screen

It includes an extension table for quilting
Cons
It is not sturdy enough to use for upholstery or leather

There is no thread cutter included in its features

A foot pedal must be purchased separately

It is difficult to see if you have threaded the needle correctly

It is difficult to find the line markings on the needle plate while sewing

Some customers didn't care for the thread tension provided by the machine
What About the Competition?
There's no way to really know if a sewing machine is the best one for you until you do a little comparison shopping. But don't worry, you don't even have to leave this article to do this.
We're going to look at a few alternative sewing machines just in case the XR3340 doesn't feel right. Perhaps one of these alternatives will make the cut, or perhaps, they will solidify your decision to get this machine right away.
The Brother JX2517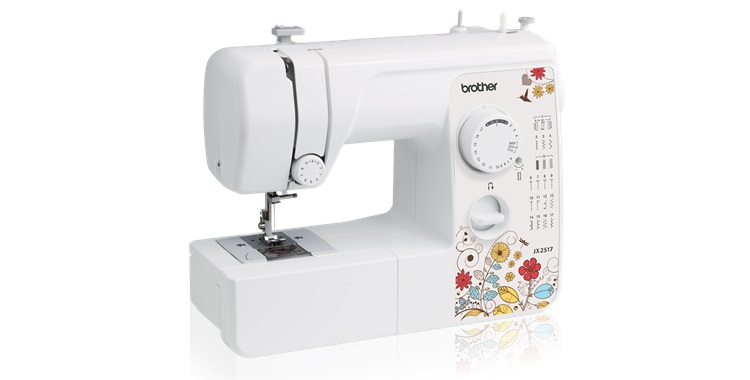 If all the fancy gadgetry and lit-up screens of the XR3340 intimidated you a bit, then maybe this cute little mechanical masterpiece will set your heart at ease. While there's nothing fancy about this machine, it can get the job done with its 17 built-in stitches and its 900 stitches a minute sewing speed.  
Not only can this machine finish what it started, but it is also portable (10 lbs.), repairable (25-year limited warranty), and reasonably priced (around $100).
If you are a beginner sewist or you need something inexpensive but durable, then this machine is an excellent choice. Look it over and read a few reviews so you can decide if it is right for you.
Pros
Easy to use and designed for beginners

Compact size

Lightweight

Included an operating manual and instructional DVD
Cons
Stitch lengths cannot be adjusted

The needle comes unthreaded easily and often

The bobbin case requires regular maintenance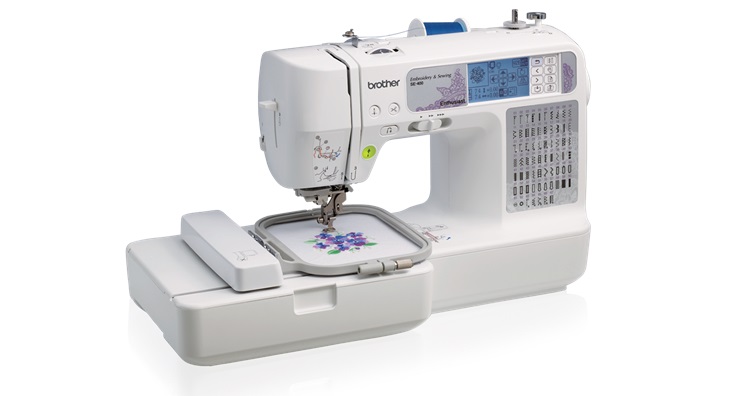 If you were looking at the Brother XR3340 and thinking you would like more computerization with your sewing machine, then you need to take a look at this machine.
It is hi-tech and beautiful to work with. Users love its LCD touchscreen, its extra-large workspace, and how easy it is to learn how to use. Even beginner sewists are going to be comfortable sitting in front of this machine.
A few of the most wonderful things about this machine are its ability to embroider and its reasonable price. Whether you're new to sewing or have advanced skills, this machine is going to be your new best friend.
Pros
Comes with a 25-year warranty

New designs can be imported into the machine from your computer

Includes 67 built-in stitches

Includes 70 embroidery patterns

The sewing speed is adjustable

Includes an automatic threading function
Cons
The LCD touchscreen is not colored

 

Extra patterns and stitches must be paid for separately

The pressure of the

 foot pedal cannot be adjusted
Brother CS6000i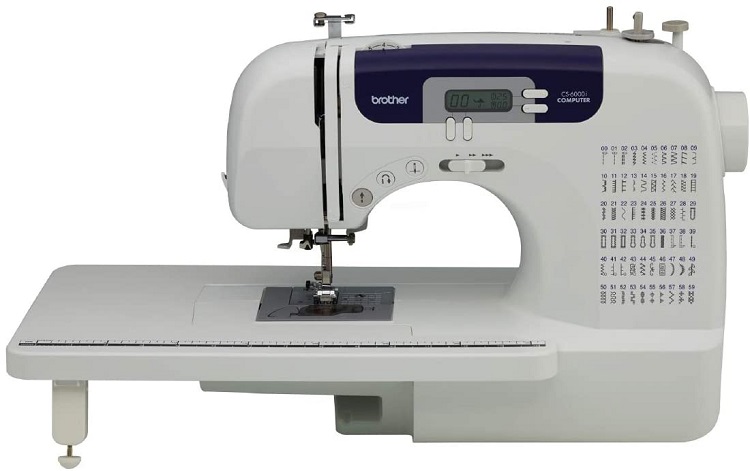 For those who are new to sewing, this may be the grandest option of all. This is a compact machine with basic stitches and very simple functions and features. There's nothing complicated about this machine, and that makes it all the more wonderful to learn.
Uncomplicated, however, does not mean useless. This little, thirteen-pound machine can really bring it to the sewing table.  It offers 60 built-in stitches and can work at a speed of 850 stitches per minute. Not only that, but it also has a detachable table that can be set up for quilting.  It truly is a great machine, even if it isn't complicated.
Pros
LCD lit panel

Includes 60 stitches

Speed can be controlled

There is a button to start and stop sewing

The needle has variable positioning options

Tension control is adjustable

Includes an automatic threading function

Very reasonably priced

Warranties are offered for different parts of the machine
Cons
The foot pedal is sensitive 

The bobbin is difficult to thread
Brother XR3140
This is another great machine produced by Brother Industries Ltd. It doesn't have a lot of flashy or gimmicky features but includes just what you need. A machine like this is the type you need in order to be creative and make your own new wardrobe or teach yourself a new sewing pattern.
If you want a machine that has plenty of stitch options, 140 to be exact, and a few alphanumeric characters for monogramming (55 characters total), you need to get this machine. There is so much to love about how simple it is to use and to learn on, and yet, how it can perform so many complex functions as well. 
Pros
Includes an automatic threading function

The sewing speed is easy to control

Includes 9 different types of sewing feet

Includes a detachable table
Cons
Thick fabrics and multiple layers are not easy for this machine to work on

Advanced sewists will find this machine too basic for their liking
FAQs
Question: Are Brother Sewing Machines the Best Brand?
Answer: Of course, the answer to this will depend on what you think a sewing machine should do and how it should function. Suffice it to say, sewing machines made by Brother Industries, Ltd are amazing.
They are built to be quality machines that are reasonably priced.  Because of this, they are typically chosen for beginner sewists over their competitors, such as Singer.
Question:
When Should a Sewing Machine Needle be Changed?
Answer: Needles take a beating when they are working to fashion new clothes or curtains, and they will get dull after a few hours of work.  A good rule of thumb is to change them after they have worked 6 to 8 hours. You may need to change them sooner if you find them dull and are not getting through the material as easily.
Question:
What is Wrong When a Sewing Machine Needle Breaks Constantly?
Answer: This is usually a sign that the needle has been put onto the machine incorrectly. Sometimes, however, this happens because you are using the wrong size of needle for the machine or for the type of material being sewn.
In Conclusion
As we wrap up our review of the Brother XR3340, let's reiterate the fact that this machine is awesome. It is built to be sturdy, to do a lot of hard work, and be easy to use. A machine with these qualities is wonderful for both new and experienced sewists, so there is no reason why it should not be on your list of crafting tools to purchase.
If I were getting my feet wet into the world of sewing, I would definitely pick up one of these machines. Most of the crafters who have used it love it, and because it is so reasonably priced, I am sure I will get my money's worth out of it.
Hopefully, this guide has proven helpful to you as you begin your search for the best sewing machine for your craft room. If you're still a little unsure about this particular machine, why not check out some of our other guides for finding sewing machines.
You may find our article on How to Find the Best Sewing Machines that Will Last extremely helpful as you set out on your crafting journey.  
Research Citations: