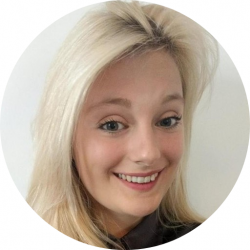 Latest posts by Rosie Greaves
(see all)
So you're interested in knitting, but you find knitting needles too fiddly? Or, perhaps you have a few hours to spare and fancy totally immersing yourself in an activity? Well, arm knitting is perfect for you! 
Arm knitting is taking the internet by storm; with so many people stuck on furlough with nothing to do, they have turned to hunker down under layers of chunky knit blankets! And they couldn't be easier to make. All you need is a pair of arms and yarn to get you started! 
So, which is the best yarn for arm knitting to create the ultimate giant knit? Generally, you want to go for the biggest, bulkiest yarn you can find! 
Below, we've listed some excellent examples of bobble-icious yarn to use for arm knitting to help you get started. 
There are lots to cover, so let's dive straight in!
What's Arm Knitting?
Arm knitting is a relatively recent phenomenon that shot into popularity around 2013-14, in conjunction with the rise of the "chunky knit." It's a favorite amongst those who struggle with traditional knitting's fiddly nature. Namely, because arm knitting only uses wool, scissors, and the knitter's arms to create chunky blankets, scarves, and snoods with relative ease.
Unsurprisingly, arm knitting enjoys a surge in popularity during the colder winter months, as super thick and chunky knits come back into fashion. And as such, arm knitting lends itself perfectly to this trend. 
But how does it work? Here's a breakdown:
First, cast your chosen material. Create a simple slipknot over the right arm. With the left hand, make a twist in the material and add this to the right arm. Continue the process until all stitches have been added to the right arm.

Choose the desired width of the finished piece by opting for more or fewer stitches. From here, a simple switching of the stitches between both arms continuously dictates the length of the garment or blanket.

Once you've established the length of your work, bind off the knit by creating two stitches, with the closest stitch to the body going over the furthest stitch. Repeat this process until all stitches have been bound off.

If you're making a blanket, you can finish off here. For snoods, simply sew the ends together.
While perhaps not for everyone, this arm knitting method is straightforward and considerably less technical than its traditional counterpart.
Now that we've covered the basics, let's take a look at the different yarns out there so that you can hit the ground running with your next arm knitting project…
Do you fancy using a yarn that will give your knitwear a fabulous texture? If so, Patons Cobbles boasts a unique mixture of chained twists, which creates a beautifully intricate pattern and texture to your design. It's a relatively light yarn; that said, it's still ideal for producing bulky and weighted blankets! 
Composition: 49% wool, 49% acrylic, 2% nylon 
Yarn Weight: Super bulky!
Average Price: $10
Bernat Mega Bulky yarn is by far the easiest to get your hands on (literally), and it's ideal for beginners! This jumbo yarn is excellent for creating luxurious works from fashion pieces to home decor!
Whether you want a thick warm blanket to snuggle under or an oversized jumper, this is the yarn for you. Made from 100% synthetic materials, this yarn has a slightly shinier look to it and a gorgeously soft feel. 
Composition: 100% acrylic 
Yarn Weight: Jumbo
Average Price: $10
Red Heart Grande is a terrific alternative to Bernat Mega Bulky. Namely, because it ' lighter and therefore you can create loftier-styled knitwear. Akin to the Bernat Mega, this yarn is plied (AKA twisted), making it a perfect choice for creating a rope effect knit. 
It's slightly thinner than other yarns, so it won't fill up all the gaps between your stitches, so if you want to get the same effect, you may need to double the yarn over. But don't let this put you off! Red Heart Grande is fantastic for your whimsical, looser knit creations! 
Composition: 78% acrylic, 22% wool
Yarn Weight: Jumbo!
Average Price: $6
Of course, we have to mention this beauty. Premier Yarns Couture Jazz has become incredibly popular with arm knitters around the globe and often features in knitting vlogs and tutorials. 
This yarn is ideal for filling in those arm stitches and creating luxurious knitwear for all ages! You can craft knits using single or double strands, so if you're an avid arm knitter, this yarn tends to get used up very quickly. You will inevitably have multiple new skeins in your work, which can be easily disguised under the multitude of woolen layers! 
Due to the yarn's bulkiness, it's easy to conceal any stitchwork you may need to do to create your design. This makes it extremely popular with beginners as it ensures that even your basic projects look expertly executed! (well, at least to the uneducated!) 
The only downside to this beautiful yarn is that it's often out of stock (*tear*), but if you can get your mittens on it, you're in for a real treat! 
Composition: 81% Acrylic, 19% Polyamide, 
Yarn Weight: Chunky!
Average Price: $6
Bernat Blanket Big! Stitch 'n' Win is fabulously snuggly, making it the ideal choice for projects where the end result is pure comfort.
However, it's notoriously tricky to find as it's so popular! Frequently out of stock and often only available during the winter months (we want it all year round, please!!!), this yarn is virtually the Dodo of the knitting world. Snatch some of these up, and all your knitter friends will be in awe! 
Composition: 100% Polyester
Yarn Weight: Chunky!
Average Price: $10
Luxury Brands
Many yarn companies are out there, but the three listed below are "La creme de la creme!" If you're looking to create the ultimate luxury knits, use Loopy Mango, Tjockt, and/or Ohhio to bring your projects to life. 
(WARNING! With luxury comes expense…Don't let it break your bank account!) 
Loopy Mango Big Loop Merino is amazing for all your chunky knit creations. Warning, this yarn is HUGE! At 40oz, this super fluffy yarn can make blankets as large as 28" x 40"! 
Made from 100% Merino Wool, this yarn is fabulously soft and comfy. 
Composition:

100% Merino Wool

Yarn Weight:

Super chunky

Average Price:

$150/38.8 oz
Tjockt (Luxury)
Tjockt's Fat & Sassy Merino Yarn is fantastic for extra chunky and cozy knitted creations! Made from the finest Merino Wool, this yarn is luxury itself! With its soft, non-itch textures, this yarn is perfect for babies and those with sensitive skin. 
Composition:

100% Merino Wool

Yarn Weight:

Super chunky

Average Price:

$130/38.8oz
Ohhio Braid (Luxury)
This big and chunky yarn is stunningly soft and warm. It's pet-friendly, durable, and even machine-washable, making it a must-have for all arm-knitters! 
Composition:

Cotton tube filled with hollow-fibre 

Yarn Weight:

Chunky!

Average Price:

$65/ 43.8 yards
FAQs
Question: Where are the best places to buy yarn? 
Answer: If you're buying online, The Knitting Warehouse is perfect if you're after discount yarn. With discounts sometimes as low as 50%, you can get an absolute bargain for your favorite yarns! Alternatively, you can buy directly from the yarn company or other retailers like Michaels. 
Question: Where can I find easy patterns?
There are so many patterns out there! You can buy patterns individually from retailers both on and offline! Or, you can download simple patterns for free from websites like Love Crafts. YouTube is another fabulous resource for free and easy patterns. Video tutorials often make it easier for you to visualize step-by-step patterns. Plus, you can follow along as you knit!
Question: How can I make my stitches tighter?
Answer: If your knitting is loose and it's looking flimsy and empty, it may be because your yarn's too thin. Double up your strands to create a thicker look or swap to a chunkier yarn.
Alternatively, it may be a lack of tension in your stitches. To rectify this, keep your yarn and stitches as close together as possible while you're knitting. For very tight and small loops in your stitches, keep your work closely together on the thinner part of your forearm. This ensures the circumference of your stitches is kept as small as possible.
Question: Can I pause my project and pick it up later?
Answer: You can indeed!  If you suddenly need to go out the door or nip to the bathroom, pausing your knitting is essential.
Luckily, it's pretty easy to do. Just carefully slip your loops off your arm onto a holder. You could use a roll from inside a gift wrapping tube or a photo holder. Then, when you come back to your work, simply slip the loops back onto your left arm, ensuring it's the correct way around, and pick up from where you left off.
Question: How can I tell what yarn weight I need?
Answer: Essentially this is a personal preference. However, it's worth researching how different weights produce different results. For closely-knit arm knitting, the heavier the weight, the better as it prevents your knits from seeming holey and weak. Most patterns indicate the ideal weight of your yarn. 
Are You Ready to Start Yarn Knitting?
We hope having read this article; you now have a better idea about which yarn to use on your arm knitting projects. Which will you opt for? Whatever you decide, let us know how you get on in the comments box below. We'd love to hear from you!
Find more interesting articles below: