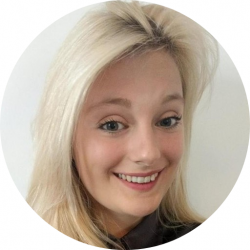 Latest posts by Rosie Greaves
(see all)
Ok, first things first, watercolor pencils are the BOMB! They're the perfect go-to medium for all art lovers out there, and their versatility and range are astounding. But, as there are so many watercolor products claiming to be the ultimate pencil, how are you supposed to find your 'piece de la resistance of color delight? 
Well, when choosing a new caliber of pencil, watercolor, or paint, you're aiming for quality over quantity. This means familiarizing yourself with precisely what you want/need. With that at the forefront of your mind, you're better positioned to wade through the wide variety of styles, qualities, hues, and intensities of watercolor pencil on the market. 
So, having said all that, let's get into the nitty-gritty of this blog post and find the best watercolor pencils for you… 
What are Watercolor Pencils? What Can You Do with Them?
Before delving into the finer details, let's start with the basics. Watercolor pencils are water-soluble shades used by amateur art enthusiasts and professionals alike. These pencils are light, slender, and incredibly portable. In fact, you would be hard-pushed to find fault with them. 
What can you do with them? Besides the obvious, watercolor pencils are fantastic for creating a range of different art styles. They're incredibly versatile, meaning not only are they suitable for coloring, but they're also an excellent substitute for watercolor paints.
Generally speaking, watercolor pencils are an incredibly forgiving medium and are therefore an ideal option for those just getting started. 
Questions You Need to Ask Yourself Before Buying Watercolour Pencils
Now you have a better idea about what watercolor pencils are and what you can do with them…don't forget to ask yourself the following questions before buying your first set:
How thick do I need the lead to be? 

Thinner lead is perfect for creating intricate details, whereas thinker leads lend themselves to covering larger areas quicker. 

What shape pencil do I need? 

Will a hexagonal, round, or triangular pencil sit better in your hand? 

How many shades do you need? 

Do you need an extensive range of colors, or are you going to use water to mix your own?

How tough do you need your pencils to be? 

Suppose, like me, you tend to break your pencils frequently. In that case, you may want to consider a brand that prides themselves on their durability and toughness.
Here are 8 of The Best Watercolour Pencils !
With the answers to the above questions, you're better positioned to decide which (if any) of these sets meet your needs. 
Let's take a look…
Faber-Castell Albrecht Dürer Watercolour Pencils
Faber-Castell is no stranger to quality. They've successfully made a name for themselves in the art world for producing some of the most professionally crafted artistry tools in the world. 
This brand is ideal for those starting to take a greater interest in art. The Faber-Castell Albrecht Durer watercolor set has an extensive range of highly pigmented colors, making them a fantastic starting point for serious hobbyists. 
This set comes at a premium price. However, they look and perform way beyond expectations, offering beautiful, blendable pigments that are both strong and durable.
Key Characteristics:
Made out of premium-quality materials

Produces fade-resistant shades

They're durable and resistant to breakage

You can create crisp, sharp lines
Faber-Castell Albrecht Dürer Magnus Watercolour Pencils
As we've just said, when it comes to high-end art materials, nobody does it better than Faber-Castell. While their Albrecht Durer Magnus collection is lesser known than some of their other sets, they're certainly worth mentioning. 
Boasting thick, super soft leads, quick-drying hues, and a classic watercolor finish – these are a fantastic choice for professionals and keen artists. This set is particularly well-suited to large-scale pieces thanks to the thick leads offering increased coverage.
Key Characteristics:
Made out of premium quality materials

The thick leads are ideal for large scale art

You can produce vivid shades

Resistant to color fade
Staedtler Karat Aquarell Watercolour Pencils
Founded in 1835 and believed to be the creators of coloring pencils – Staedtler is one of the best watercolor pencil makers for those who don't want to shell out vast sums of money. From the price point alone, they're an excellent choice for beginners. Still, even professionals can't deny the high quality of these pencils.
Creamy, vibrant, and easy to blend – the Staedtler Karat Aquarell watercolor pencils are certainly a firm favorite in the art community. Not only do they perform fantastically, but their simple hexagonal shape makes them easy to hold, hard to drop, and comfortable to use for hours on end.
Key Characteristics:
Break-resistant lead

You can produce highly pigmented shades

Comfortable-to-hold hexagonal design

Easy to blend
Staedtler Ergosoft Aquarell 156 SB24 Triangular Watercolour Pencils
Are you looking for the perfect starter set of watercolor pencils for the little ones to experiment with? Then look no further than the Staedtler Ergosoft Aquarell 156 SB24 Triangular Watercolour pencils!
Thanks to their unique shape, these pencils are an excellent choice for kids who are still finding their feet with coloring. They're non-slip and durable, so they can hold their own…even against the most determined little hands! 
Although they're designed with all ages in mind, they haven't skimped on quality, making them an excellent choice for children and adults alike. The same high-quality pigmentation can be expected from these watercolors. The lead is soft and creamy, allowing it to glide effortlessly, whether you're indulging in a spot of coloring in or freehand drawing.
Key Characteristics:
A comfortable triangular design

Break-resistant lead

Non-slip material

Wax-based lead for easy use
Derwent Watercolour Pencils
When it comes to value for money, the Derwent Watercolour pencils set takes the crown. With a range of sizes available and up to 72 different shades to play with – this is one of the most varied options on the market. 
They're more affordable than other brands out there, such as Faber-Castells. But, they still offer unquestionably high-quality and use break-resistant leads, so you can afford to add a little more pressure where needed.
Perhaps not the ideal option if you're looking to create a sizeable piece of art, as the colors dry fast. However, the Derwent watercolors still make a great choice and blend quickly and effectively with minimal effort.
Key Characteristics:
They blend really well with water

There's a wide range of color options

Quick-drying shades

A Comfortable-to-hold hexagonal design
Derwent Inktense Permanent Watercolour Pencils
Are you looking to create a stand-out piece of artwork? Then the Darwent Inktense Permanent Watercolour pencil set is a must-have! It's unique in that the colors in this range are all permanent. 
This kit offers a wide variety and unrivaled pigmentation. So, rest assured, anything you create will be nothing short of attention-grabbing. But, don't be thrown by the name here – the Darwent's Inktense is still water-soluble. They just don't offer the same leeway that traditional watercolors do. With these, once the color has set, there's no going back, making these a particular favorite with seasoned professionals. 
One thing's for sure, you can't find watercolor pencils anywhere else that does what the Darwent's Inktense kit does. With their ink-like finish, you're bound to create something truly unique.
Key Characteristics:
You can create intense shades

Great value for money

Unique ink-like finish

They can be used on fabric as well as paper
Sanford Prismacolor Premier Watercolor Pencils
Boasting thick and creamy pigments in sets ranging from 12 up to 36, the Sanford Prismacolor Premier Watercolour pencils are easy-to-blend watercolors that don't require too much work. For this reason, they're a lovely starter option for beginners…and come at an affordable price, too, making them a firm favorite amidst amateur artists! 
These round-barrel pencils are super comfortable to hold and have a thick lead, which is ideal for creating large scale art. That said, they're not suitable for professional pieces. They don't offer as much variety where colors are concerned, especially in comparison to other brands. 
However, they make a fantastic option for children and/or those still honing the craft.
Key Characteristics:
They're great for beginners

The colors are easy to apply

Thick leads

Great for large-scale pieces

They make blending easy
Caran D'ache Prismalo Aquarelle Watercolor Pencils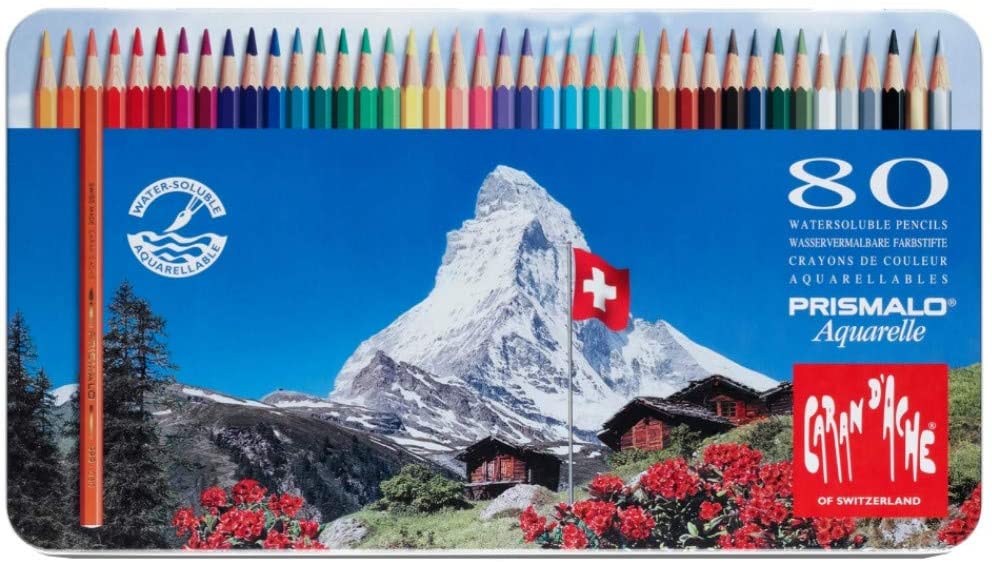 Caran D'ache is renowned for her work in watercolors. In fact, she paved the way for the many other brands we know and love (many of which feature in this list). Situated at the higher end of the price scale but offering incredible quality, her Prismalo Aquarelle Watercolour pencils are vivid, comfortable in hand, and ideal for work requiring intricate detailing (thanks to the sharp, fine points of these pencils).
They may not be quite as vibrant as some of the other brands. Still, they more than make up for that in diversity, offering a massive range of colors. Plus, they're super easy to use with water and blend like a dream. 
Key Characteristics:
Fine leads for intricate details

Made out of premium quality materials

Easy to operate hexagonal design

Great value for money
FAQs
Question: How do you use watercolor pencils?
Answer: Unlike traditional coloring pencils typically made with a binding agent that's either wax or oil-based, watercolors are bound with a water-soluble binder. This, when combined with water, activates to behave like watercolor paint.
Just as you would with typical watercolors, you can mix watercolor pencils to create new and exciting colors. So, even with the smallest watercolor set, you can create something really unique-looking.
Simply:
• Apply your colors to your chosen work surface
• Add a small amount of water over the top
• Blend the colors together to make a new shade
Simple, right? It works just like watercolor paint!
Alternatively, you can apply water straight to the surface of your paper and apply your pencil over the top to get that same watercolor effect. Working this way usually results in a different texture and a more intense, vibrant finish.
Question: Can you use watercolor pencils like ordinary pencils?
Answer:  Absolutely! 
Although they're popular for water use, watercolor pencils are designed to be used both wet and dry. So, suppose you're just starting out you're not feeling confident enough to dabble with watercolor painting just yet. In that case, you can still get fantastic results with dry watercolor pencils.
Question: Can you use drawing paper for watercolors?
Answer: Although you can use regular paper, this doesn't offer the same hold or texture that specialist watercolor paper has. Typically, watercolor paper is either handmade, machine-made, or mold-made. It features an irregular surface with textures that are great to paint. Also, watercolor paper is much more durable and can withstand watercolor much better than regular drawing paper.
Question: How do you sharpen a watercolor pencil?
Answer: Many of the best watercolor pencils boast a thick lead of pigment, so to better preserve your pencils, you may want to avoid using a traditional pencil sharpener. Alternatively, you could use a craft knife to sharpen the wood without touching the lead itself.
Question: How do you blend watercolor pencils?
Answer: Part of the appeal of watercolor pencils vs. watercolor paints is that they're incredibly forgiving and blend easily. So, for children or those just getting started with artistry, this is a huge perk. 
When a watercolor pencil is applied to the paper in its pencil form, the colors are relatively subtle. However, with just a small amount of water, you'll liven the shades up dramatically. 
To blend, use a damp brush, and avoid over-saturating the colors by only using a tiny amount of pressure. Pressing too hard can also damage the paper or ruin the effect you're aiming for. Remember, in most cases, you can reapply new layers to achieve the desired intensity, so it's advisable to start off light and work your way up. 
Question: Are watercolor pencils permanent?
Answer: For the most part, watercolors aren't permanent in the same way that regular colored pencils are. Although watercolors dry, if more water is applied, you can usually reactivate, blend, and move them.
However, be sure to check the type of watercolors you're working with first. Some watercolor pencils are permanent when they set, such as the Derwent Inktense Permanent Watercolours.
Question: Do watercolor pencils expire?
Answer: In short, no. 
As a general rule, watercolor pencils don't go "bad." So, suppose you haven't touched your watercolor pencil kit for years. In that case, you may need to sharpen the exposed lead off, but the lead found further underneath should operate as if it were new.
Question: Do watercolors fade?
Answer: Unfortunately, over time, watercolor pencils will fade. However, you can opt for more premium watercolor pencils that offer longer lasting vibrancy.
That said, there are some steps you can take to get the very best out of your finished artwork. First off, make sure you store your artwork properly. I.e., away from direct light and protected behind a frame. A sheet of acrylic or filtered glass goes a long way to safeguard your watercolor work. 
Are You Ready to Purchase The Best Watercolor Pencils for You?
We hope having come to the end of this round-up, you now have a better idea of which set of watercolor pencils are best for your next art project. Whichever you decide, tell us all about it in the comments box below; we'd love to hear from you!
More interesting articles to find crafting inspiration: