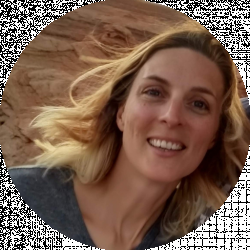 Latest posts by Shaleena Quinlan
(see all)
Gouache (pronounced goo-aash) is a rather old type of paint. History has shown that it dates back somewhere between 600 to 1200 years. It is even possible that a form of gouache painting that used honey as a binder was used in Ancient Egyptian painting.
Some of the more familiar historical usages of gouache paint are in Persian miniatures and European illuminated manuscripts.
This form of painting is prized for its opaqueness, which means that it covers the painting surface well. It also provides rich and vibrant colors that are stunning to observe. Take some time to look at the works of well-known painters to discover the beauty of this painting medium. Below are a few examples to get you started.
The Interior of the Jacobskirche at Innsbruck by Adolph Menzel
Moonlit Landscape by William Trost Richards
Deux danseuses by Edgar Degas (pastel & gouache)
How to Find the Best
While it is true that gouache paint shares similarities to watercolor paint, it is necessary to understand the differences between the two paints. The best watercolor paints do not have the same qualities as the best gouache paints. Here is what to look for when you are searching for the best gouache paint for your projects.
Opaqueness
This quality requires that the paint is difficult to see. A good quality gouache paint will dry opaque; you should not be able to see through it to the surface underneath.
Consistency
When it comes to gouache paint, this is very important. Gouache paint should be smooth, velvety, and creamy. Because it dries quickly, you will want it to flow from the brush to the painting surface quickly and easily.
Color
This will depend on the personal taste of the artist, but it is a good idea to get a selection of primary colors that can be blended into different shades. If you need help with color blending, read this article for some tips.
Price
There is no reason to ruin your budget when purchasing gouache paint. This is especially true if you are new to using it. If you are new to gouache, the best thing to do is to purchase an inexpensive set or tube and practice with it.
Since this paint is different from all the others, you will want to spend sparingly until you get the basic techniques conquered. Once you feel comfortable, splurge on some high-quality paints.
Top Ten Gouache Paint Selections
Now that we have learned a little of the history of gouache paint, what it does, how to use it, and what qualities to look for, we can begin our search for the best selections on the market.
To help you choose a set or a tube of gouache paint, we have made a top ten list for easy reference. This list ranges from gouache paints for students and beginners to advanced users.
Winsor & Newton Designers' Gouache Primary Color Paint Set
This company has been around since 1832, and consequently, knows a little something about paint. A set like this one is perfect for those who are new to gouache painting. It is inexpensive enough that new painters will feel free to play around. At the same time, it is a quality product that provides an excellent painting experience.
Pros
Fantastic opaque coloring
Colors mix well together
Can be reactivated once dry
Exceptional flow
Artist-grade
Reasonably priced
Cons
Some users have stated that the set they bought was defective
Arteza Gouache Paint Set
This set of gouache paints by Arteza is another great option for painters who are new to gouache. With so many colors and shades, it makes it easy to get just the right look for every part of a painting.
Pros
Includes 60 colors
Includes metallic and opalescent shades
Includes a paint tube organizer tray and box
Has a creamy consistency
Variety of colors makes this nice for beginners or those who don't like to mix and make their own colors
The paints are ACMI certified non-toxic
Cons
Only available in sets
Some opaque shades are not as opaque as advertised
Some users have stated that the paint tubes dry out very quickly
MyArtscape Gouache Paint Set
For painters who want to experiment with gouache for the first time or for a fun and casual project, this is the perfect set. It offers an excellent color selection, versatile usages, and a reasonable price point.
Pros
Has a smooth texture
Paint goes on uniformly
Colors are vibrant
Can be used as gouache or a watercolor paint set
Dries quickly
Non-toxic
Is an inexpensive option
Cons
Is not very fade-resistant
Does not dry very opaque
Is not a high-quality product (designed more for students and beginners)
Royal & Langnickel Gouache Color Artist Tube Paint Pack
This passionate company serves the creative community by providing excellent and inexpensive paints, brushes, artist pads, and art sets. This paint pack is the perfect choice for those who are new to gouache paint. These paints will help you to explore and experiment with your creativity without breaking your budget.
Pros
Has a very creamy texture
Includes 24 colors
Paint colors are bold and vibrant
Reasonably priced
Dries quickly
Can be reactivated once dry
Mixes well with watercolor paints
Cons
Quality is not as good as other paint set options
Is less opaque than other brands
Winsor & Newton Designers' Gouache
Winsor & Newton have provided artists with another superb painting medium with this line of gouache paints. This is a great option for those who need a professional touch to their artwork.
Pros
The line features 91 colorful options
Has a smooth and creamy texture
Provides an excellent opaque color
Each color is sold separately so artists can stock the colors they want
Cons
It is a pricier option
Some users have stated that the paint tube they bought has been defective (leaking or dried out)
M. Graham 5 Color Gouache Paint Primary Set
If you are looking for a more professional paint set, this M. Graham set is for you. It offers five colors of quality paint that are excellent for artists that have moved beyond beginner paint sets.
Pros
Gum Arabic and honey combine for superb crack-resistant drying
Dries opaque and vibrant
Features improved flowing
Has a moist texture
Provides excellent lightfastness
Highly acclaimed middle yellow color that blends well to create a variety of yellow tones
Cons
The paint will stain anything it touches
Some users have stated that the paint tubes explode easily
Holbein artist Gouache Set
This is an extremely high-quality set of paint. Its price range and small size may cause the budget-conscious artist to shy away from this option; however, its solid coverage and superb pigmentation mean that small amounts of paint will go a long way.
Pros
Artist-grade set
Highly pigmented colors
Very positively reviewed by users
Cons
Expensive
Small paint tubes
Holbein Acryla Gouache
This set features acrylic gouache, which is different from the water-based type. With an acrylic gouache, there is no going back once the paint has dried; water will not reactivate it. While it does hold a distinguished position as a creative paint product, it may be best to watch a few tutorials and practice with it before beginning any complicated projects.
Pros
Has a smooth and velvety texture
Dries with a matte finish
Highly pigmented colors
Dries opaque
Color does not change when dry
Cons
Cannot be reactivated once dry
It is an expensive option
Schmincke Horadam Artist Gouache
This gouache paint offers artists some of the most spectacular and opaque colors available. If you need gouache paint that is smooth and velvety to apply and is highly pigmented, then look no further than this set.
Pros
Set of 10 colorful paints
Has not been blended or watered-down with white pigments
Cons
It is an expensive option
Pebeo T7 Gouache
The Pebeo company provides many options for high-quality gouache paint. Artists will want to try this particular line if they are very serious about gouache paintings and are willing to spend more for such a quality product.
Pros
Comes a range of 74 colors
Designed to be very opaque
Is light-resistant
Has a fine and creamy texture
Can be applied to many different types of surfaces
Cons
It is an expensive option
FAQs
Question: What Is the Difference Between Gouache Paint and Watercolor Paint?
Answer: Both gouache and watercolor paints are made from pigments set in a water-soluble binder and they can both be altered with water after they dry. The main difference between these two types of paint is that gouache is designed to be opaquer than watercolors.
Question: What is the Difference Between Gouache Paint vs Acrylic Paint?
Answer: Both gouache paint and acrylic paint are water-based, but after that, they are very different. Acrylic paint cannot be reactivated with water after it dries; gouache (non-acrylic) can be reactivated. When acrylic paint dries, it has a glossy sheen on it; gouache dries matte.
Question: Can You Use Gouache Paint Without Water?
Answer: Even though you may need to lightly wet the paintbrush, you can use gouache without much or any water. When gouache paint is used without water it will be even opaquer than is typical.
Question: How Do You Care for Gouache Paint?
Answer: To keep your gouache paint tubes fresher longer, it is recommended that you store them in a sealed glass jar.
Question: What Types of Painting Can You Do with Gouache Paint?
Answer: Gouache paint adheres well to nearly every type of surface, and therefore, can be used for a variety of artistic styles. The important thing to remember about gouache paint is that it dries quickly.
You can reactivate it with some water after it dries, but the water will cause the paint to become more translucent and to mix with other colors. Just be sure that is what you want.
If you are in need of a little inspiration to get you started, check out this creative article.
Question: How Do You Use Gouache Paint?
Answer: Since gouache paint is versatile but dries quickly, it is best to prepare to use it before you begin. Let's break this down into some easy-to-follow steps.
• Prepare a Workspace
Get the lighting just right and set your canvas in the spot where you want to paint
• Gather Your Painting Supplies
Bring a spray bottle of water for reactivating the paint, paper towels for dabbing liquids, and a cup of water for cleaning brushes
• Arrange Your Colors
Layout the paint colors you are planning to use on your palette (no need to open anything you don't plan to use)
• Mix Your Colors
Now you can experiment with your color selection by using water to give the paints a more translucent effect or by mixing colors to make a new color or shade
• Be Creative
This part is up to you. You can either sketch an outline or paint something freehand. Let your imagination and creativity lead you. If you need a few more tips on what to make, try watching this tutorial.
Question: Can You Combine Gouache Paint with Watercolor Paint?
Answer: Yes, you absolutely can. Since both of these paints are used with water, they are great friends on the canvas. For some tips on how to do this, watch this video tutorial.
Question: What Type of Brushes Should Be Used with Gouache Paint?
Answer: While it is usually better to paint with a natural-bristle brush, when it comes to gouache paint, synthetic is actually better. This is because a synthetic-bristle brush holds less water than its natural counterpart. Since water is typically mixed with gouache paint, it is best to be able to control the amount of water in the brush.
Concluding Thoughts
This article has presented the overall versatility and beauty of gouache paint. It is a lovely medium for painting due to its vibrant color, smooth and creamy texture, and rich opaqueness.
It can also be an inexpensive painting option. Since there are so many brands and sets available, there is no reason to let cost hamper creativity.
My hope for all artists, new and experienced, is that this article will give them the information to begin experimenting with gouache paint. For those who are familiar with gouache paint, this article is offered as an inspirational way to further your practice with it.
Whether you are new to or experienced with gouache paint, let this be the moment you allow your creativity to flourish.
For further read, check the links below: